You're currently on:

ERA Bundle Pro
Contains all ERA products

accusonus ERA-D
The New Standard In Noise & Reverb Removal
OVERVIEW
As a sound professional, you sometimes simply can't afford to throw away a recording contaminated by noise and/or reverberation. An actor's genius performance, a singer's perfect vocal take, a musician's moment of true inspiration: in all these cases you have to save the original sound. While there are a number of tools on the market that sound professionals use to deal with noise and reverberation, they require that you deal with noise and reverberation separately and their workflows can be complex and time consuming. ERA-D from accusonus changes all that by providing the first restoration plugin that simultaneously removes noise and reverberation. ERA-D is based on an advanced technology and a simple and straightforward user interface that manages noise and reverb problems faster and more effectively than any currently available workflow.

Noise and reverberation are around us all the time. But these normal sounds of every day life can be a complex sea of ever-changing distortion that an audio editor must wrestle with. Traditional tools cope with noise or reverberation separately and their simplistic algorithms fail to "understand" the complexity and interdependency of noise & reverberation. The brain trust at accusonus, recognized as academic experts in the field of audio analysis, exhaustively researched both the common and distinct sonic elements of noise and reverberation and set out to develop technology that could analyze and manage them either separately or together. The result is ERA-D.

ERA-D's patented technology (US 9,060,052) is also the first to analyze information from multiple microphones; when more than one microphone is available, the ERA-D explores the multichannel information to better suppress reverb and/or noise. The product offers unique solutions to problems that couldn't have previously been solved. ERA-D features a flexible signal-processing engine that allows for dramatic improvement of sound quality and saves recordings that would have otherwise been unsalvageable. And all of this comes with a slick, innovative interface that allows you to quickly achieve astonishing results.

After more than 10 man-years of R&D, more than 30 scientific papers and chapters in technology books, and a recently granted US patent, the game-changing accusonus ERA-D is ready to shake the audio post-production world!
FEATURES
De-Noise and De-Reverberation knobs function in single or dual mode
4 Modes of Operation:
- De-Noise: Signal passes through the de-noise engine only.
- De-Reverb: Signal passes through the de-reverberation engine only.
- Cascade: Signal passes through the de-noise and then the de-reverberation engines.
- Parallel: Signal passes through the de-noise and de-reverberation engines simultaneously. When parallel mode is selected, a fader appears to set the balance between noise and reverb suppression.
Dual mode provides separate analysis of two sources, such as two different microphones, for improved noise and/or reverb reduction.
Advanced Controls for de-noise include a noise time constant, which affects the speed at which the algorithm adapts to noise changes, a processing time constant, which affects the general adaptation speed of the noise suppression engine in Dual Mode, and three flavors of noise reduction: A, B and C
Separate reverb time constant controls for low and high frequencies affect the speed at which the algorithm adapts to reverb changes.
Advanced Artifact Control
Hi-res graphical display of noise, reverb, dry and processed signals
Four adjustable frequency bands provide post-processing adjustment of noise and reverb control in frequency ranges
Link button groups the frequency bands together
In / Out / Diff buttons provide monitoring of the unprocessed input signal, the processed output signal and the signal being removed by ERA-D.
ST / L / R buttons provide monitoring of the complete stereo signal or a single channel.
SPECIFICATION
Supported Plugin Formats
AAX Native, AU, VST2, VST3
Supported Operating Systems
OSX 10.7 or higher in 32 or 64 bit.
Windows XP, Vista, Win 7 & Win 8 in 32 or 64 bit
Mac
Intel CPU only (we recommend at least 2 Ghz)
PC
Intel-compatible CPU with SSE2 instruction set (Pentium 4 compatible or higher; we recommend at least 2 GHz)
System Requirements
Display resolution: 1440 × 900px or 1280 × 960px or higher
Memory: 2 GB RAM

ERA-R: Single-knob reverb removal plugin
Does your audio sound distant, "echoey" or hollow? Can you understand the speaker or hear the speech clearly? Bring the sound closer, add clarity, clean up your dialogue tracks and tighten up your music performances. ERA-R is the only plugin that removes excessive reverb with a single knob.
How It Works?
Based on the accusonus multi-patented audio restoration technology, ERA-R automatically estimates the reverberation profile and is able to adjust the amount of reverberation in a streamlined interface.
Features
---
ERA-R Use Cases
SPECIFICATIONS
---

ERA-N: High-quality noise removal with simple single-knob control
Let's face it, noise happens but you don't have to settle. Most tools on the market are hard and slow to use, and give you only mediocre results. That's why we made the single knob series of plug-ins with ERA-N and ERA-R. ERA-N is a single-knob high-quality denoise plugin that just works. ERA-N offers a quick and efficient workflow and allows you to rescue audio or video recordings that you would have previously considered unusable.
Save your noisy files!
Whether you are working with dialog, voiceovers, lectures, podcasts, or speeches by the bride and groom, ERA-N has you covered. You can greatly reduce and remove unwanted fans, air-conditioners or other background noise with the turn of a single knob.
Features
Unique multi-patented technology
Take advantage of this one-of-a-kind high-quality audio denoise algorithm
Instant workflow
ERA-N automatically estimates the noise profile
5 frequency presets
Use five intuitive spectral presets to focus your processing in specific frequency bands
Intuitive interface
Increase/decrease the noise reduction via a single knob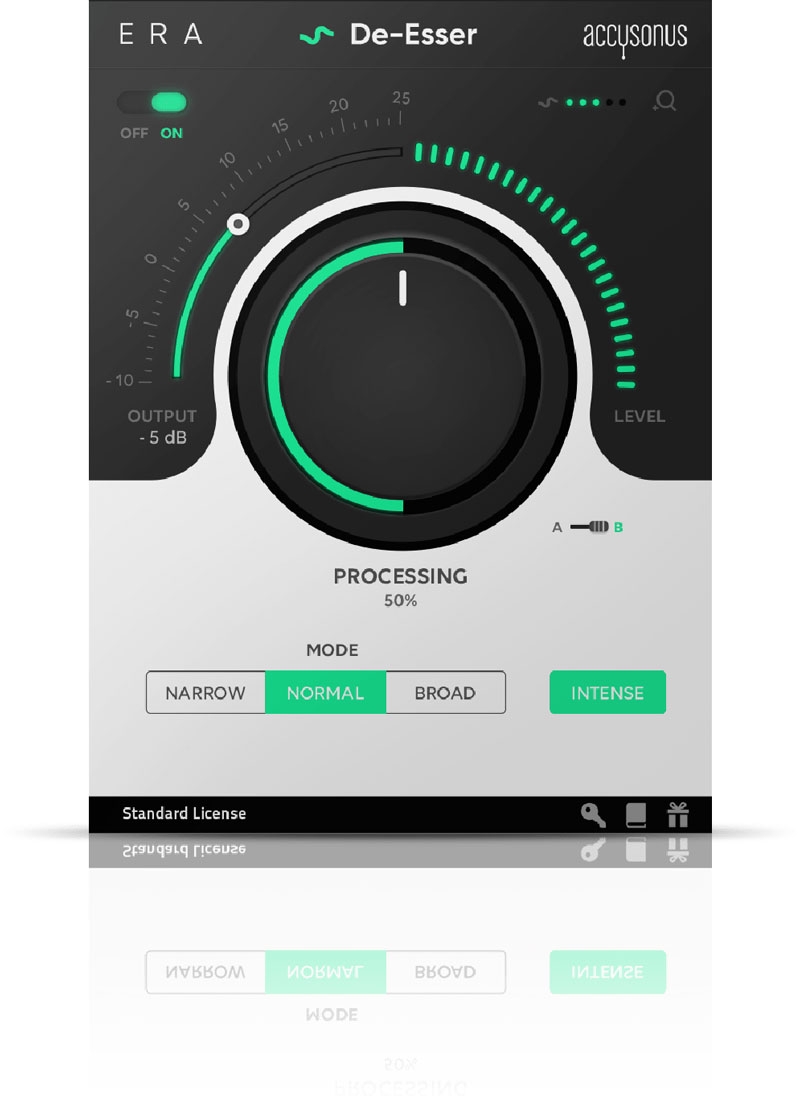 ERA De-Esser
Harsh sibilance may affect your voice/vocal tracks even when you use the best recording equipment. Use the ERA De-Esser to instantly smooth out the harsh ess-es from your recordings. The ERA De-Esser performs transparent processing in the frequency domain and is also great for other material such as hissing cymbals or even full mixes.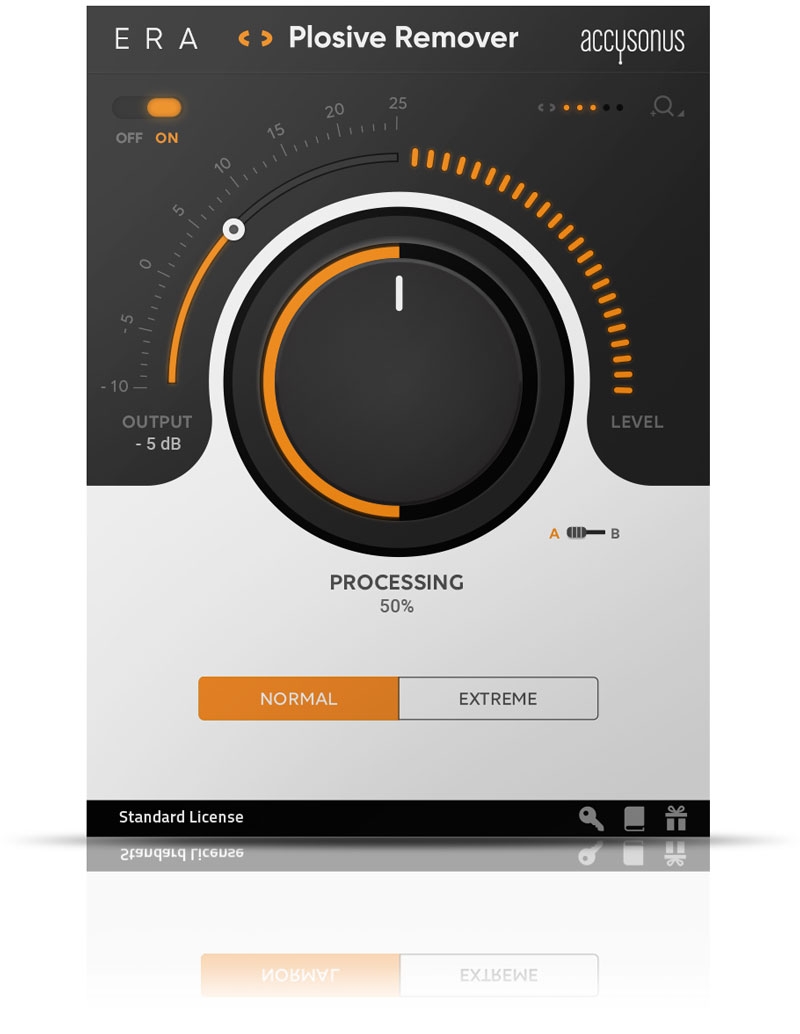 ERA Plosive Remover
Loud plosives are a complex type of distortion and removing them manually can be an extremely time-consuming task. The ERA Plosive Remover automatically takes care of the problem, allowing you to polish your vocals with the turn of a single dial.
You may also be interested in:
| | |
| --- | --- |
| Variant | 1 |
| Specials | Feb 19, 2020 |