You're currently on: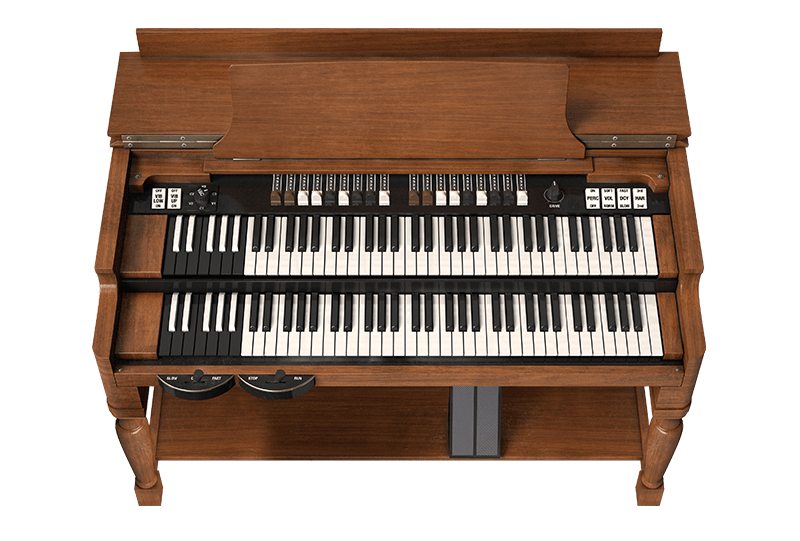 Monarch of electronic organs, the rich sounding B3 has been a staple of jazz, gospel, rock, reggae and R&B—not to mention pro studios everywhere—for over a half century. Its electromagnetic tonewheel design gave it a beefy quality not found on later transistor organs. Our faithful homage includes an authentic rotary speaker and an array of stomp boxes, plus inspiring updates like analog circuit mods and drawbar modulation for new animated and syncopated effects.
Majestic sound
The B-3 V gives you the sound of undisputed organ royalty—roadies not required.
No other organ captured the hearts of keyboardists, spanning so many genres and years. It had the subtlety for jazz at the hands of artists like Jimmy Smith, Joey Defrancesco and John Medeski. It had the grace for gospel, as demonstrated by Elbernita "Twinkie" Clark and Cory Henry. It had the energy to drive the reggae behind the likes of Bob Marley and Jimmy Cliff, and the soul of James Brown and Sly Stone. Most visibly, it had the raw power to hold its own in a rock world as diverse as ELP, Santana, Yes, Pink Floyd, Deep Purple, The Allman Brothers, and Blood, Sweet and Tears.
Whether you're playing solo, in a group, or in a mix, Arturia's B-3 V lets you cover the organ parts for any genre using the sound and feel of the real thing.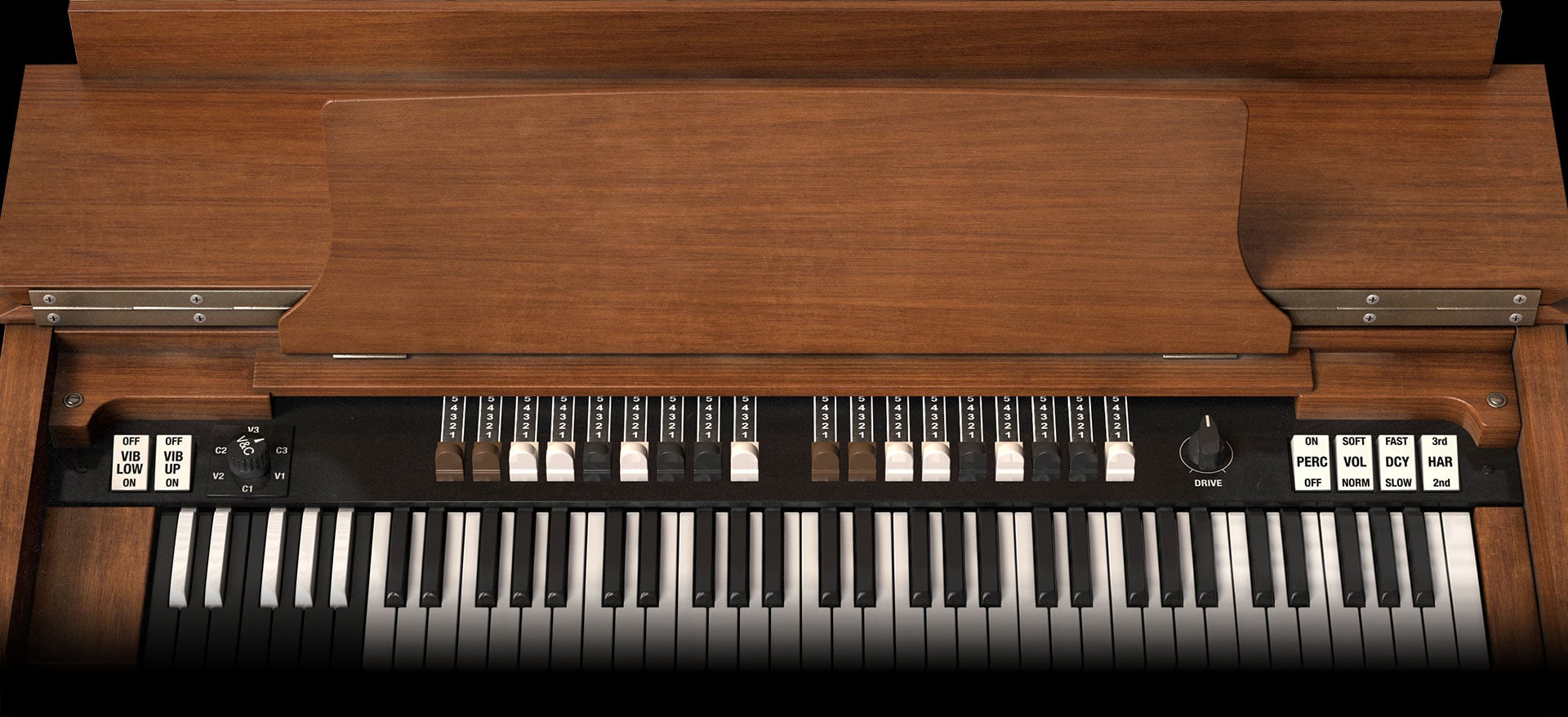 Unmatched authenticity
Even if you already have a virtual tonewheel organ…
you owe it to yourself to try the B-3 V.
There are organs and there are B3s. Then there are B3 emulations and Arturia's B-3 V. Where most other attempts are based on samples that only capture some of the qualities, we created the B-3V using the same critically acclaimed modeling technology that distinguishes our entire V Collection of classic instruments. We put that same attention to detail into the included rotary speaker as well.
When you can have the best, why settle for anything less?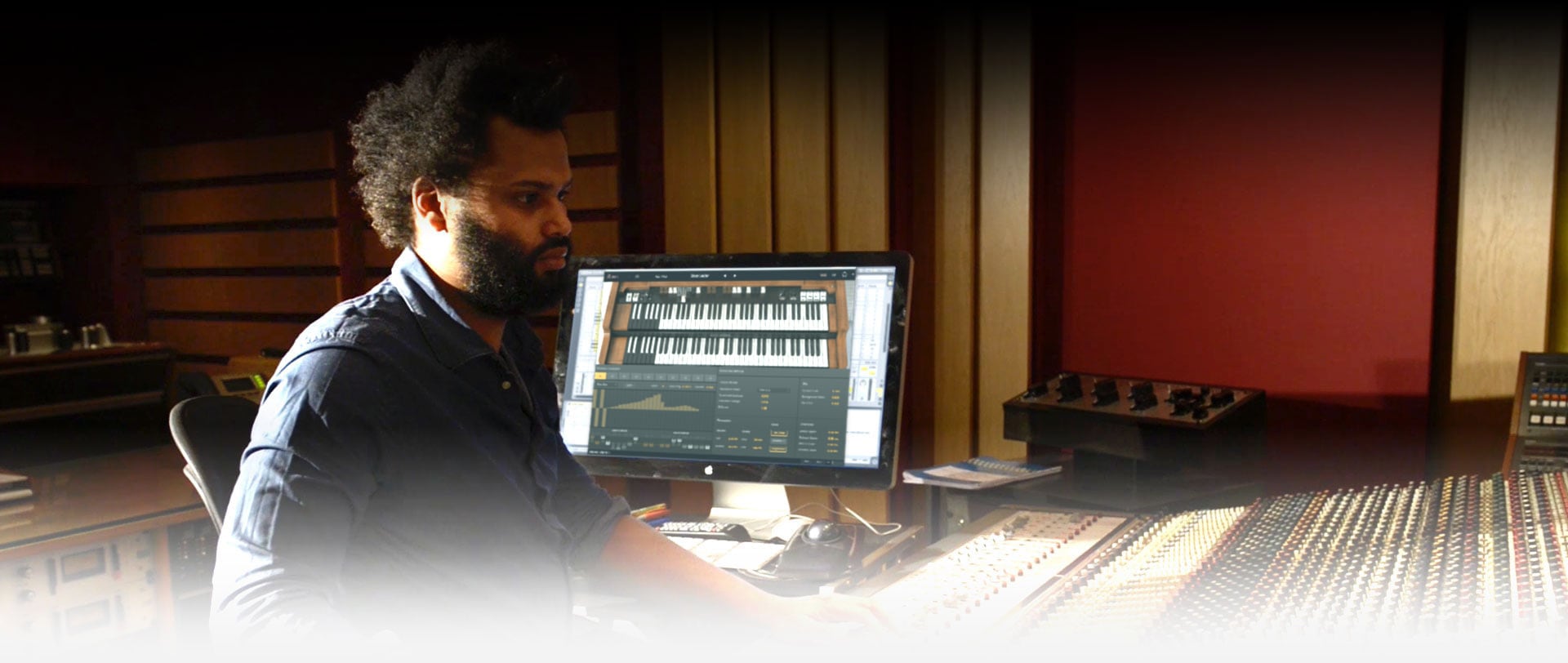 Even better with age
The B-3 V improves on a classic, with everything you need in an organ rig and more built right in.
Rotary speakers have become an essential part of the tonewheel organ sound, so we've naturally included one. Why stop there? We've added lots of other options including multiple reverbs, an array of effects pedals, and even the ability to modify previously fixed analog circuit features like key click. Our most radical enhancement is the addition of a modulation section to automate the movement of drawbars using envelopes, LFOs and step sequencers, letting you infuse your music with new animated textures.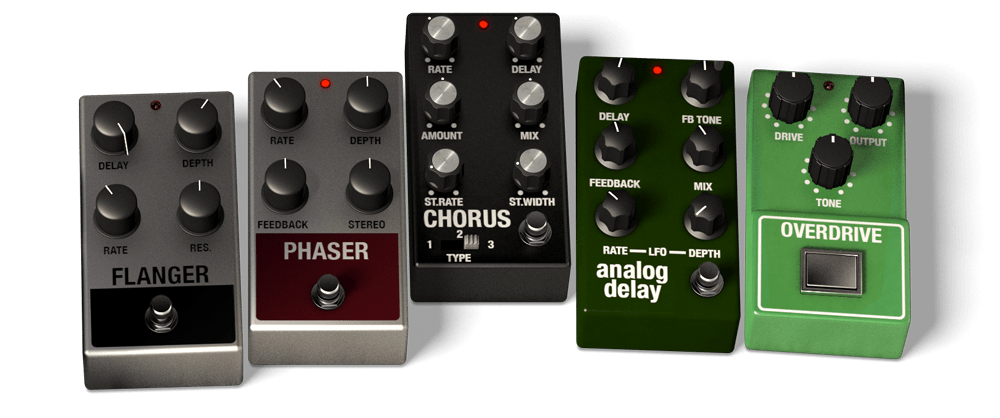 With its combination of faithful realism and new mods, the B-3 V has you covered whether you're playing standards, rocking classics or pioneering new musical ground.
Birth of a legend
Before there were synthesizers and transistors, there was the unique sound of Hammond B3 tonewheels.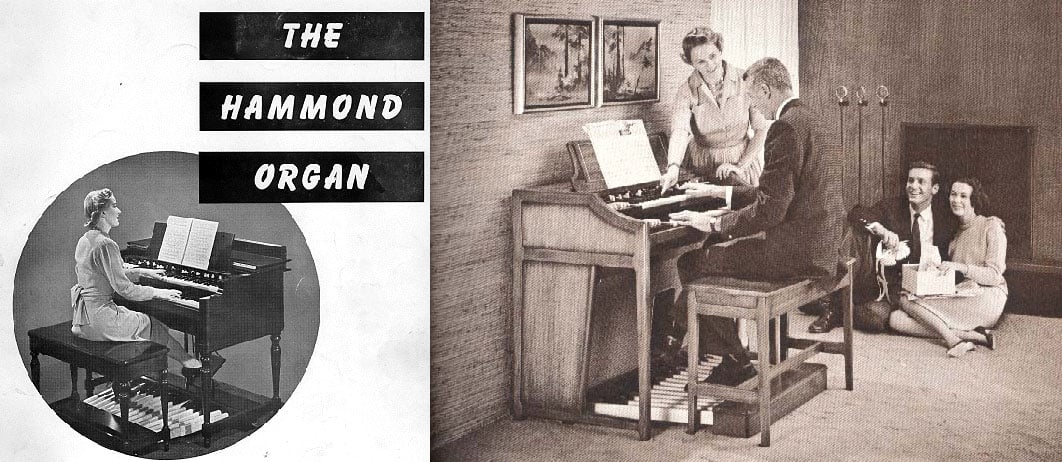 Laurens Hammond introduced the B3 and C3 tone wheel organs (distinguished only by their cabinets) in 1954 as an alternative to pipe organs, but it actually fueled a new era in gospel. Jimmy Smith brought it to secular attention as the centerpiece of his jazz organ trio, and legendary rockers like Keith Emerson, Rick Wakeman, John Lord and Billy Preston further propelled the sound into the spotlight.
The B3 has been used on countless recordings and almost every genre since and is still a fixture in studios the world over. Hammonds are most often run through rotary speakers invented by Don Leslie that took the idea of vibrato to a whole new dimension. We've faithful modeled both the organ and rotating speaker together just as they should be in the B-3 V.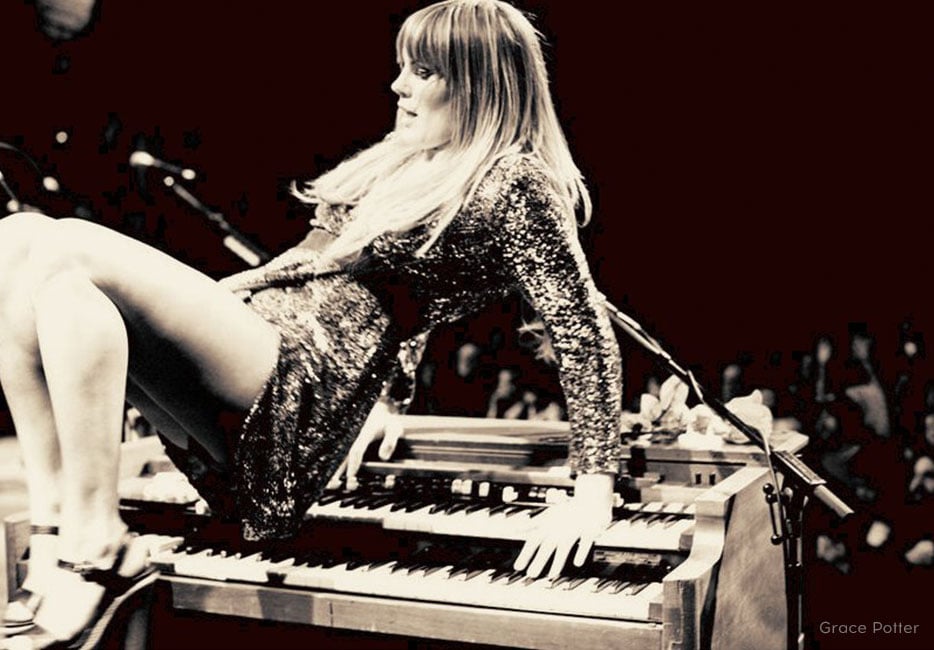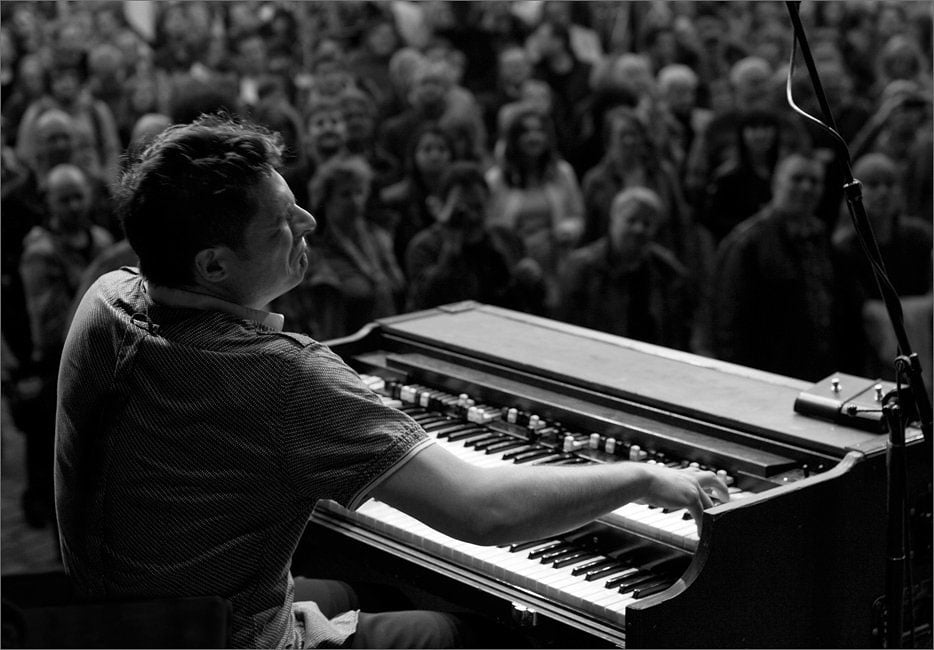 The B-3V gives you the heavy sound of the original—without the heavy weight.
The real thing
The B-3 V recreates every aspect of the original classic with incredible realism.
The B-3 V's namesake was electromechanical, employing a series of spinning tonewheels with adjacent pickups to produce flute-like tones in octaves and harmonics for each note. These could be variably mixed via a set of 9 drawbars per manual to achieve more robust additive timbres. In the B-3 V, we've meticulously modeled the individual components to achieve complete realism.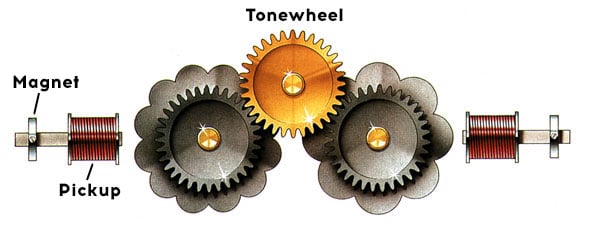 One of the things that distinguished the B3 from its earlier siblings was the percussion feature, which added a quickly decaying sound at either the second or third harmonic. This gave an edge to each key press that players across genres employed for extra punch and articulation, especially for solos. In the B-3V, we've faithfully modeled both the organ and rotating speaker together just as they should be.
Another signature characteristic of the B3 was its unique modulation circuit that let you switch between three different depths of vibrato or three different intensities of chorus. Yep, we modeled that authentically as well.
The B-3 V recreates every component of the famous B3 sound to give you the most faithful software emulation you'll find anywhere.

Custom mods you'll love
Lots of organists have spent good money modifying their B3s. We've hot-rodded the B-3 V with new mods you won't ever find in custom shops.

Voice Modulator
Many organists are constantly changing drawbar settings to add character to what can otherwise be a rather static timbre. We've taken that concept to the max by allowing you to automate drawbars via LFO, envelopes and even a step sequence. These open up a whole new sound dimension of additive synthesis sound design applied to organ roots. Create sharp attacks with lots of harmonics that morph into a softer sound, evolving atmospheric textures, or propelling rhythmic harmonics that shift in sync with your DAW tempo.
Analog Mod
With the B-3 V, you can tweak previously unavailable analog characteristics including tonewheel leakage, drawbar leakage, key click volume and more. Variable preamp drive before your master gain stage allows you to dial in how clean or dirty you want your sound, just like a guitar amp. We've even added an envelope to let you shape attack and release, letting you easily cross over in the realm of pipe organs and string machines unlike you've ever heard before.

The B-3 V takes you way beyond stock possibilities to boldly go where no organ has gone before.
Rotary speaker and other effects included
Your B-3 V comes complete with every creative effect that's ever been applied to an organ—plus some that haven't until now.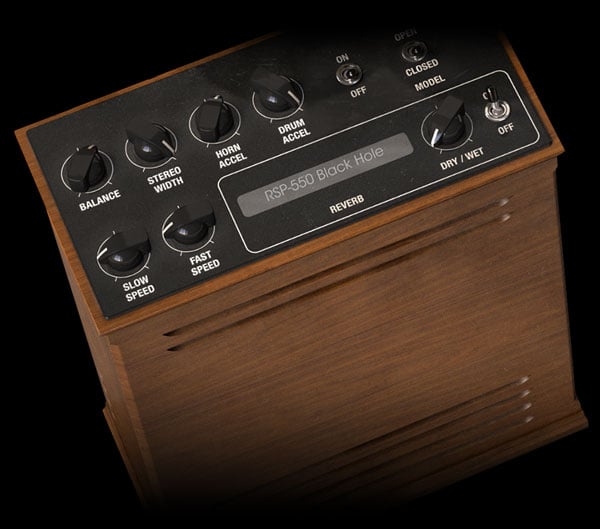 Rotary speaker
You'll rarely see a B3 in the wild without a rotating speaker designed by Don Leslie. Consisting of a rotating drum for lower frequencies and rotating horns for high frequencies, it delivers a much heavier effect than vibrato due to its Doppler pitch-changing characteristic. Key to the sound is the ballistics of how the drum and horns accelerate and decelerate between the slow and fast speed setting —another thing samples just can't fully capture.
We've authentically modeled both the closed and open cabinet versions, and added separate speed and acceleration controls for drum and horn, drum/horn balance, and mic placement, giving you unprecedented customization. You can easily map the essential rotary speaker Stop/Run and Slow/Fast switches to a footswitch or other controller of your choice.
Convolution reverb
The B-3 V also comes with its own built-in convolution reverb. Choose from 20 different spring reverbs based on Impulse Responses from your favorite vintage amps and gear —plus some cool ones you may have never heard of— to place your tonewheel sounds in just the right space.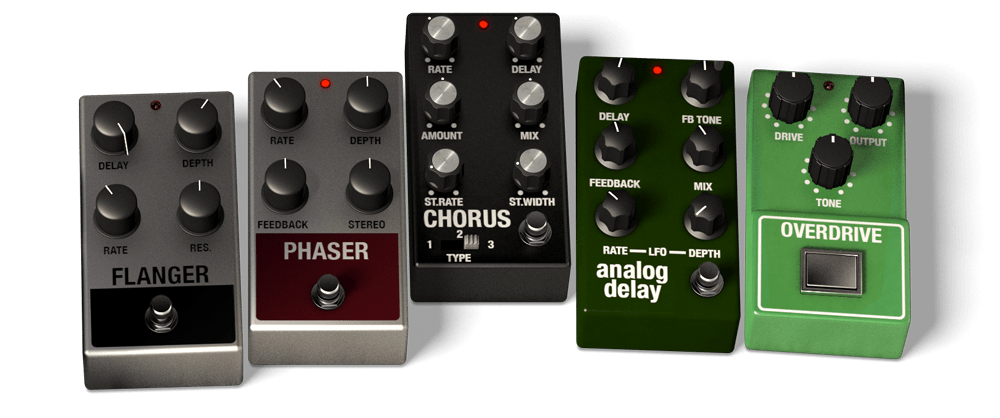 Effect pedals
Fire up the built-in set of classic effect pedals including chorus, delay, phaser and flanger to bring additional character, animation and spaciousness to your sound. When it's really time to rock, you'll love kicking in the overdrive pedal for as much crunch as you need—with a nod to Jon Lord of Deep Purple fame. All of your effect settings are saved right with your presets for instant recall.
The rotary speaker and other built-in effects let you easily texture your organ sounds to make just the unique statement you want to make.
Pro sound all around
The B-3 V will be right at home in just about any musical style you play—from rock, prog and reggae to jazz, blues and R&B, right through to today's dance bass lines.
We've invited top programmers and sound designers to set you up with all the presets you need for the definitive classic sounds across all those genres, plus get you started exploring the new creative options.
Whether you're soloing or holding down the bedrock, the B-3 V is packed with world-class sounds that bring the sonic authority of the monarch of organs to your music.
Preset browser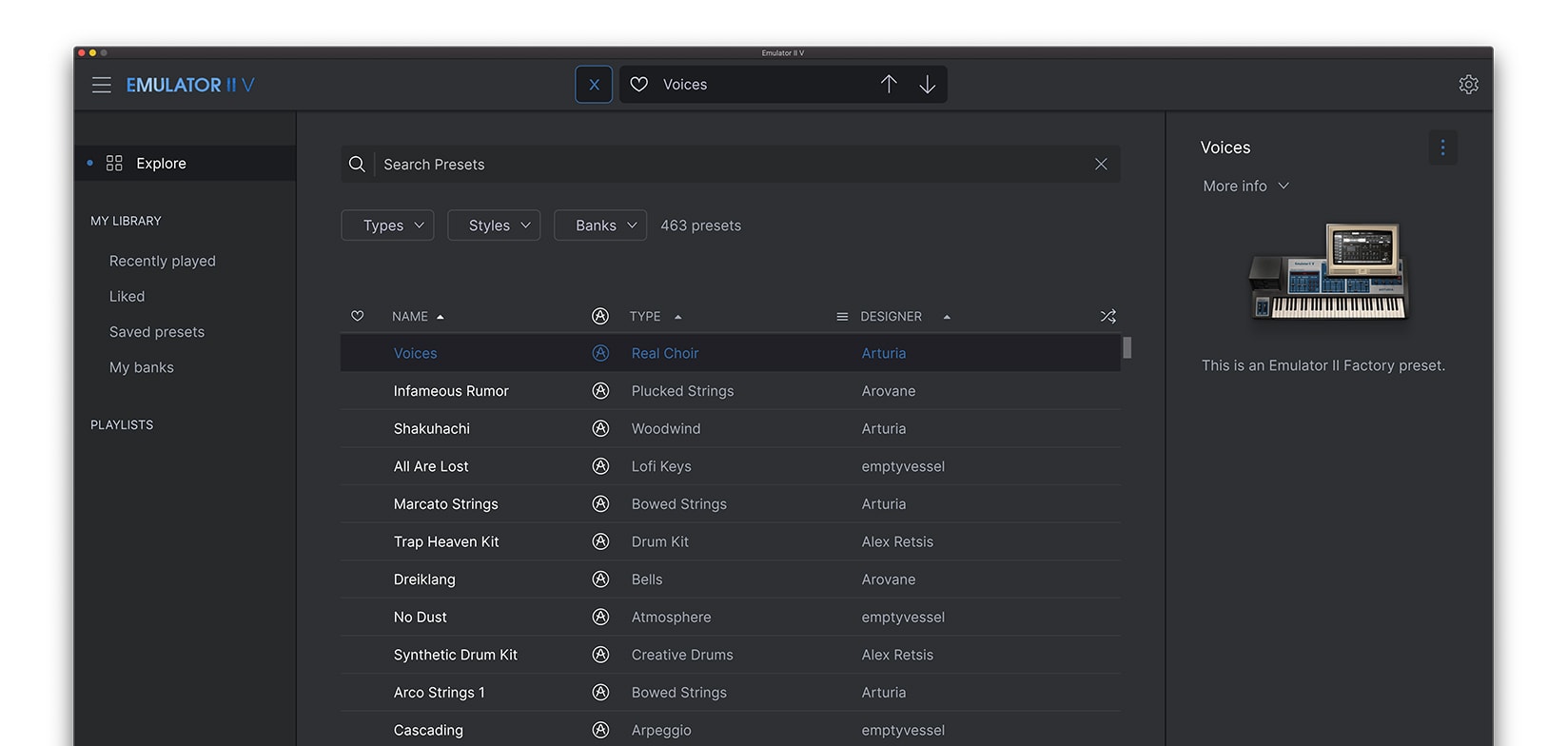 Our redesigned preset browser lets you quickly find just the sound you're looking for.
Search by name or simply select the appropriate tags to dial in on the exact sonic character you're looking for. You can mark and recall your own favorites, enter comments, and set up playlists. There's never been a more intuitive way to manage your library of designer and personal presets.
Resizable GUI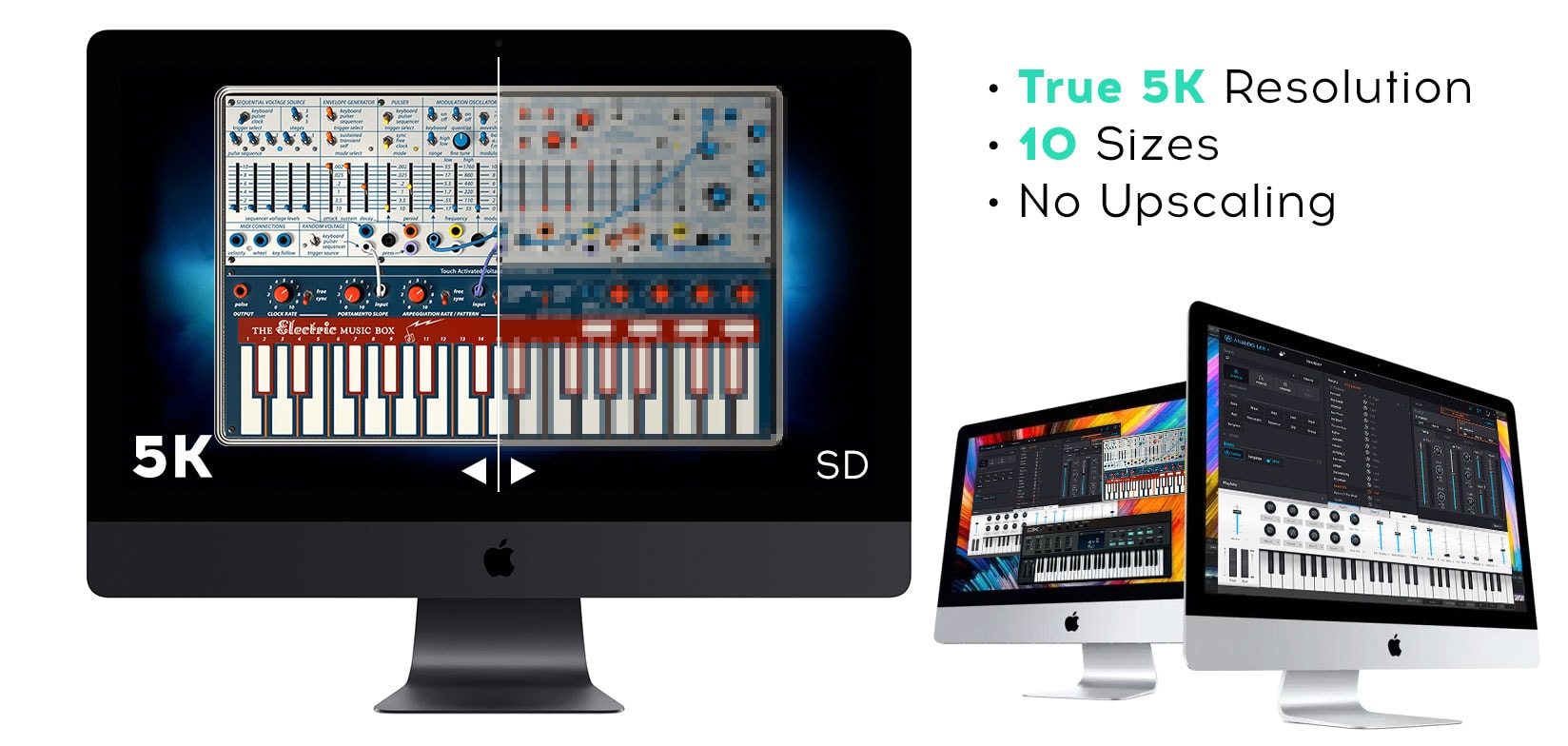 The user interfaces for all your Arturia instruments are now resizable, making it easy to work with any High Resolution screen, UHD or Retina.
You can decide whether you want to fill the screen with awesome graphic reproductions of classic instrument goodness, scale the window down when you're working in a DAW and screen real estate is at a premium, or even zoom for detailed work.
Platform specifications

: Win 7+ PC: 4 GB RAM; 2 GHz CPU.
1GB free hard disk space
OpenGL 2.0 compatible GPU

: 10.8+: 4 GB RAM; 2 GHz CPU.
1GB free hard disk space
OpenGL 2.0 compatible GPU
Required configuration
Works in Standalone, VST 2.4 (32-bit and 64-bit), VST 3 (32-bit and 64-bit), AAX (32 bits with PT 10.3.8, 64 bits with PT 11), Audio Unit (32-bit and 64-bit), NKS.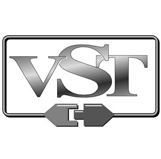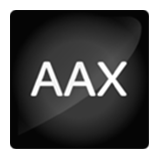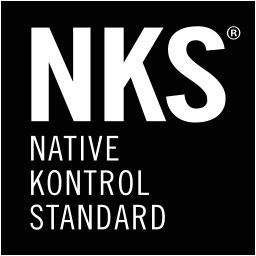 Protection
The software is protected by the Arturia Software Center. You can learn more about it here.
Main Features
Physical Modeling Engine (no samples)
Dual manual Interface
Each manual has separate MIDI channel preferences
9 Drawbars per manual
3 modeled chorus and vibrato settings
Separate upper and lower ON/OFF
Preamp drive
Modeled rotary speaker emulator
Advanced controls for adjusting the model
Convolution based Reverb
Traditional Leslie performance controls
Swell pedal
Percussion controlsOn/off
Volume soft/normal
Slow/Fast decay
Harmonic selection
Output effects where you can change the orderVolume, wah, auto-wah
Flanger
Compressor
Chorus
Analog Delay
New Advanced Drawbar modulatorsLFO's with multiple waveforms and phase
Multipoint envelopes
Step sequencer
Drawbar destinations with positive and negative amount controls
Physical model engine parametersDrawbar leakage
Tonewheel leakage
Brilliance
Background noise
Polyphonic Percussion
Key click volume
Attack and release controls
86 factory presets
Easy to use MIDI mapping
You may also be interested in: