You're currently on: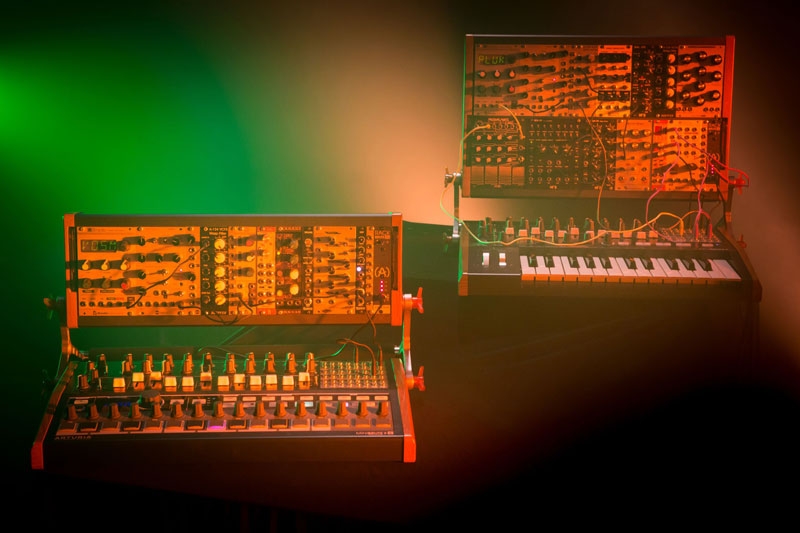 RACKBRUTE 3U - RACKBRUTE 6U
Meet RackBrute, a series of adjustable Eurorack housing systems that will store, protect, and power your sound modules.
Putting everything within easy reach, it's the perfect solution for modern musicians who want to total control of their creative space. RackBrute also makes it easy to pack down and travel to gigs thanks to its innovative design, keeping your precious modules safe from harm. It also features a dedicated power module to provides quick access to global power, with status LEDs.
A size to suit you
RackBrute is available in 2 sizes - a smaller 3U, 88HP version, and a larger 6U 176HP model - making it the perfect storage solution both for smaller, meticulously curated modular collections, and for more comprehensive setups. The dedicated power supply keeps everything juiced up with 1600mA +12V, 1600mA -12V, and 900mA +5V output, so no matter what your ideal modular system contains, RackBrute is up to the challenge.
Tough, but flexible
RackBrute is a robust, balanced system that won't wobble or collapse. The mix of metal frame, solid housing, and firm padding is reassuringly tough, and won't let you down. Whether you prefer to patch your modules facing up on your desk, at an angle while standing, or face-on while performing, RackBrute has you covered. You can even fold down the system to safe travelling or storage. No other Eurorack case gives you this level of flexibility.
Lock and load: the Arturia Link
The RackBrute system also works perfectly with the latest generation of Arturia hardware synths. Now it's easy to create a portable, customizable musical EcoSystem thanks to the Arturia Link. Hook up the MiniBrute 2 or MiniBrute 2S with ease, and look forward to more synths adopting this superb, patent-free connection system in the future.
More About The RackBrutes
Designed and built to perfectly pair with MiniBrute 2 and MiniBrute 2S, RackBrute is an open system that can host and power Eurorack modules from all manufacturers. It can be used with or without the MiniBrute 2. For the first time dealers and end users are offered a rack solution from a trusted industry leader with a proven track record and excellent supply management. The RackBrute opens a new door, into the booming world of modular synthesis.
A MODULAR SOLUTION
Boasting an integrated power system, rugged construction, and smart design, the Arturia RackBrute is the ultimate Eurorack modular housing solution. Engineered in France, produced in China, there is simply no better value for money on the market.
PORTABLE PROTECTION
Made of metal and wood, able to fold down into a protective transport mode, RackBrute will keep your precious synths and modules safe when you're on the way to your gig, or when you need to rearrange your creative space.
ONLY THE BEGINNING
RackBrute has been specifically designed to extend the capabilities of Arturia's exciting new MiniBrute 2 and MiniBrute 2S, but this is only the beginning. As more "RackBrute ready" instruments are released, its appeal will only grow.
3U & 6U options: whether you have a huge collection or you just need a convenient, rugged housing for a few choice modules, RackBrute is the answer.
A home for your modular system: RackBrute is a smart, space-saving Eurorack.
Good to go: RackBrute can be folded for storage or to provide protection for your precious modules in transit.
Rugged construction: built from hardwearing materials and components, RackBrute could be your one and only Eurorack case.
High quality power system: we have been highly focused on the integrated power management system so we offer a premium solution.
Multiple positions: RackBrute can be used in 6 configurations to give you the most flexible setup possible
SPECIFICATIONS
RACKBRUTE 3U
25.2"x 9.3"x 6.1" - 8.8lbs
Number of HP - 88
Number of HP with power supply module connected - 83
Included 5HP power module - 800mA +12V output, 800mA -12V output and 900mA +5V output.
Power rail with noise filtering - 20 standard power slots / 2 x 10-slot zones with 800mA on +12V and on -12V
RACKBRUTE 6U
25.2" x 13.4" x 6.1" - 13 lbs
Number of HP - 176
Number of HP with power supply module connected - 171
Included 5HP power module - 1600mA +12V output, 1600mA -12V output and 900mA +5V output.
Power rail with noise filtering - 32 standard power slots / 2 x 10-slot zones with 800mA on +12V and on -12V
You may also be interested in: