You're currently on: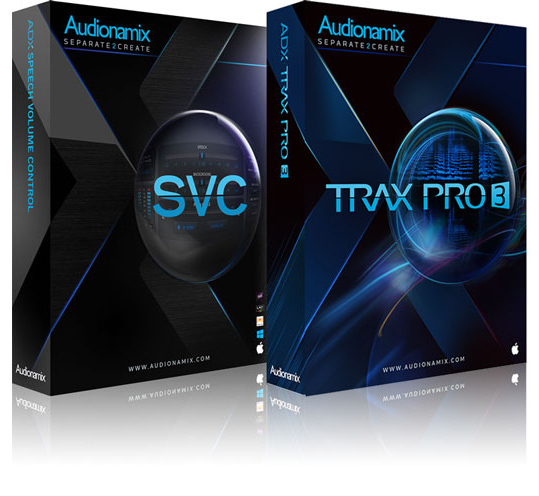 ADX SVC

*NOW AVAILABLE IN AAX, VST, AU, MAC OS & WINDOWS*
The ADX Speech Volume Control (SVC) plug-in allows independent volume level control over both speech and background elements within a mono or stereo mix. Lower the level of background noise within troublesome production audio, or easily boost dialogue levels without requiring access to stems or the full multitrack session.
SVC is very easy to use. Its elegant interface and simple controls provide access to advanced separation algorithms and standard volume sliders. The brand new, integrated Consonants Detection algorithm automatically identifies and separates difficult noisy consonants. Speech Setting presets can be used to easily target typical male, female and child speech frequency ranges.
Have you ever found yourself struggling to hear dialogue through loud background noises on a production recording? Have you ever needed to boost dialogue within a mix, but didn't have the stems or multi track session? Then we have a solution for you!
Audionamix is proud to present the newest breakthrough in audio science… the ADX Speech Volume Control plug-in, compatible with your favorite DAW.
With a few simple clicks of the mouse, SVC automatically identifies and separates speech, allowing you +/- 12dB of independent control over both speech and background elements. SVC also automatically preserves those difficult consonant sounds that typically get lost in the noise. SVC offers selectable speech settings to help you easily target typical male, female and child pitch ranges, making it a must-have tool for production and post audio professionals.
FEATURES
Volume control of speech content up to +/- 12 dB

Volume control of background noise and effects up to +/- 12 dB

Speech-optimised separation algorithm

Automatic Consonants Detection algorithm

Automatic Voice Activity Detection algorithm

GPU-enhanced processing speeds

Works with stereo and mono sources

Available in AAX, AU, VST formats

Windows and Mac Compatible
SYSTEM REQUIREMENTS
Runs in most common DAWs


AAX Native 32 and 64 bit, AU, VST


Mac and Windows compatible

High Speed Internet Connection
WHO'S IT FOR?
Post Production Studios
ADX TRAX PRO 3.0
*TRAX PRO 3.0 SUPPORTS OS X 10.10 – 10.11*
*TRAX PRO 2.5 LEGACY BUILD INCLUDED FOR OS X 10.7 – 10.8*
With improved separation quality, faster processing speeds and enhanced spectral editing features, separating a melody from a mix just got easier with ADX TRAX Pro 3.0. This upgrade also includes the new STEMS file export feature, making ADX TRAX Pro 3.0 the perfect crossover tool for Audio Engineers, DJs, Producers, Remixers and Post Production Engineers. The Pan-Specific View adds another dimension to the Spectrogram, that of position within the stereo field. When the Pan-Specific View is engaged, you no longer see a left and a right channel on your spectrogram, you only see the selected range within the stereo field, represented by a single channel. All of TRAX Pro's spectral processing and selection tools can then be applied with the Pan-Specific View active.

Transform your basic separations into professional-grade isolations with ADX TRAX Pro. The original TRAX software was developed to assist producers, audio engineers, DJs, and all creative artists in isolating vocal or melodic motifs to create new hooks, innovative remixes and virtual duets. TRAX enables users to raise or lower the level of a vocal or solo instrument in a mono or stereo mix without requiring access to the multi-track sessions. TRAX Pro adds a unique approach to spectral editing to this already powerful technology. Using our innovative, non-destructive spectral editing tools, it is now possible to further refine the results you get from the initial TRAX separation process. ADX TRAX Pro is truly the most advanced audio separation software available.
FEATURES
*NEW* Pan-specific spectral editing feature

*NEW* Faster spectrogram for smoother, more responsive spectral editing

*NEW* Consonants Annotation tool

*NEW* Export files in STEMS format

Improved Vocal Targeting and Import Workflow

Non-Destructive Source Separation

Integrated Post-Separation Enhancement

Multiple Bit Depth and Sample Rate Compatibility

Multi-Algorithmic Processing Matrix

Integrated Full Spectrogram

Comprehensive Suite of Spectral Editing Tools
SYSTEM REQUIREMENTS
Mac OS X 10.10 – 10.11 Only

TRAX Pro 2.5 Legacy Build included for Mac OS X 10.7 – 10.8

High Speed Internet Connection

CPU – Core Duo 2.3Ghz

RAM – 4 GB
WHO'S IT FOR?
FOR DJ'S
Create vocal and/or instrumental riffs to drop into a mix
Create music beds from well know songs to mashup and mix up
FOR REMIX ARTISTS
Create contemporary and artistic remixes and mashups using any vocal and/or instrumental
FOR POST PRODUCTION STUDIOS
To clean up a recording that may have mic bleed from other instruments into the vocal track
Add volume to a vocal that was mixed and mastered too low
Add effects and processing to a vocal or solo instrument that is already mixed without need of separate stems
You may also be interested in:
| | |
| --- | --- |
| Variant | 1 |
| Specials | Apr 30, 2019 |