You're currently on: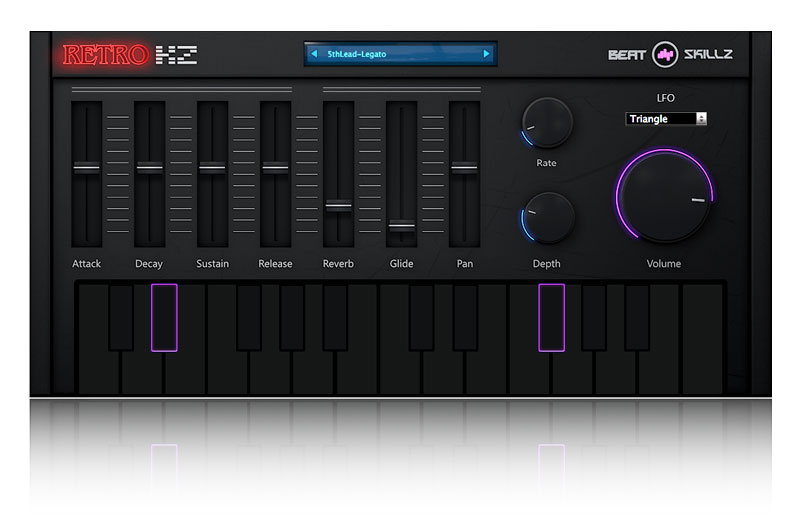 Retro Keys is a Virtual Instrument rompler inspired from 80s Soundtrack for Films and TV series, as well as Pop Music. Features sounds that you have heard countless times from that era and always wanted but couldn't find! Here they are, sampled from original 80s Synths and samplers using high outboard gear for maximum fidelity.
FEATURES
Have you seen TV, Netflix, and closely listened to the scores of many contemporary movies today ?If Yes, then you can't miss the fact the 80s/ 90s Sound is back BIG TIME!
We wanted to pay homage to the sounds of the great soundtracks from the 80s from composers and tv series /movies such as, John Carpenter, Harold Faltermeyer, Jan Hammer, Michael Jackson, Prince, Night Rider, The Terminator, Commando etc..
Certain iconic sounds showed up in many such projects, and we decided to embark on journey of bringing you the very sounds the you know, sounds you can identify immediately as soon as you hear them!
We sampled and tweaked these patched from original synths such as Fairlight, Synclavier, Yamaha DX7, Roland D-50, EMULATOR II, KORG M1, OBERHEIM OBX, PROPHET 5, SYNTHEX and many more…
These sounds were recorded using analog outboard gear such as NEVE 1073, Thermionic Culture Rooster, and Electrodyne pres, Distressor, Api 2500 and Drawmer 1978. Also External effects were used fro Eventide, Lexicon.
Hardware Eq, compression and reverbs were applied to the dry samples to re-create the original 80s vibe. These sounds will be instantly recognizable and will inspire you to work fast and sound great.
Features:
Multisample and Multivelocity Patches, Contains over 3600 samples!
100+ Sampled Patches:
Global Controls:
Attack: Controls the Attack time for the amp envelope of the Entire Drum Kit.
Release: Controls the Release time for the amp envelope of the Entire Drum Kit.
Decay: Control and add reverb for the entire kit .
Sustain: Change the tuning of the Entire Drum Ki
Reverb: Control and add reverb for the entire kit .
Glide: This is the built in portamento for legato sounds only, and the control yes you increase or decrease the time to move from the last note played to the next note played
LFO and LFO Type: This is a control to change speed of the Low frequency Oscillator set to affect the pitch of the sound, and you can also select the type of waveform – sine/ triangle, sawtooth, square or random.
Preset Selector Window: Use this to choose from 50 preset drum kits provided with this plugin, or use the back/forward arrows to browse the presets sequentially.
The current version of this plugin provides a stereo out (L/R Channels).
Note for Certain Patches:
The Glide Control works for For Legato patches only.
For certain patches the sustain and decay controls won't work because these are looped internally.
INSTALLATION
OSX :
Right click on the package Retro Keys_AU_OSX.pkg or Retro Keys_VST_OSX.pkg and click open
Follow the instructions to install the plug-in(s)
Windows :
EXTRACT the Retro Keys64WIN.zip for 64bit Windows or Retro Keys32WIN.zip for 32bit Windows
This folder is usually located here C:\Program Files\Vstplugins or C:\Program Files\Steinberg\Vstplugins
EXS24 Version : We have included all these patches as EXS24 files as well so the patches can be loaded into more advanced samplers such as KONTAKT, HALION STRUCTURE and other samplers which can load the EXS24 format, allowing you to layer, effect and mangle the patches, custom them further to your desire and sound design needs.
SYSTEM REQUIREMENTS.
Plugin Formats :
MAC OSX – VST/AU – 64bit /32 Bit
WINDOWS – VST – 64 bit / 32 bit
EXS24 Format – Load into Kontakt Logic EXS24, Cubase-HAlion ProTools – Structure via direct import of patches.
PC/MAC :
Windows XP SP2 or later / OSX 10.6.8 or later
Intel Core 2 Duo 2GHz / AMD Athlon 64 or equivalent
2 GB RAM / 300 MB HD
Screen resolution: 1024×768
VST2, AU, or AAX 32-bit or 64-bit host