You're currently on: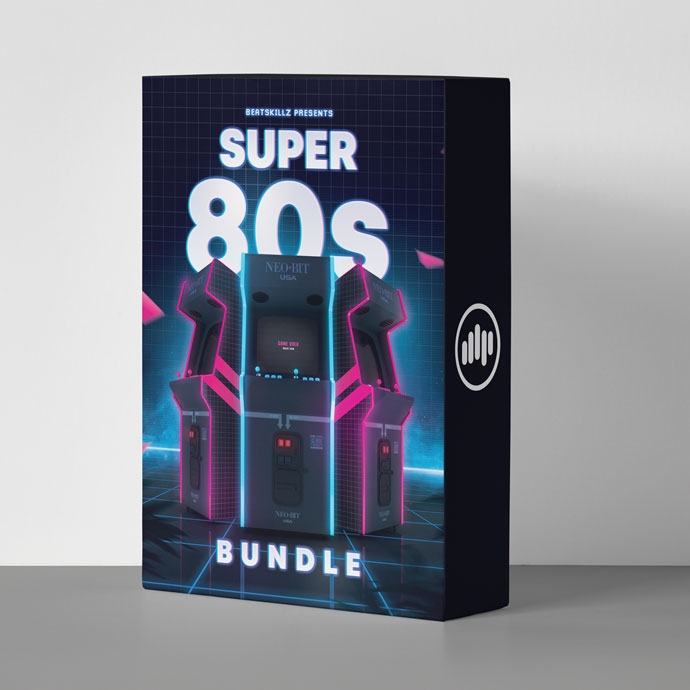 Beatskillz Super 80s Bundle

Super 80s Bundle
This bundle contains 7 products – Retro KZ, Retro Hit, Synthwave KZ, Synthwave Drums, Dark KZ, Breakdance Drums, and That Thing.
Total Price of all plugins: $413
You saved: $114
Super 80s Bundle is everything you ever need to make 80s Revival Music. Power up your Synthwave, Vaporwave, Chillwave music production by using the plugins in this bundle.
Available in AU – VST ( 32 Bit – 64 Bit )
* No PROTOOLS Support *AAX/RTAS VERSION IS NOT AVAILABLE FOR THIS. ( Except That Thing )

System Requirements:
PC/MAC:
Windows 10 / macOS High Sierra 10.13.6 or later ( Catalina Support Coming Soon )
Intel i3 or later / AMD Athlon 64 or equivalent 2 GB RAM / 300 MB HD
Screen Resolution: 1024×768
Super 80s Bundle, All the included plugins are designed as the ultimate tool for the music producers who want to produce 80s revival music with a modern twist. i.e Synthwave, Retrowave, Vaporwave, chillwave etc.
Super 80s Bundle contains Retro KZ, RetroHIT, Synthwave KZ, Synthwave Drums, Breakdance Drums, Darkkz, and That Thing.
Synthwave KZ
Synthwave / Vaporwave & Nuwave are 80s revival genres of music with a modern twist. This style has soon come up from the underground to the mainstream with countless artists releasing new tracks with the "Synthwave flavor".
This virtual instrument is a collection of 100 fabulous sampled presets from various analog synthesizers running though legendary effects and outboard gear. This process brings a rich and unique "analog" quality that is different from virtual emulations of real synthesizers.
Synthwave Drums
SYNTHWAVE Drums is a resurgence of the 80s drum sound in the 2010s and follows the principals of the retro production styles. Synth wave Drums not only brings you all the popular drum machine sounds but also brings dry and processed versions that sound exactly like the records you've heard. This helps in solving the "processing mystery" behind these hit sounds. Often when you buy emulations or samples of just the drum machines, the sounds are too raw and sound nothing like the sounds of the genre.
Retro KZ
Retro KZ is a Virtual Instrument rompler inspired from 80s Soundtrack for Films and TV series, as well as Pop Music. Features sound that you have heard countless times from that era and always wanted but couldn't find! Here they are, sampled from original 80s Synths and samplers using high outboard gear for maximum fidelity.
Retro HIT
Retro Hit is the 80s inspired Drum Plugin features over 600 drum hits (both dry and processed) inspired from the pop/ dance and rock sound of popular bands and artists from the 1980s. The plugin provides 50 Drum kits of Kicks, Snares, Hats, Cymbals, Claps, Toms, FX and Percussion which are available as processed versions already treated with eq, compression and reverb, and also some dry versions.
Dark KZ
Features 50 Professionally crafted Presets to get you the amazing soundtrack sounds inspired from the 80s. Includes Pads, Choir, Leads, Drums, Fx , Basses, Atmospheres and otherworldly sounds!
Breakdance Drums
Breakdance Drums bring to you the Hottest, processed drum sounds from the 80s era of Breakbeats and Breakdancing.
All of the inclusive drum sounds are already compressed/eq'd with hardware outboard gear and were sampled using vintage samplers such as the EMU EMAX, SP-1200 and MPC 60… bringing you the original grit and upfront drum sounds that cut through mixes with organic sounding results – this is something special. Load up the plugin or sounds (wavs included) within your DAW or hardware sampler, and start making the hottest breakbeats which have come around again to top the charts!
That Thing
"That Thing" is a multi-effects processor that was designed to get you "That Thing" missing from digitally perfect tracks today. It features a beautiful wide and deep chorus section great to thicken anything from synths, vocals, bass, pads drums, and other sounds.