You're currently on: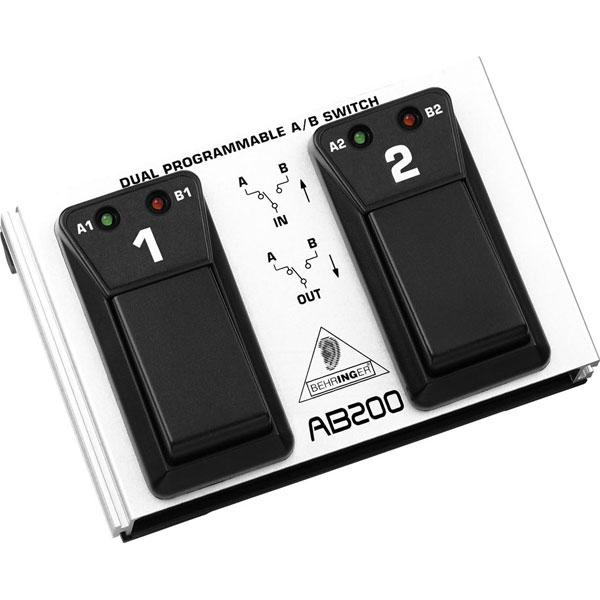 This universal, ultra-compact 2-channel footswitch is an ideal accessory for stage and studio applications. Use it on gear featuring external control functions such as guitar amps, keyboards, rhythm machines, lighting products and so on. You can easily switch between two input signals into one output or vice versa (e.g. switch between two guitars using one amplifier or two amplifiers with one guitar). Latching/non-latching modes are selectable for both channels:
Non-latch mode momentarily engages the switch while you hold down the pedal

Latch mode changes the On/Off status each time you press the pedal
We've relied on relay switching technology for ultra-high impedance and highest signal integrity. There are dedicated LED indicators for precise status control, and you can combine multiple AB200s by using the side-mount interlock. You will need one 9 V battery for operation (not included).
Main Features:
Ultra-compact and universal 2-channel footswitch for stage and studio applications

Usable for all products with external control functions such as guitar amps, keyboards, rhythm machines, lighting products, etc.

Easily switch between two input signals into one output or vice versa (e. g. switch between two guitars using one amplifier or two amplifiers with one guitar)

Programmable latching/non-latching modes selectable for both channels:

---Non-latch mode momentarily engages the switch while you hold down the pedal

---Latch mode changes the on/off status each time you press the pedal

Relay switching technology for ultra-high impedance and signal integrity

Dedicated LED indicators for precise status control

Combine multiple AB200's together by using the side-mount interlock

Runs on 9 V battery (not included)