You're currently on: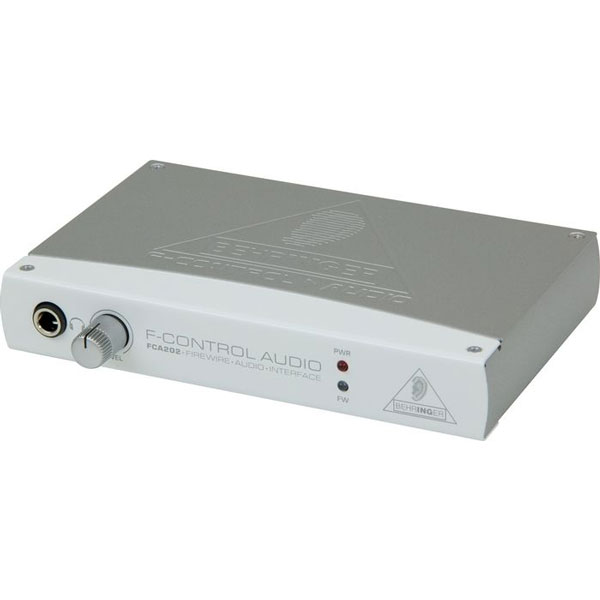 This ultra-compact FireWire® audio interface is an ideal companion for laptop musicians and ingeniously complements any studio. Its hot features include: Two ¼" connector inputs and outputs for connecting synthesizers, mixers and more; high resolution 24-bit A/D and D/A converters offer 96 kHz sampling frequency; volume-controlled headphones for discreetly working on your compositions, even on the road. Reliable Windows XP® and Mac OS® drivers guarantee low latencies. With the ultra-stable metal construction, the FCA202 easily defies the adversities of travel. And its small dimensions make it an ideal solution for laptop recording. Additional features include two 6-pin FireWire® connectors, a security port for Kensington® locks and the possibility to power the FCA202 via FireWire® or a mains adapter, which is included. The hot FCA202 package also comes with the coolest sequencing software for mobile music production: the BEHRINGER Edition of Ableton® Live Lite 4. Kristal and Audacity® are also included and will empower you to face any recording challenge.
Experience the power of extremes. With this affordable and mobile recording solution, you get hot connectivity and the coolest sound around for your PC or Mac - wherever you are.
Main Features:
Ultra-flexible audio interface connects your instruments, mixer, etc. with your computer for recording and playback
High-resolution 24-bit/96 kHz converters for high-end audio quality
Ultra-low latency drivers for Windows XP and Mac OS X included
Stereo Headphone output with dedicated Level control
Dual high-bandwidth FireWire connectors for absolute flexibility
Powered via FireWire bus or included power adapter for use with 4-pin FireWire PCs
Powerful DAW software included (Ableton Live Lite 4 BEHRINGER Edition, Kristal, Audacity)
Power and FireWire status LEDs on front panel
Standard port for Kensington security lock provided
High-quality components and exceptionally rugged construction ensure long life
Conceived and designed by BEHRINGER Germany