You're currently on: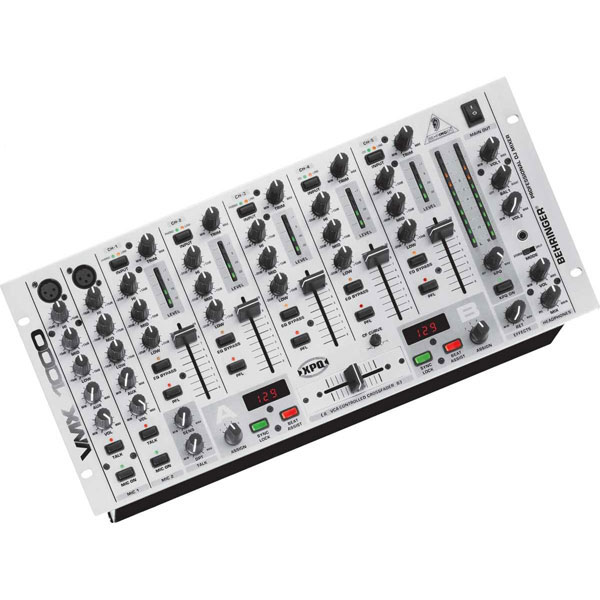 Among professional DJs, certain mixers emerge over time as must-have equipment, and the PRO MIXER VMX1000 is destined to face such fate. It's a professional 7-channel rack-mount DJ mixer with a BPM counter that is predestined for professional clubbing with its wide-ranging connectivity options and intuitive layout.


The techies will appreciate the super-smooth ULTRAGLIDE faders with up to 500,000 life cycles and the VCA-controlled crossfader - they yield utmost reliability and smooth audio performance. BEHRINGER's awesome XPQ stereo surround effect will give your mix an unmistakable finishing touch, and the adjustable crossfader curve lets you quickly adapt to various mixing styles. But the list goes on: you get a 3-band kill EQ (-32 dB) with EQ on/off switch on stereo channels as well as gain control and precise level meters on each channel. There is also a monitor function with PFL/main balance control & split option and auto-talkover function with separate depth and sensitivity control. The subwoofer output with adjustable x-over frequency and level control is perfect for putting some extra punch to your dance numbers, and you'll never run out of connectivity options with the balanced main and additional zone outputs.


Its extensive array of features is proof positive that even the most discerning DJs will feel right at home taking the VMX1000's helm.



Features
Professional 7-channel ultra low-noise DJ mixer with state-of-the-art phono preamps
Intelligent dual auto-BPM counter
Super-smooth ULTRAGLIDE faders with up to 500,000 life cycles
Awesome XPQ stereo surround effect
VCA-controlled crossfader for utmost reliability and smooth audio performance
Adjustable crossfader curve for all mixing styles
3-band kill EQ (-32 dB) with EQ on/off switch on stereo channels, gain control and precise level meters per channel
Monitor function with PFL/main balance control and split option
Auto-talkover function with separate depth and sensitivity control
Subwoofer output with adjustable x-over frequency and level control for separate bass amplification
Balanced main and additional zone outputs
Additional manual features:
5 dual input stereo channels, 2 ULN microphone channels with "MIC ON" switch and effects send facility
Dedicated FX loop for connecting external devices (sampler, effects processor etc.)
Phono inputs on channels 1 - 3 can be switched to line level
v Gold-plated RCA sockets for excellent audio quality
Ultra-rugged construction ensures long life, even under the most demanding conditions
Designed in Germany. Manufactured under ISO9000 certified management system