You're currently on: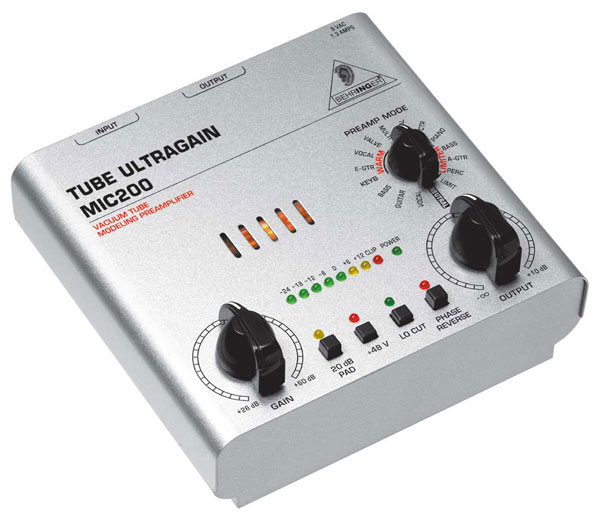 The TUBE ULTRAGAIN MIC200 is a high-end vacuum tube mic/line preamplifier with preamp modeling technology and an integrated limiter for studio, live and hard disk recording applications. Our super-flexible preamp modeling allows you to quickly optimize your recordings by choosing from 16 preamp voicings designed for vocals, acoustic and electric guitars, bass guitars, keyboards, drums, and more. In addition, it utilizes a carefully selected 12AX7 vacuum tube with UTC technology for exceptional warmth and low noise.
The MIC200 can be used to warm-up the sterile, analytical sound of standard digital recordings and sound cards. It is also the perfect complement to studio-grade condenser microphones. When used as a high-end DI-box, it provides outstanding signal integrity. The TUBE ULTRAGAIN MIC200 includes a phase reverse switch, +48 V phantom power and 20 dB pad. Balanced ¼" TRS inputs and outputs and gold-plated XLR connectors provide a nice finishing touch.
Main Features:
High-end preamplification for all microphone, instrument and line-level sources. Perfectly complements studio-grade condenser mics

Perfectly matches your studio, live and hard disk recording set-up

Ultra-flexible Preamp Modeling allows you to quickly optimize your recordings

You can choose between 16 preamp voicings designed for electric and acoustic guitars, keyboards, bass guitars, drums, vocals and more

Hand-selected 12AX7 vacuum tube with UTC technology for exceptional warmth and lowest noise

Ensures outstanding signal transparency when used as a high-end DI-box

Equipped with BEHRINGER's sophisticated output limiter—prevents the output signal from being distorted

Dedicated low cut filter eliminates unwanted noise, e.g. floor rumble

+48 V phantom power, phase reverse switch and 20 dB pad for utmost flexibility

Highly accurate 8-segment LED level meter

Balanced inputs and outputs on ¼" TRS and gold-plated XLR connectors

Conceived and designed by BEHRINGER Germany