You're currently on: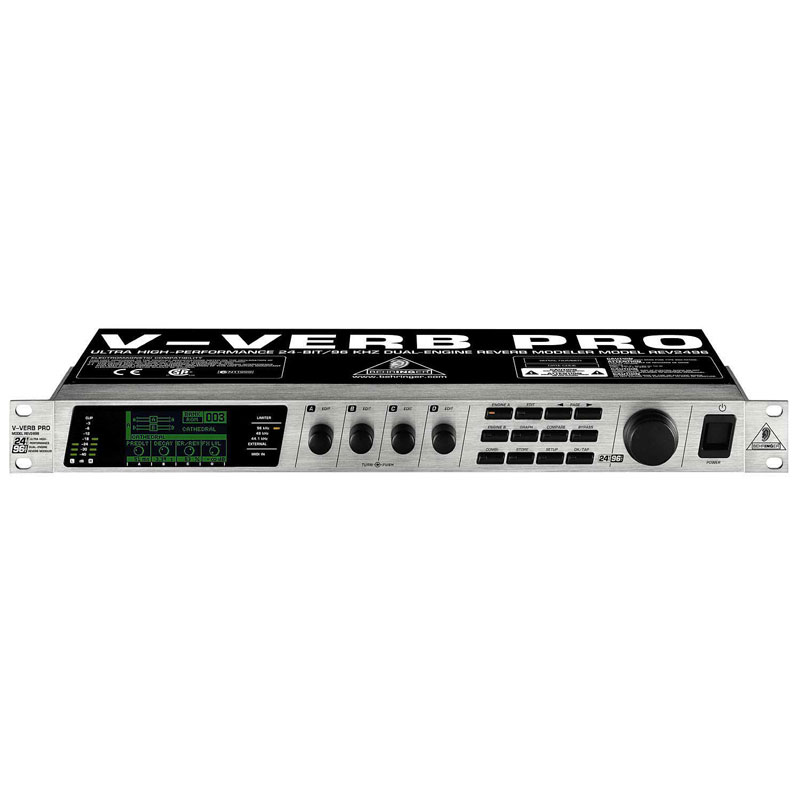 The V-VERB PRO REV2496 is a reference-class reverb modeler that simulates some of the world's most renowned reverb processors. It draws its strength from two independent effects processors that can be accessed via both analog and digital connectors. It also features 8 high-end reverb algorithms modeled after world-class reverb processors plus additional high-quality modulation effects from X-over Delay to Chorus/Flanger plus stereo Compressor. Its high-quality 24-bit/96 kHz A/D and D/A converters plus full 96 kHz operation with both effects processors (all 4 channels!) guarantees absolute high-end performance.
There are 10 different routing configurations for flexible assignment of analog and digital signals to both stereo engines. A full-featured digital interface with AES/EBU In/Out, optical S/PDIF In/Out, Wordclock In and MIDI capability allow flexible integration with other digital equipment. An ultra high-resolution SHARC® processor with 32-bit internal signal processing assures the ultimate in sonic resolution. Yet, navigating the REV2496 is intuitive and easy, with soft push/turn encoders, a big preset wheel, high-resolution LCD display and an additional TAP button for delay times. Direct access to 4 effect parameters makes editing easy and comfortable, and you can intuitively edit up to 30 parameters using a specially designed graphic mode. Separate ROM and user preset banks put a total of 400 presets at your fingertips—and open architecture allows future software updates via MIDI. Of course, you also get balanced inputs and servo-balanced outputs with gold-plated XLR and ¼" TRS connectors.
Main Features:
Reference-class reverb modeling processor with high-quality 24-bit/96 kHz A/D and D/A converters

Full 4-channel operation up to 96 kHz without any limitations, providing two separate effects processors in one unit

8 high-end reverb algorithms, modeled after world-class reverb processors

Additional high-quality modulation effects from X-over Delay to Chorus/Flanger plus stereo Compressor

Full-featured digital interface with AES/EBU In/Out, optical S/PDIF In/Out, Wordclock In and MIDI function for flexible use with digital equipment

Ultra high-resolution SHARC® processor with 32-bit internal signal processing for ultimate sonic resolution

10 different routing types for flexible assignment of analog and digital connectors to both stereo engines

Innovative user interface with soft push/turn encoders, big preset wheel, high-resolution graphic LCD display and additional TAP button for delay times

Direct access to 4 effect parameters makes editing easy and comfortable

Intuitive editing of up to 30 parameters using specially designed graphic mode

Separate ROM and user preset banks with 400 presets total

Balanced inputs and servo-balanced outputs with gold-plated XLR and ¼" TRS connectors

Open architecture allows future software updates via MIDI

Internal switch-mode power supply for maximum flexibility (100 - 240 V~), noise-free audio, superior transient response plus lowest possible power consumption for energy saving

Ultra-rugged construction ensures long life, even under most demanding conditions

Conceived and designed by BEHRINGER Germany