You're currently on: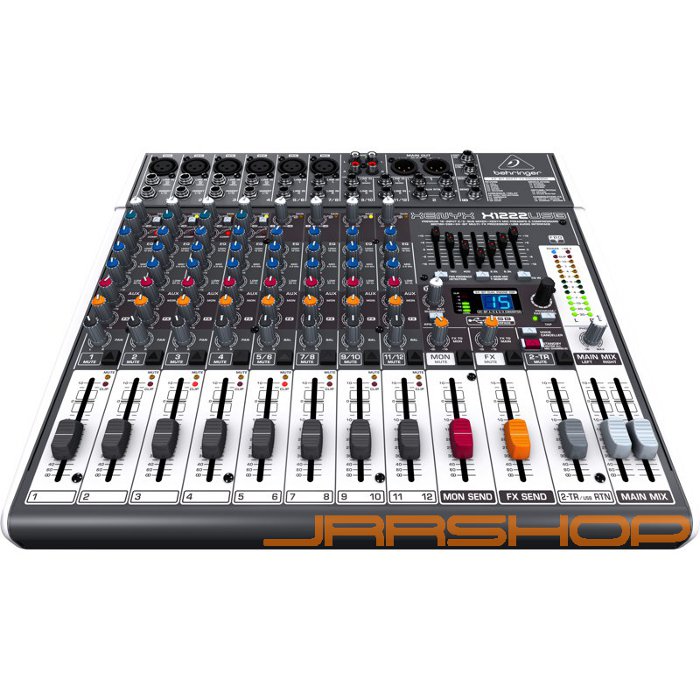 The X1222USB is a step up from the X1204USB with six mono mic inputs. These two additional channels can also be used for stereo line-level devices, such as keyboards or sound modules. The X1222USB also comes equipped with channel Inserts for inputs 1-4, a stereo 7-band graphic EQ, which can be assigned to the main or monitor buses, and our proprietary FBQ Feedback Detection System. Other features include full-sized faders for MON and FX SENDs, our XPQ 3D stereo surround effect (creates a broader, enhanced stereo image), and a handy Voice Canceller function for removing vocals from pre-recorded tapes and CDs for "instant-karaoke" applications.
XENYX USB Series mixers are designed to handle your live gigs, and they provide the state-of-the-art tools you need to make stunning, professional-quality recordings. Along with their built-in USB/audio interfaces, XENYX USB mixers come with all the recording and editing software you'll need to turn your computer system into a complete, high-performance home recording studio.
Sonically Superior Mic Preamps
All XENYX mixers have one thing in common—great-sounding, high headroom XENYX mic preamps. These state-of-the-art mic pres represent a major step in the evolution of audio technology—and they can easily hold their own, even when compared to the most expensive stand-alone mic preamps. XENYX preamps offer a staggering 130 dB of dynamic range, with a bandwidth that extends from below 10 Hz to well above 200 kHz. Armed with these outstanding mic preamps, XENYX mixers provide such transparent, crystal-clear performance you just might think someone upgraded your mics while you weren't looking.
Sublimely Musical British EQ
The British consoles of the 1960s and '70s changed the sound of rock and roll—without them the British Invasion might not have happened. Those legendary mixing desks soon became the envy of engineers and producers all over the world. The channel EQ on our XENYX mixers is based on that very same circuitry, allowing you to imbue signals with incredible warmth and detailed musical character. Even when applied generously, these equalizers exhibit sweet forgiveness and superb audio quality.
One-Knob Compression
Ask professional sound engineers what their favorite piece of external processing gear is and the majority response will be virtually unanimous—dynamic compression. What is compression? We're glad you asked. Compression essentially limits the dynamic range of a signal, lowering the level of loud sounds and turning up softer sounds, to achieve sonic balance. But applying compression is a delicate art that many novice, and even intermediate, sound techs have great difficulty mastering. Our "one-knob" compression is available on all mono channels and is easy to operate, even for entry-level users. With this one knob, you can easily dial in the perfect amount of compression for instruments and vocals, creating powerful mixes with punch and clarity. This is indeed a rare feature for products in this class—but standard on all XENYX USB mixers.
Effective FX
All XENYX USB Series mixers (except the 1204USB) feature our new 24-bit dual engine FX processor, with 16 editable, studio-grade presets including reverb, chorus, flanger, delay, pitch shifter and multi-effects. Complete with a highly accurate input meter, these effects can be altered to your personal taste via the Parameter control. Time-based functions can be entered manually by pressing the Tap button in tempo with the music.
Recording Bliss
There was a time when the recording process called for lots and lots of expensive gear, which meant the average musician had to buy time at a recording studio—and that time was pricey indeed. But modern technology has put personal recording well within the reach of virtually anyone with access to a computer. How do you get all that music flying around your brain into your computer? That's where XENYX USB mixers come in. Thanks to the built-in, bi-directional stereo USB audio interface, you can connect any of these mixers directly to your PC or Mac computer via a single USB cable. Now any signal source you connect to the mixer can be recorded directly to your hard drive. Which brings us to software…