You're currently on: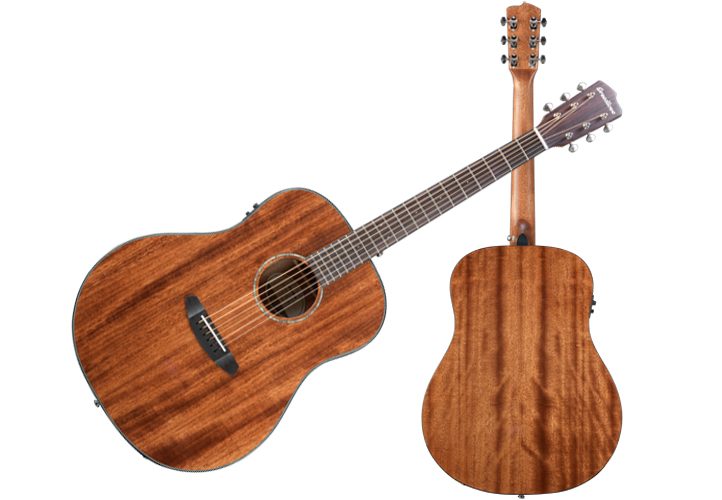 The Pursuit Dreadnought Mahogany offers the projection of a full-depth dreadnought, with the midrange punch of sapele for tonal warmth when played both acoustically and plugged in. The Pursuit Dreadnought Mahogany is a versatile instrument that will project well, and it offers Breedlove's distinctively crafted sound in an affordable package. Includes built-in USB port for easy interfacing with GarageBand and other recording software.
BODY SHAPE
Breedlove set out to enhance the traditional dreadnought sound, and the results are evident. If you're inspired by the familiarity of a dread, but are looking for more nuance and richness than usual, the Breedlove Dreadnought delivers. The shape is slightly more rounded than traditional dreadnoughts and produces beautifully full, punchy, and articulate tones. It also provides excellent projection and articulation, so it excels in any ensemble. The hand-graduated top provides the balance and clarity that make this one of the most innovative and expressive-sounding dreadnoughts on the market.
BREEDLOVE PINLESS BRIDGE
The Breedlove Pinless Bridge helps maintain the integrity of the top by eliminating the need for six drilled string holes. The fewer holes in your soundboard, the more evenly the sound wave can move across the interior, without any loss of energy. The Breedlove Pinless Bridge also provides a gentler string-break angle from the bridge to the top of the saddle, reducing saddle strain. This innovative bridge also makes string changes a breeze, especially on 12 strings. Plus, you'll never again have to worry about lost, worn-out, or broken bridge pins.
BREEDLOVE NECK
Breedlove guitars feature a slimmer neck profile, which enables comfortable play, even with smaller hands. The hand-rubbed, semi-gloss Breedlove neck finish also contributes to ideal playability. The labor-intensive finish process includes precise finish coat applications, fine sanding, and hand buffing and rubbing.
TOP WOOD
Genuine mahogany, swietenia macrophyllia, can be found from Mexico to southern Amazonia in Brazil. Mahogany is a medium-lightweight wood, ranging in color from light brown to dark, and is primarily used for necks because of the feel and the stability it provides. It offers a balanced, resonant tone with notable sustain – a thick bottom end, rich midrange, and controlled, warm top end finish out the sound. The coloration is a reddish brown.
LIMITED LIFETIME WARRANTY
Breedlove players around the world can attest: With consistent, proper care, your Breedlove will give you a lifetime of service – and inspiration. New Breedlove instruments, purchased through an authorized Breedlove dealer, are warrantied to be free of defects in materials and workmanship throughout the lifetime of the original owner. In addition to materials and workmanship, Breedlove offers a two-year warranty on tuning machines and electronics packages. Cases and bags are subject to a one-year warranty covering defects in structure and hardware.
You may also be interested in: