You're currently on:
Download License! Email Delivery!
Dimension Pro
Dimension Pro is the critically acclaimed synthesizer that combines real instruments with advanced synthesis giving you endless sound possibilities. The immense sound library DVD included with Dimension Pro makes it the ideal go-to instrument for musicians, while its deep editing and sound design capabilities have a natural appeal to sound designers.
Dimension Pro offers an abundance of vital useable sounds, that range from pristine realistic acoustic instruments, thumping basses and cutting leads to complex, evolving atmospheres.
Highlights
Critically acclaimed synthesizer that combines real instruments with advanced synthesis, giving you endless sound possibilities
Mac formats: AU (Universal Binary), RTAS (Pro Tools 6.x & up), VSTi; Windows formats: DXi (XP & x64), and VSTi
Sound library DVD with professionally produced multi-samples and grooves
Over 1500 sound programs
Mix and layer up to 4 stereo parts per program
Easy editing of graphical envelope generators and LFOs
Multi-stage effects sections and filters deliver production ready sound
Vector Mixer for real-time sound morphing
Drag-and-drop MIDI into host for groove manipulation
Amazing Sounds
Dimension Pro's wide tonal range can be attributed to both advanced sample mapping and a powerful sound-sculpting engine with analog sound generation that lets you mutate and recompose any sound you might imagine.
The unrivaled, non-aliasing Dimension Pro engine is at the heart of their unparalleled sound quality and capabilities for creative expression. Dimension Pro's engine provides rich resampling and synthesis, while simultaneously giving access to extended performance characteristics of sound programs.
Multifaceted Instrument Engine
Dimension Pro's engine is a multifunctional engine, providing capabilities for several types of synthesis under one hood, including multisample rendering, wavetable synthesis, REX playback and manipulation, waveguide synthesis, and an extensive DSP library of effects.
Unparalleled Sound Quality
Like all digital instruments, Dimension Pro's engine relies on extensive audio resampling in order to generate musical instrument sounds. Dimension Pro's engine resampling leads the industry in clean, anti-aliased real-time sound production for multisample audio playback. (Aliasing is unfavorable digital distortion inherent in the process of resampling).
Dimension Pro's wavetable synthesis provides a resampling technique, which comes even closer to anti-aliasing perfection than multisample rendering. Wavetable synthesis utilizes a single, inaudible, one-cycle waveform, and through analysis and resampling, synthesizes this sound across the entire MIDI key-range. This process is similar in some respects to the propagation of simple waveforms found in analog modes of synthesis.
Dimension Pro for Sound Designers
Dimension Pro's deep editing and sound generation capabilities hold infinite potential for the chronically creative. Sound designers will love the hands-on control Dimension Pro offers, making it the perfect instrument for cinema, television, video game, and commercial sound design.

Advanced Synthesis Capabilities
Waveguide generators and wavetable oscillators for analog-style sounds; each program provides 20 graphical Envelope Generators, and 20 tempo-syncing LFOs, each with 21 shapes.
Express Yourself
Get into nuances of sounds with multiple velocity and keyboard switching and crossfading; advanced sample playback techniques such as multi-looping, sample switching, and legato on Continuous Controllers; enhanced acoustic simulation via physical modeling. Map MIDI controllers to all Dimension Pro functions with MIDI Control Matrix. Mix quickly and intuitively between different elements of your sound program using the Vector Mixer.
Multi-stage Effects Per Part
Insert and send effects include bit reducer/ decimator, 16 filter types, 5 drive modes, 3 stackable parametric EQs, 6 delay types, 3 chorus types, LFO filters, autopan; room simulation and modulation for the finishing touch.
Dimension Pro for Preset Addicts
With over 1,500 production-ready presets, you can access the perfect sound for almost any project. Dimension features a powerful pairing of sample-playback and advanced synthesis technologies, capable of covering every aspect of contemporary music.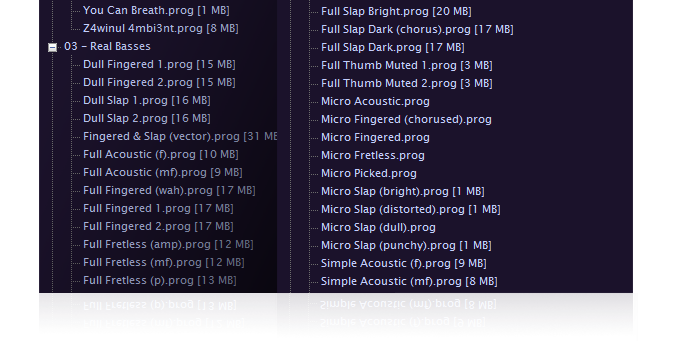 3 GB library
Dimension's library includes tons of thumping bass, grand piano, searing electric guitar, kickin' drum kits, a full orchestral suite, instruments from around the world, and more. The library also explores the worlds of techno, trance and electronica, providing a comprehensive collection of synth leads, electronic basses, lush pads and gripping atmospheres.
Hundreds of sound programs are included in the following Dimension Pro sound banks:
Dimensions (atmospheres)
Pads
Real Basses
Synth Basses
Drums
Percussion
Strings
Guitars
Organs
Electric Pianos
Bells
Leads
Brass
Saxes
Vocals
Layers
Splits
Drum Grooves
Musical Grooves
Techno & Trance
Electronica Collection
Ethnic & World
Garritan Pocket Orchestra
Ochestral Scrapes
Garritan Pocket Orchestra
Cakewalk and Garritan have joined together to offer sound programs based on the critically-acclaimed Garritan Personal Orchestra. The Garritan Pocket Orchestra, included in Dimension Pro, contains samples of all the major instruments in a symphony orchestra—strings, brass, woodwinds, and percussion.
Electronica Collection
Nico Herz of BigTone helped to create Dimension Pro's breathtaking electronica palette. His experience and mastery have yielded an exciting array of synth basses, bold leads, thick stacks, pads, simulations and amazing effects.
System Requirements
The following are the minimum and recommended system requirements for Mac and PC
Mac: (minimum)
OS: OS X 10.5 or higher (OS X Lion & Mountain Lion are not supported)
Processor: Intel Core or newer processor
Memory: 2 GB RAM
Disk space: 8 GB
Screen Resolution: 1024 X 768, 16-bit color /li>
An Audio Units or VSTi capable host application
Windows (minimum)
OS: Windows XP/Vista/Windows 7
Processor: Intel Pentium 4 1.3 GHz / AMD Athlon XP 1500+
Memory: 512 MB RAM
Disk space: 8 GB
Screen Resolution: 1024 X 768, 16-bit color
A (32-bit or X64) VSTi capable host application
You may also be interested in: