You're currently on:
Download License! Email Delivery!

What is Rapture Pro?
Rapture Pro is the first performance synth to combine oscillator and sample-based synthesis in an intuitive design for musicians of any skill level. Simply load a sound and go! Rapture Pro's innovative Perform mode connects the studio and stage with exceptional control for real-time expressiveness and a sound library that spans all genres of music. Whether you want a classic piano sound for a smooth jazz ballad, searing rock guitars, breathtaking atmospheres, or cutting-edge, step-sequenced patterns for EDM, you'll find them all in the massive library of instruments, textures, and soundscapes.

But, Rapture Pro is far from the usual "set-and-forget" instrument. The new Edit mode gives you infinite tweakability by overlaying Rapture's signature mixing and modulation options for every program. Harness the power of sophisticated synthesis and create sounds that you'll need to hear to believe.
Highlights
Transform, perform, produce, bend, and twist with new sounds, more FX, and more control
Find and prioritize sounds faster with databased browsing
Performance Mode gives unprecedented freedom to interact with sounds on stage or in the studio
Vector Mixer controls all 6 element volumes simultaneously for creative, real-time mixing
Edit and create sounds easily with the clean, expansive, color-coded user interface
6-element architecture is ideal for MIDI guitar
Effortless parameter mapping with the new Mod Matrix
Each element of Rapture Pro has 7 Step Generators, 7 LFOs, and 7 Envelope Generators
13 crushing distortion FX for massive pads and lead presets
21 sweeping filters for building bass drops and surgical mixing
31 soaring insert FX for each individual element
Freely layer synths and samples
2-click MIDI Mapping for quick controller assignments
Mix your instrument's elements with the Mixer Page's faders, pan, and sends
Individual element tone-shaping with a more visual EQ
Supports Mac OS X Audio Units, Windows 7/8 VST3
Nearly 10GB of sounds from professional sound designers
Ability to load individual microtuning files per element
Multitimbral mode allows you to play each element individually
What's New in Rapture Pro
One synth to rule them all. The best features of Dimension Pro and Rapture have added significant innovations to bring you a next-generation musical instrument that bridges the gap between live performance spontaneity and impressive studio sound.
SOUNDS
PERFORMANCE
CONTROL
FUSION
Get ready for a new adventure in virtual instruments.
Explore the new world of Rapture Pro with nearly 1000 presets and 10 GB of sounds. We've handpicked some of the best designers from across the world to give you their very first take on Rapture Pro's monstrous sound engine. From world instruments to ripping bass synths, Rapture Pro makes it possible to explore unthinkable combinations of sounds.
Sounds Designed by the Pros
Rapture Pro's sounds are designed by some of the most talented professionals in the industry. We hand picked these individuals because their particular styles compliment different parts of Rapture Pro's ever-evolving design.
Dom Kane
DJ | Producer | Engineer
As a writer & producer, his music has been heard globally in DJ sets from David Guetta, Deadmau5, Orbital, James Zabiela, to name a few, with international radio play from BBC Radio 1 & Sirius (Pete Tong), and Capital FM.
Andrew Hlynsky
Producer
Andrew Hlynsky is a teacher, sound ware developer and music technologist from Boston MA. He has attended the New School for Jazz and the Berklee College of Music for Music Synthesis.
Ben Cantil
Musician | Author
Ben Cantil (Encanti) is an electronic music producer and sound designer from Alaska (USA), who currently teaches for the Music Production, Technology and Innovation at the Berklee College of Music campus in Spain.
System Requirements
---
Win 7, Win 8, Win 8.1*
---
Processor: Intel Core 2 Duo or newer
---
Memory: Minimum 2GB RAM
---
Disk space: Core installer 50MB, Full installation: 13GB
---
Formats: VST2i, VST3i, Standalone Version (32 or 64Bit)
---
Install and activate with Cakewalk Command Center ***
---
OS X 10.9 or later
---
Processor: Intel Core 2 Duo or newer
---
Memory: Minimum 2GB RAM
---
Disk space: Core Installer: 50MB, Full installation: 13GB
---
Formats: Audio Units, VST3i (32** or 64Bit)
---
Install and activate with Cakewalk Command Center ***
* Windows XP is blocked, Vista not officially supported
** Mac OS X not supported on older 32-bit processors (1st Gen Intel Macs)
*** Internet connection required
Features
Rapture Pro adapts to your workflow
Rapture Pro makes it incredibly easy to find sounds that suit your workflow. Whether you are a composer, live performer or sound designer, Rapture Pro adapts to your needs and lets you meet your artistic vision.
Composition
Stay focused on the task of composing by using Rapture Pro's intuitive new Browser to find and preview commercial-ready sounds created by top content designers from around the world.
Live Performance
Rapture Pro's new Instrument page makes live performance fun by providing a dedicated view with controls that can be mapped to your hardware controller for the ultimate flexibility.
Sound Design
Finding your signature sound has never been easier thanks to Rapture Pro's Edit mode, which features extensive layering and mixing capabilities that let you stand out from the crowd.
Redesigned Interface
Expansive, clean, colorful, and easy to use
BROWSER
INSTRUMENT
MIXER
ELEMENT
Browser
Find your sound.
Sort, prioritize, and even see your most-used presets from Rapture Pro's vast library of sounds—directly from the sophisticated Browser Page.
The anatomy of Rapture Pro
Layer real-life instruments and monstrous synth sounds simultaneously, thanks to Rapture Pro's versatile sound engine and workflow. With 6 elements and 20 instrument types, Rapture Pro lets you customize the way your presets and programs tear through your music with unparalleled sound quality and three different page views for your workflow.
Parametric EQ
Mix your sound with precision.
Sculpt and shape your sound visually with Rapture Pro's Parametric EQ—integrated individually and globally throughout Rapture Pro's interface.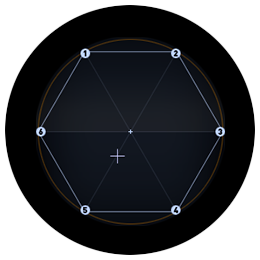 One control for your mix
Sweep among the individual volumes of all 6 elements simultaneously with the Vector Mixer—and map it to your live rig for yet another level of performance control.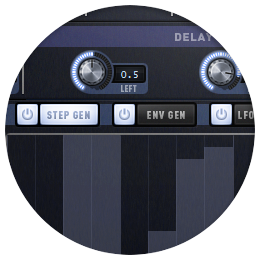 Infinite Possibilities
Rapture Pro's multiple Envelope Generators, Step Generators, and LFO modulators give you the freedom to control this synth any way you please.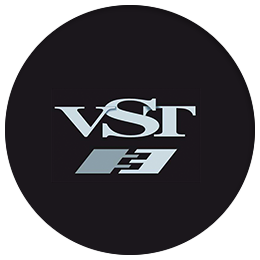 VST3 Ready
A better synth deserves a better plug-in format. Rapture Pro takes performance to another level with advanced VST3 technology.
20 all new instrument types
Rapture Pro now includes 20 all new instrument types, chock full of presets that can be easily mapped to your controller for amazing performance possibilities through the new Instruments Page.
Plus, a world of presets
Rapture Pro comes fully stocked with over 10GB of new content and 4300+ total presets. Plus, you can use any existing expansion pack for Dimension or Rapture Classic.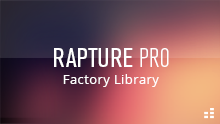 Nearly
1,000
Presets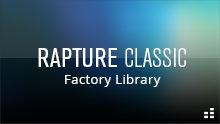 Over
1,300
Presets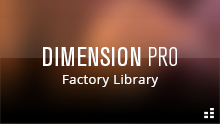 Over
2,000
Presets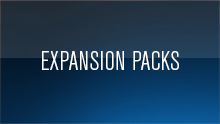 Over
40+
Expansion Packs
You may also be interested in: