You're currently on: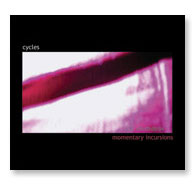 Momentary Incursions are hits, events, effects and transitions... for use when a more finite punctuation is in order. Aggressively percussive to hypnotic and transient, this collection of 900+ non-looped samples range from a fraction of a second to over a minute in length.
Content Categories:
Events: longer gestures of modular, granular, metallic and electro-acoustic origin.

FX: surreal and hyper-real effects that started life based in reality.

Hits: shorter percussive bursts of electronics, metal, foundsound and processing overload.

Transitions: events that provide transitional intros, endings, builds, fly-bys and tails.

Waves: incidental swells of convoluted textures.
The Cycles Design Philosophy
When consulting with several professional sound designers and composers about what would make their job easier while using libraries in the middle of a hectic production schedule - one thing came up repeatedly: Simple equals Fast.
To this end we worked on making the standards used by the Cycles series direct, easy, and to the point.
The title is inspiring but directly reflects the nature of the actual content.

The packageis quick to open and the spine is easy to read.

The spine index uses a coded symbol at the top of the spine. The color suggests the sound file type (ambient, rhythmic, FX, etc.). The arrow length indicates the average duration of the samples.

By using a DVD-ROM we can consolidate a large amount of material on one disc.

The disc labels are easily identifiable as they are strewn about the floor in the frenzy of a deadline.

The file format is designed for maximum convenience:

contains multiple sample rates for quick multiple format support (48Khz & 44.1Khz)

uses 24-bit samples to preserve quality and robustness when doing further processing

.wav for universal application and auditioning program support

5.1 surround examples are supplied in 6 channel broadcast .wav (SMPTE/ITU order format) as well as 6 individual channel files (for re-configuration into other formats)

rhythmic samples include 24-bit REX format files

all samples are end-to-end looped for easy use in sequencers or looping applications such as radiaL, Live, Acid or GarageBand.

The organization of the disc has been distilled to the natural essence of the content

not too many folders to weed through

easily and quickly scrollable audition

the filenames are not overly pre-defined. We intended these libraries to be inspirational rather than merely a fulfillment tool. If a sound is called "snare-like" it tends only to be used as a snare.
The audio CD is a much-requested enhancement for ease of auditioning. For example, you can play it in the background during set-up. The files were left in their raw loop state (not head/tail faded) so the 16-bit loops could be ripped if needed. Multiple sounds sharing a track are indexed (for those increasingly rare CD players that will read this information).

The index is a simple and direct document for fast referencing of vital data relevant to the content of each library - file length, loop data, BPM and pitch (if applicable). The audio CD index includes the individual index start times for players that don't read track index points. And both the CD and DVD index are supplied in both PDF and Excel format for easier integration into sound file databases.