You're currently on: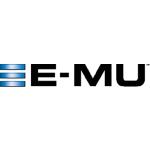 The E-MU® 1820M is the flagship of E-MU's line of Digital Audio Systems, delivering everything you need to produce audio on a PC with professional results- 24-bit/192kHz converters (the ...
Learn More
If you have a 1212M or Emulator X, you can purchase the AudioDockM upgrade and get the same external Analog and Digital I/O that comes with the 1820M and Emulator X Studio (replaces your...
Learn More
E-MU's new 0204 USB Audio Interface is the ultimate portable 2-in/4-out USB audio interface for PC and Mac, offering pristine 24-bit/192kHz recording and playback, direct monitorin...
Learn More