You're currently on: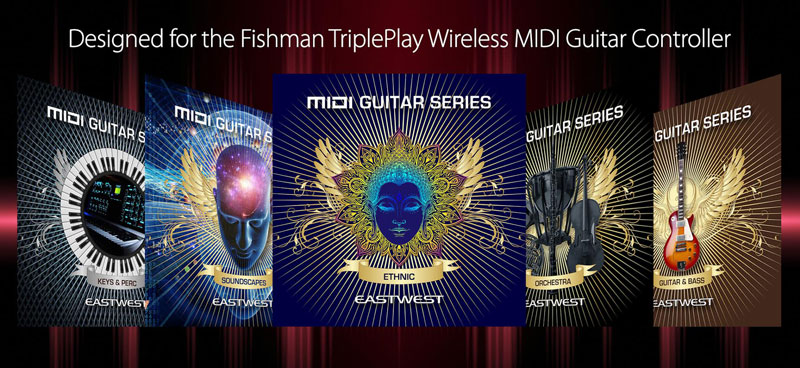 These new EastWest MIDI Guitar Instruments, from producers Doug Rogers and Nick Phoenix, differ from the current EastWest virtual instruments, which are optimized for keyboards, in that they have been selected and designed to take advantage of the complex and unique waveforms produced by a guitar's vibrating strings. These five titles cover a wide range of musical styles and instrument families.
"We have been testing MIDI guitar systems for years, and the Fishman TriplePlay Wireless MIDI Guitar Controller is the best in class," says EastWest producer Doug Rogers. "So EastWest and Fishman worked closely together, re-programming the instruments and making adjustments to the software specifically for the Fishman MIDI Guitar Controller. It all works incredibly well as you can hear in the video we produced. In fact, it opens up a whole new world for guitar players who have been grappling with decades-old technology. I know many of our users consider themselves to be guitar players first, so they will now be able to compose 'anything' using their preferred instrument, instead of a keyboard."
Fishman founder and president, Larry Fishman states, "The opportunity of collaborating with EastWest is very exciting for not only our two companies, but also for guitarists who are looking to explore new avenues of creativity and sound. EastWest virtual instruments are the choice of top music, film, TV, and gaming performers and composers. We worked with the EastWest team to expand the TriplePlay orbit of guitar-optimized, easily accessed and compatible virtual instruments that will build on the already formidable list of TriplePlay features and benefits."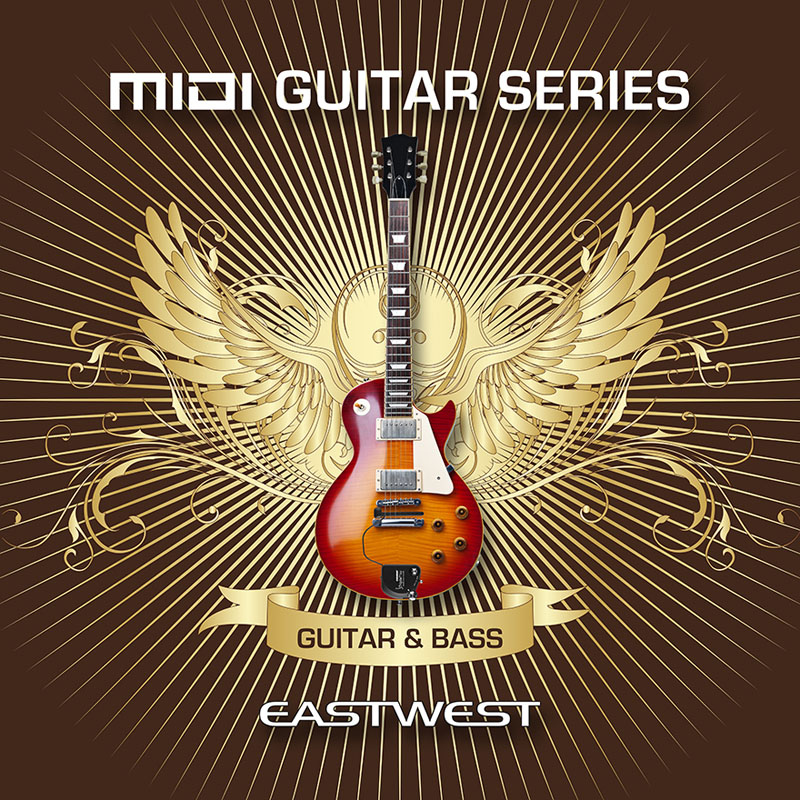 MIDI Guitar Series Vol 4:
Guitar and Bass
MIDI Guitar Series Vol 4: Guitar and Bass is comprised of 94 instruments divided into 2 categories: Guitar and Bass. In total, this volume contains nearly 38 GB of 16 bit / 44.1 kHz samples. In addition to the instruments redesigned for MIDI guitar controllers from award winning collections of Ministry of Rock 1 & 2, The Dark Side, Ghostwriter, and Fab Four. This volume also contains two new guitars, one acoustic and one electric. These two guitars have been deeply sampled and include the entire range of notes on each string, giving even more flexibility when used with MIDI guitar controllers. Use the electric with the built in Amp Simulator with it's 80 Amp Presets.
INSTRUMENTS INCLUDED (94):
GUITAR (54): 7 String Ibanez (2), Arp Les Guitar, Baritone Monolithic, Danelectro Baritone (2), Nylon String Classical Guitar (2), Dirty Leslie Guitar (2), Distorted Telecaster, Django hollow-body Jazz (2), Fano Electric Guitar (2), Nylon String Flamenco Guitar (2), Guitars On Mars, Epiphone Casino/Fender Stratocaster "I Want Guitar" (doubled), 1966 Martin D28 Acoustic "I'm A Blackbird Guitar" (2), Fender Jaguar (3), Les Paul Guitar (7), LoFi Crunch (3), Vintage Les Paul Deluxe (2), Martin D28 Acoustic (2), Nasal Guitar, Octave Distortion (3), Schecter C7 Hellraiser 7-String Guitar (2), Spanish Steel Guitar (2), 1972 Telecaster Thinline Guitar (3), Rickenbacker 360-12 "Ticket to Guitar", 1890 Washburn Guitar (4). BASS (40): 1961 Fender Jazz Fretless (2), 1966 Danelectro Silvertone (2), 1972 Rickenbacker 4003, Bass Hemorrhage, Bass Snatchers, Destroyer Bass, Distorted Attack Bass, Fender Precision Bass (3), Fuzz Bass, Lakland 55-94 Skyline Standard (2), Mean Synth Bass, Vintage Musicman, Nuclear Bass, Obliterator Bass, Perc Bass, Radioactive, Rattly Bass, Relatively Clean Bass, Spector Bass (13), Stingray 5 String (2), Tunnel Bass (2).
You may also be interested in: