You're currently on: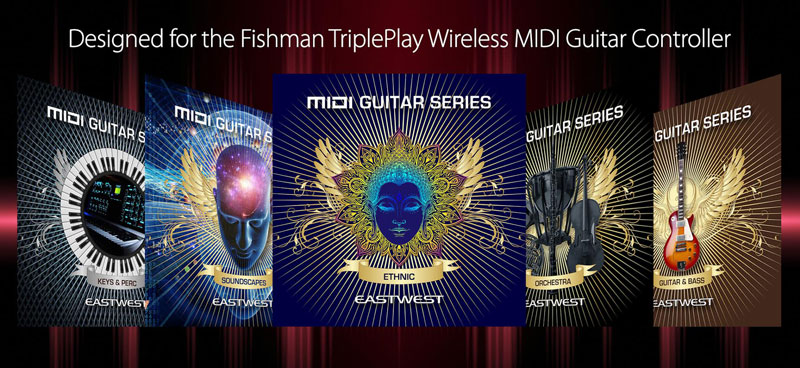 These new EastWest MIDI Guitar Instruments, from producers Doug Rogers and Nick Phoenix, differ from the current EastWest virtual instruments, which are optimized for keyboards, in that they have been selected and designed to take advantage of the complex and unique waveforms produced by a guitar's vibrating strings. These five titles cover a wide range of musical styles and instrument families.
"We have been testing MIDI guitar systems for years, and the Fishman TriplePlay Wireless MIDI Guitar Controller is the best in class," says EastWest producer Doug Rogers. "So EastWest and Fishman worked closely together, re-programming the instruments and making adjustments to the software specifically for the Fishman MIDI Guitar Controller. It all works incredibly well as you can hear in the video we produced. In fact, it opens up a whole new world for guitar players who have been grappling with decades-old technology. I know many of our users consider themselves to be guitar players first, so they will now be able to compose 'anything' using their preferred instrument, instead of a keyboard."
Fishman founder and president, Larry Fishman states, "The opportunity of collaborating with EastWest is very exciting for not only our two companies, but also for guitarists who are looking to explore new avenues of creativity and sound. EastWest virtual instruments are the choice of top music, film, TV, and gaming performers and composers. We worked with the EastWest team to expand the TriplePlay orbit of guitar-optimized, easily accessed and compatible virtual instruments that will build on the already formidable list of TriplePlay features and benefits."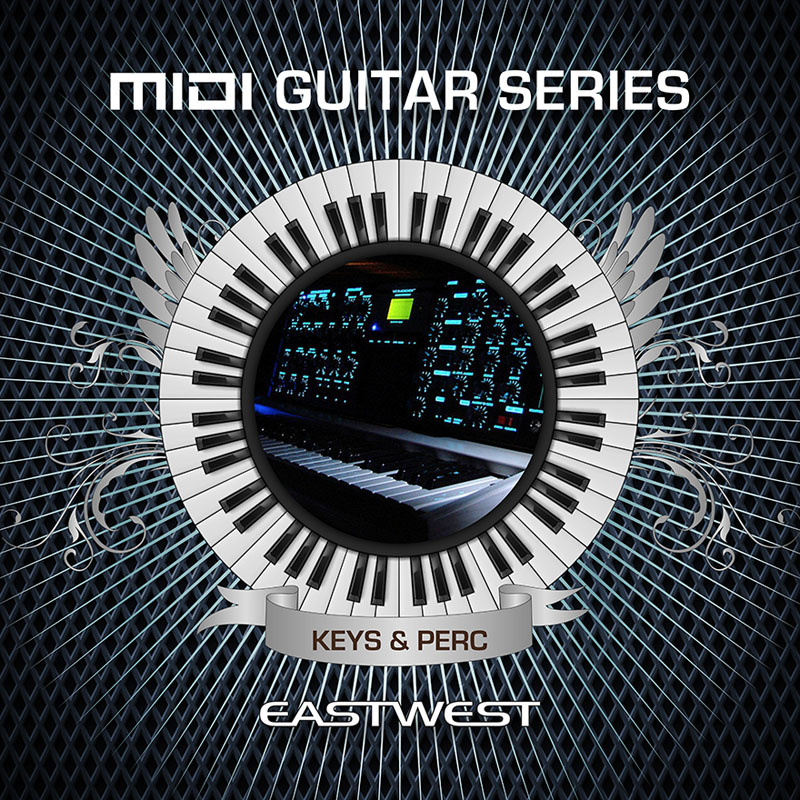 MIDI Guitar Series Vol 5:
Keyboards and Percussion
MIDI Guitar Series Vol 5: Keys and Percussion is comprised of 91 instruments divided into 2 categories: Keyboards and Percussion. In total, this volume contains nearly 23 GB of 16 bit / 44.1 kHz samples. These instruments are redesigned specifically for MIDI guitar controllers and are comprised of multiple award winning virtual instrument collections that includes Ghostwriter, The Dark Side, Goliath, Fab Four, Ministry Of Rock, and ProDrummer.
INSTRUMENTS INCLUDED (96):
KEYS (78): Armadeus Organ, B3 Full Organ, B3 Jazz Organ (3), B3 Soul Organ (3), Baby I'm A Clavioline (2), Because I'm A Harpsichord, Bent Funeral Organ, Brain Damage, Celeste, Chaos, Chorus Strings, Church Organ, Clavinet Leslie (4), Clavinet/Lowery Organ Leslie (6), CP-80 (2), Death Piano Nasal, Distorted Cello Ethereal, Distorted Hammond, Distorted Organ, Evil Piano (3), Farfisa (4), Floyd Piano (7), Fuzzy Keys, Glockenspiel and Vibes (2), Glockenspiel, GS-1 Hybrid Piano, GS-1 Rhodes Boosted-Tone, GS-1 EP1 (2), Harpsichord, Madonna Piano, Marimba, Mellotron Strings (2), Music Box, Pin Piano (3), Psychedelic Rhodes, Psycho Shimmer Keys (2), Rhodes 88 Suitcase, Steinway B Piano, Strawberry Flutes, Tunnel Keys (2), Tutti Fluti, Underwater Piano, Vibraphone, We Can Work A Harmonium (2), Xylophone. PERCUSSION (18): Ludwig kit, 60's Kit, Dirt kit, Funk Kit 2, Rock Kit 2, 11 Bowl Gongs, 12 ft Log Drums, Dynasty O Daiko, Earthquake Ensemble, Gamelan Ensemble Tuned, Large African Djembe, Lion Drum Ensemble Hits, Lord of the Toms Ensemble, Middle Earth Ensemble, Moroccan Darubaka, Pharoahs Dumbek, Punjabi Dhol, Tabla Guru.
You may also be interested in: