You're currently on: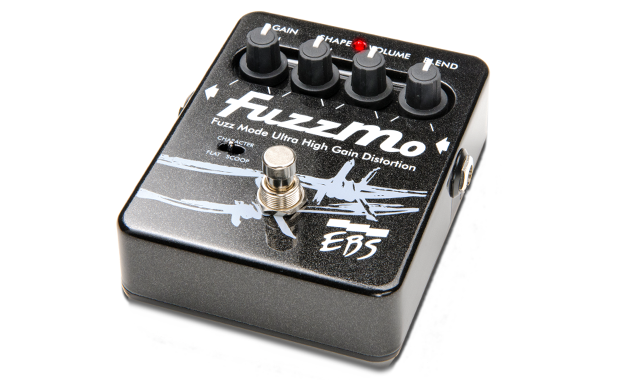 "The EBS FuzzMo is the nastiest monster you'll find while maintaining a solid, natural bass sound. Nothing else can touch it."
- Jon Lawhon,
Black Stone Cherry
THE EBS FUZZMO PEDAL IS A FUZZ EFFECT FOR BASS. THE PEDAL PRODUCE A WIDE RANGE OF VINTAGE AND MODERN EFFECTS WITH SEVERAL FEATURES TO DIAL-IN YOUR FAVOURITE FUZZ TONE.
---
Blending possibilities. Similar to the Billy Sheehan Signature Drive, you can blend the fuzz tone with a clean signal. Fire up the distortion engine gain as much as you like with the 'Gain' control, set the 'Volume' for the distortion and then blend in the clean unaffected tone by turning up the 'Blend' control. Instead of a tone control, the EBS FuzzMo features a 'Shape' control that changes the shape of the gain engine, from triangle to square wave through the passive tone stack.
Character filter. If the controls does not offer enough flexibility, this pedal also feature a 'Character' filter. This goes in three steps from Flat, to subtle mid-scoop, to maximum mid-scoop (or cut).
True bypass. The EBS FuzzMo uses a True Bypass footswitch. The pedal runs on 9V DC battery or Power Supply.
FEATURES
Gain, Shape, Volume and Blend controls.
Three Scoop modes, Flat, Subtle and Max
True Bypass Switching Technique
9V DC (Battery or Power Supply)
Optional (not included): EBS AD-9 Power Supply
SPECS
Nominal Input Level - 8 dBv
Input Impedance 900 kohms
Output Impedance < 100 ohms
Gain Range 25 - 65 dB
Shape Filter Passive HP/LP
Character filter
Mid scoop 0 / -6 dB @ 300 Hz
Blend bandwith +0/-3 dB 20 - 20k Hz
Power requirements* 9-12 V DC Regulated,
7 mA @ 9V
Dimensions W x H x D 3.5" x 4.5" x 1.4" (90 x 115 x 35 mm)
Weight 480g (1.07 lb.)
Type Analog Effect, True bypass switching

* EBS Recommend the use of the EBS AD-9+ DC adapter.
The adapter can supply up to twenty pedals at the same time.
Awards:
'Editors Award' in Swedish Musikermagasinet, no 3, 2014
You may also be interested in:
| | |
| --- | --- |
| Variant | 1 |
| Specials | Dec 25, 2017 |