You're currently on: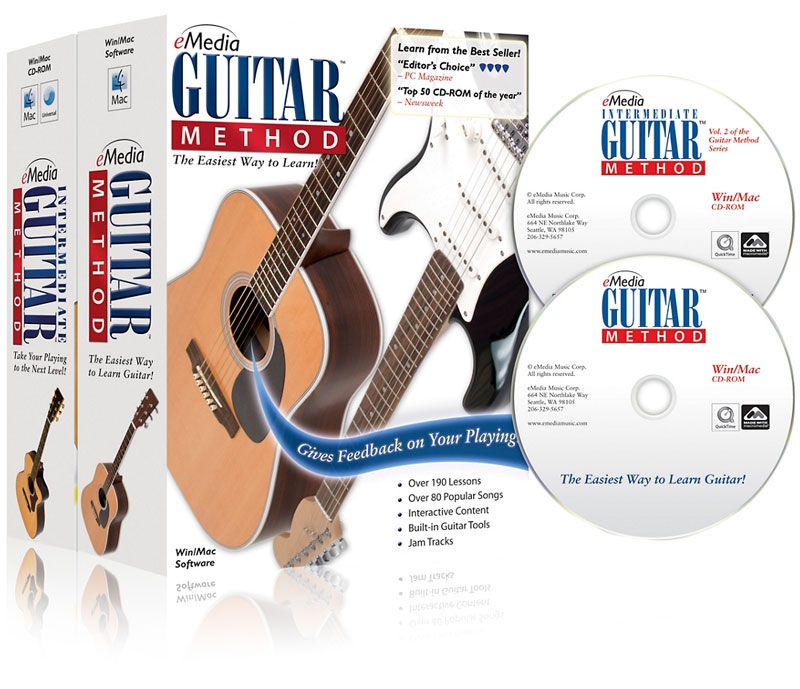 Guitar Method Deluxe [WIN Download]
Save Money When You Get Both eMedia Guitar Method and eMedia Intermediate Guitar Method!
eMedia Guitar Method Deluxe combines beginner guitar lessons and intermediate guitar lessons into one great, extra value package containing over 360 audio- and video-enhanced lessons and over 130 songs that you can learn to play. Learn quickly with the carefully planned, step-by-step curriculum combined with eMedia technologies designed to enhance learning. Included in the applications are a built-in automatic tuner, metronome, recorder, 1000-chord dictionary, scale-directory, and a fretboard note chart.
eMedia Guitar Method has received top ratings and honors from PC Magazine (Editors' Choice), Guitar Player, Guitar One and Newsweek. You can take your playing to the next level with eMedia Intermediate Guitar Method, which has received praise from guitarists and guitar teachers alike. Guitar icon Peter Frampton says, "This is the ultimate way to learn how to play guitar! You learn at your own pace, and it's easy for anybody."
New v6 Features: Chord Recognition, Jam Tracks, New Songs, and Much More!
Features include:
New features in eMedia Guitar Method version 6 include chord recognition technology, dozens of play-along Jam Tracks, Instant Feedback and Performance Evaluation with a new 5-star rating system, ear training exercises, progress tracking, additional songs, and more!
Over 360 guitar lessons by award-winning guitarist and Professor of Music Kevin Garry, Ph.D. that teach you to play in a variety of styles including rock, blues, folk, and classical. These easy guitar lessons for beginners teach you how to read guitar tabs (tablature), easy chords, and guitar notes (music notation).
An Animated Fretboard that makes it easy to see chord and note fingerings for lessons and songs.
Note Tracker and Finger Tracker technology that displays the notes you're playing in staff notation and on the Animated Fretboard
Listens to your playing via the computer microphone. You even see correctly played notes in melodies highlighted as you play them.
Over 80 great guitar songs with play-along Jam Tracks that include hits such as "Knockin' on Heaven's Door," "Imagine," "Wayfaring Stranger," "Rock'n Me," "All Along the Watchtower," "Sloop John B," "Jet Airliner," "Spoonful," and many more.
Music theory lessons covering the circle of fifths with guitar theory lessons on intervals, constructing guitar chords (including jazz chords and extensions), and guitar scales. These help you learn how to play lead guitar, rhythm guitar, and musical improvisation.
Integrated guitar software tools including an automatic tuner, recorder, chord dictionary with audio playback for over 1000 chords, a metronome to help your rhythm, an interactive scale directory, and a fretboard note chart.
More than 80 videos, many with split-screen view and close-ups of both hands, show you the techniques needed to learn how to play guitar.
Correctly played chords and notes are highlighted as they are played with the Instant Feedback and Performance Evaluation features.
Songs, exercises, and play-along Jam Tracks that can all be looped, slowed down, or sped up.
You may also be interested in: