You're currently on: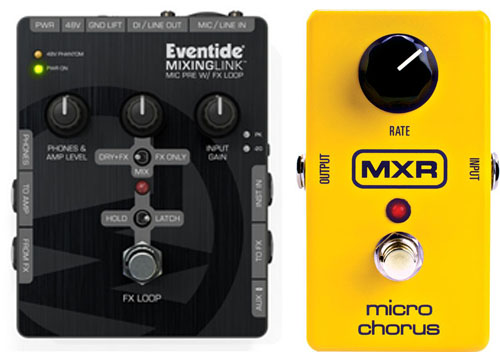 LITTLE FERRY, NEW JERSEY, November 12, 2013 — Today, Eventide announced a new studio-quality microphone pre amp plus effects loop in a compact stompbox form factor. The Mixing Link™ fits neatly on a pedal board or in a backpack, making the wide world of guitar stompbox effects available to vocalists.
"Our pedals were designed for guitar but most of the effects really work well for voice. The Mixing Link makes it rather easy for singers to connect to most guitar stompboxes and, with its high quality mic pre, it's at home both on stage and in the studio," said Tony Agnello of Eventide and Manifold Labs.
High Quality - Microphone preamplifier with FX Loop in a compact from factor
FX Loop - Effects send/return accommodates balanced and unbalanced signals and interfaces with consoles or guitar pedals easily
FX Footswitch - Latching or momentary footswitch control of effects loop for performance effects
Works with a wide range of microphones including condenser and ribbon microphones with up to 65dB of clean gain
Aux I/O - Connection supporting stereo input and mobile device send level
Guitar amp output and headphone monitor output with separate master volume control
International universal 9VDC power supply included, or 9V battery
48V phantom power for condenser microphones
Balanced XLR output which supports DI and Line levels (-10dB to +18dBu)
Instrument and balanced line level inputs (-10dB to +18dBu)
Versatile mix control supports 3 modes of operation –
100% microphone plus effects
microphone/effects balance (effects mix)
100% FX (no microphone)
MXR M148 Micro Chorus
With its simple operation and stellar analog tone—the MXR Micro Chorus joins the ranks of MXR Classics such as the Phase 90, Dyna Comp and Micro Amp. This 80's reissue delivers a stunning range of rich chorus textures, from sparkly watery shimmers to intense rotating speaker simulation with a twist of the Rate control. The Micro Chorus is designed with old-school bucket brigade technology for warm analog tone and features true bypass for pure guitar tone when the pedal is off. Its road-worthy hardware and components are housed in a space saving Phase 90 sized box.