You're currently on: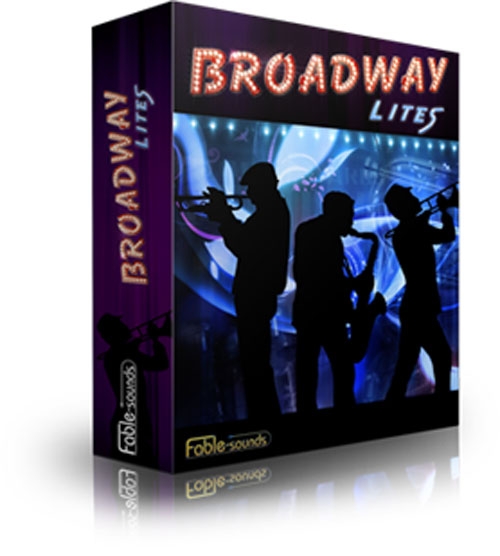 Amazing virtual brass and reeds
Broadway LITEs™ is a virtual instrument with an attitude. A fusion of sound, music, and technology. Powered by Kontakt 5 player, it features 15GB of multi-sample content, with over 20,000 unique samples of saxophones, trumpets, trombone and clarinet. It offers all of the same groundbreaking patented technologies, as well as a select portion of instruments and audio content used in Fable Sounds' critically acclaimed Broadway Big Band. Broadway Lites™ provides an affordable introduction to the best-sounding and most realistic emulation of contemporary wind instruments to date, and is suitable for high-end studio work.
ULTIMATE PLAYABILITY
Fable Sounds have developed and patented
a unique and intuitive articulation switching system
that enables real-time access to all of the
articulations of an instrument from a single patch.
You can finally play a deeply sampled virtual instrument
with the same creative freedom and fluidity
as the musician playing the actual instrument would.
DEEPLY SAMPLED
A huge amount of articulations
and playing techniques,
providing endless possibilities
and unmatched level of expressiveness
LEGATO SAMPLING
Legato intervals recorded
up to major 9th up and down
in various legato interval articulations
providing unmatched realism
PREMIUM CONTENT
15GB of audio content, carefully selected from the critically acclaimed Broadway Big Band virtual instrument
recorded at 24bit/44.1khz
20,000+ individual samples
METICULOUSLY RECORDED AND PROCESSED
Recorded in one of New York's best live rooms,
using top quality microphones and pre-amps
and carefully processed to a virtually noiseless
recording, that still breathes naturally
GROUNDBREAKING TECHNOLOGY
Whether it's our patented articulation switching system,
or our MIDI Data Morphing concept, our patented, lifelike, chaos-creating alternate samples management system, the musically liberating Unison Section feature, or our new, unique and powerful Real-Time Orchestrator, Fable Sounds always keeps you on the cutting edge of technology.
OPTIMIZED FOR STUDIO PRODUCTIONS
Broadway Lites includes for each of its instruments, the microphone setup which is most commonly used by users of Broadway Big Band in their studio productions, which makes Broadway Lites the flavor of a Lite version most optimized for studio work.
POWERFUL AND SIMPLE
Broadway LITEs offers incredibly powerful
yet simple to learn and use features, not offered
by any other virtual instruments currently on the market.
See the features section for details
TOP NEW YORK MUSICIANS
It sounds right and feels right
because it was played right, by accomplished
New York Jazz, salsa, pop & Funk musicians.
It's the real deal from top to bottom.
NEW FEATURES IN VERSION 2.0
REAL-TIME ORCHESTRATOR (RTO)
A groundbreaking feature enabling polyphonic, polyrhythmic legato across a mixed section of instruments. Using RTO you can play an entire section on the keyboard, and the notes you play are orchestrated in real time and distributed to the various instruments in the RTO multi, based on orchestration schemes that you can create yourself. This is an extremely powerful system which is extremely easy to use. Great for live shows, as well as tracking under tight deadlines. It also offers articulation presets which can replace the built-in key-switching with alternative midi triggers such as foot-switches, freeing your left hand for playing notes rather than key-switches.
UNISON SECTION
From now on, you can use any of the Broadway Lites instruments multiple times in the arrangement or in a multi, even when playing unison, creating a realistic section of multiple instruments. This means that even with multiple instances of just one instrument, you can still get a realistic section of multiple instruments playing in unison. The feature is not some kind of a doubling effect, but rather it uses different samples, and performs slight adjustments to make sure each instance of the instrument sounds a little different from the other. The results are very realistic. The feature also includes "Humanize" and "Detune" knobs for further control over the section sound.
NOTATION SOFTWARE SUPPORT
With version 2.0, "Notation mode" has been added to all of the Broadway Lites instruments, to enable notation programs to communicate with Broadway Lites and use it for playback of scores, including all included articulations and dynamics. The new Notation mode also enables integration with Cubase Expression maps. This was not previously possible due to the unique articulation switching system in Broadway Lites. The new Notation Mode uses an alternative system of key-switching that is more in line with the way notation programs operate. (full documentation in the user manual).
VELOCITY CURVE CONTROL
Due to the extended dynamic range of the instruments included in Broadway Lites, it is sometimes difficult to keep dynamics under control when using a MIDI keyboard's velocity. To help overcome this, we've added a new knob to control the velocity curve, which helps to adjust the responsiveness of the Broadway Lites instruments to various MIDI keyboards. The new velocity curve control feature can also be MIDI automated to make changes within a song as needed.
A NEW ARTICULATION ADDED TO TENOR SAXOPHONE 1
FP+Vibrato, Added both as a temporary articulation and in combination with the existing "Strong Vibrato" articulation, as a new "Deep Vibrato" playing mode.
VARIOUS IMPROVEMENTS IN PROGRAMMING AND UI
Improved consistency of levels and envelope programming and a new and improved user interface.
Instruments & Articulations
BRASS SECTION
REEDS
CLARINET
SOPRANO SAXOPHONE
ALTO SAXOPHONE #1
TENOR SAXOPHONE #1
BARITONE SAXOPHONE
MINIMUM SYSTEM REQUIREMENTS
MAC OS
Mac OS X (64-bit only)
Mac OS X 10.10, 10.11 or 10.12 (latest update) or newer
Intel Core 2 Duo (minimum)
4 GB RAM (minimum)
88 Keys MIDI keyboard (recommended)
9 GB of disk space
(18 GB of space required during installation)
Supports: Stand-alone, VST, AU, AAX
An internet connection is required for activation.
Once activated, it can be used offline.
Windows
Windows 7, Windows 8, or
Windows 10 (latest Service Pack, 32/64-bit)
Intel Core 2 Duo or AMD AthlonTM 64 X2 (minimum)
4 GB RAM (minimum)
88 Keys MIDI keyboard (recommended)
9 GB of disk space
(18 GB of space required during installation)
Supports: Stand-alone, VST, AAX
An internet connection is required for activation.
Once activated, it can be used offline.
You may also be interested in: