You're currently on: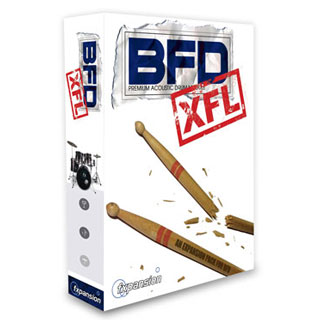 BFD XFL is an expansion pack for BFD2, BFD Eco and BFD Eco DV offering a hugely varied pallette of sounds to add into your library. BFD XFL shares the same room at California's Eldorado Studios that gave the original BFD its unique, authentic character.

BFD XFL's library of rare and sought-after instruments, many of which are played with brushes and mallets. Rides with bells and crashes with edge hits sit alongside a diverse range of splash, china, accent cymbals and ultra high-resolution hihats There's even a selection of kit-oriented percussion such as cowbells, jamblocks and tambourines.


All this, recorded at up to 93 velocity layers, results in a 22GB library that takes your productions to new heights of detail, realism and variety.
Bosphorus
19" Ferit Se..

Bosphorus
19" Ferit Se..

Masterworks
20" Buzin ri..

Paiste
4" accent

Paiste
6" Cup Chime..

Paiste
8" accent

Paiste
18" 602 Thin..

Paiste
18" 602 Thin..

Paiste
18" Signatur..

Paiste
18" Innovati..

Paiste
Prototype ri..

Paiste
Prototype ri..

Sabian
18" AA Thin ..

Sabian
21" Rock ride

UFIP
9" natural c..

Unknown
Ride

Wuhan
18" china

Wuhan
18" china

Wuhan
12" splash

Wuhan
10" splash

Zildjian
18" K-Series..

Zildjian
18" K-Series..

Zildjian
16" A-Series..

Zildjian
17" K-Series..

Zildjian
20" K-Series..

Zildjian
20" K-Series..

Zildjian
12" K-Series..

Zildjian
6" A-Series ..

Sabian
21" Rock ride

Paiste
15" SoundEdg..

Paiste
13" 602 Heav..

Sabian
14" AAx Fast..

Zildjian
14" K-Series..

Zildjian
13" A-Series..

DW
Kick

DW
18x22" kick

Tama
Starclassic ..

WFL (Ludwig.
14x22" kick

WFL
26x14" kick

WFL
26x14" kick

Human DNA
Handclaps

Unknown
Cowbell (hig..

Unknown
Cowbell (low)

Unknown
Cowbell (low)

Unknown
Jamblock (hi..

Unknown
Jamblock (lo..

Human DNA
Finger clicks

Unknown
Tambourine

Unknown
Tambourine

DW
Snare

DW
Snare

DW
Snare

Gretsch
6x15" snare

Pearl
5x14" Chad S..

Porkpie
5x14" snare

Porkpie
5x14" snare

Premier
Snare

Tama
65x14" ArtSt..

Unknown
Old metal sn..

Unknown
Old metal sn..

WFL (Ludwig)
7x14" Dual S..

WFL (Ludwig)
7x14" Dual S..

DW
16x16" floor..

DW
12x9" hii tom

DW
13x16" floor..

DW
8x10" high t..

DW
9x12" mid to..

DW
13x16" floor..

DW
8x10" high t..

DW
9x12" mid to..

Pearl
16x16" floor..

Pearl
12x9" hi tom

Tama
Starclassic ..

Tama
Starclassic ..

Tama
Starclassic ..

Tama
Starclassic ..

Tama
Starclassic ..

Tama
Starclassic ..

WFL (Ludwig)
16x16" floor..

WFL (Ludwig)
12x9" hi tom

WFL (Ludwig)
12x9" mid tom

WFL (Ludwig.
16x16" floor..

WFL (Ludwig.
12x9" hi tom

WFL (Ludwig.
12x9" mid tom

WFL (Ludwig)
16x16" floor..

WFL (Ludwig)
12x9" hi tom

WFL (Ludwig)
12x9" mid tom
You may also be interested in:
| | |
| --- | --- |
| Variant | 1 |
| Specials | Mar 18, 2020 |