You're currently on: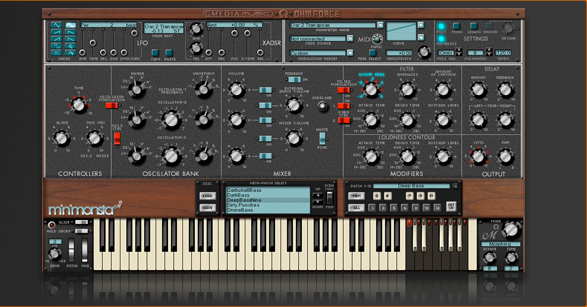 GForce's Minimonsta: Melohman is an expert emulation of the classic Minimoog* that was at the forefront of the analog synth revolution and popularized by artists like Jan Hammer, Rick Wakeman, Keith Emerson, Gary Numan and Kraftwerk. Enhancements include polyphony, programmability, morphing, additional LFO and ADSR, and delay. Stand-alone or host operation.
Incredible Realism
The people at GForce have a passion for one thing—incredibly realistic emulations of vintage keyboards. The Minimonsta is completely faithful in its reproduction of the original Minmoog, known to be one of the biggest, fattest sounds from any era. Everything that made the Minimoog so popular is here: 3 VCOs, pink/white noise generator, famous Moog 4-pole 24dB/octave low-frequency VCF, 2 ADSRs, external input, mixer, glide and more. If you've worked with a Minimoog before, you'll be blown away at the realism (not to mention the fact that it stays in rock-solid tuning). And if you've never had the experience, this classic synth emulation is sure to bring you as much inspiration as it did for the pioneering electronic musicians of the day.
Programming and Enhanced Control
The Minimonsta has some features the original Minimoog designers never even dreamed of. For starters, the Minimonsta doesn't go out of tune or suffer from dirty knobs and switches. It's also programmable—complete with over 6000 great presets. All parameters map to standard MIDI controllers as well, so you can record parameter changes into a sequencer or get your hands on the knobs and switches via hardware for a more tactile experience. You can play the Minimonsta in any of four triggering modes: mono, unison, legato and, yes, polyphonic. There's even a unique morphing feature that allows you to map 12 presets to an octave of keys and morph between them by playing that octave.
Even More Sonic Choices
Minimonsta goes way beyond the Minimoog's already incredible stable of synthesizer components. It also includes an additional ADSR and LFO that can be routed to just about any parameter you can think of and controlled from any MIDI source. There's also a built-in delay function for an instant spacey effect on any patch. Add in the morphing features and you have a powerful synth completely unlike any other.
Standalone or Host Operation
You can use the Minimonsta by itself or as a plug-in with most popular host applications including Live 4, Cubase, Logic, GarageBand, SONAR, Digital Performer, ACID and Pro Tools LE/TDM. Compatible formats include VST 2.0 (Mac/PC including VSTi), RTAS (Mac/PC) and Audio Units (Mac). In other words, you can integrate with the rest of your studio and use it just about any way you want.
Main Features
expertly crafted analog model of the classic Minimoog synthesizer all original features including:
3 VCOs
pink/white noise generator
famous Moog 4-pole 24dB/octave low-frequency VCF
2 ADSRs
external input
mixer
glide
additional LFO & ADSR for matrix modulation of almost every parameter
monophonic, polyphonic, legato and unison trigger modes fully programmable with over 6000 factory patches real-time morphing between up to twelve patches via keyboard control external input allows filter to be used as plug-in effect
MIDI learn with storable Continuous Controller maps
delay effect
full automation support
stand-alone or host operation (RTAS (PC/Mac), VST 2.0 (PC/Mac), Mac AU)
You may also be interested in: