You're currently on: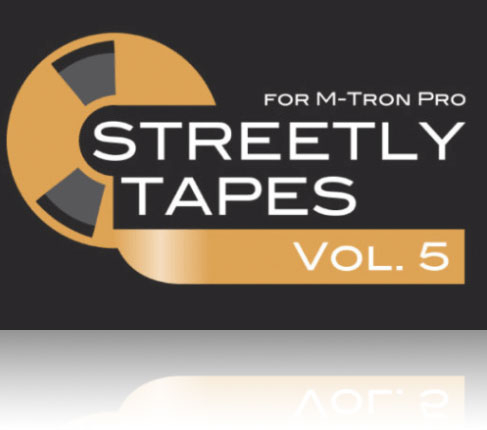 GForce Streetly Tapes Vol.5
IN TERMS OF MUSICAL INSTRUMENT DESIGN AND PRODUCTION, MELLOTRON® HISTORY IS LONG, COMPLICATED AND FULL OF INTRIGUE. BUT IN TODAY'S WORLD ONE THING STANDS OUT, STREETLY ELECTRONICS ARE THE ONLY CURRENT MANUFACTURER PROVIDING DIRECT LINEAGE TO THOSE EARLY 1960S INSTRUMENTS GUARANTEEING AUTHENTICITY.
THE STREETLY TAPES – VOLUME 5 CONTAINS SOME OF THE RAREST 'TRON SOUNDS EVER RECORDED. GUITAR GEMS FROM ADRIAN BELEW (KING CRIMSON) AND STEVE HACKETT (GENESIS) ALONG WITH A SHOW-STEALING 12 STRING GUITAR. BASS CLARINET & BASS FLUTE (A SOUND PERFECTLY COMPLIMENTING THE ORIGINAL AND ICONIC MKII FLUTE) ALIGN BEAUTIFULLY WITH THE FABULOUS WINDS N REEDS.
VOLUME 5 ALSO OFFERS A NUMBER OF UNUSUAL SOUNDS, ESPECIALLY THE URIAH HEEP TAPE BANK RECORDED FROM MASTER TAPES SO THE BAND COULD FAITHFULLY RECREATE THOSE PARTS ON THE ROAD, BUT ALSO HIGHLIGHTING THE IMPORTANCE OF THE EARLY SAMPLE PLAYER, THE MELLOTRON®.
COMPATIBILITY
The Streetly Tapes – Vol 5 Expansion Pack is only available to registered users of M-Tron Pro.
Additionally, it is exclusively available via this website as a direct download (631MB) via "My Instruments" when the purchase has been completed.
KEY FEATURES
A GForce Software and Streetly Electronics collaboration
Tape banks from the original UK 'Tron masters
Derived from original EMI tape-stock
Over 150 M-Tron Pro Patches
24 carefully curated tape banks for M-Tron Pro
35 notes per tape bank
Exclusively available via download – 631MB
LIBRARY
ARTIST'S OPINION
"THE STRINGS, WINDS AND THAT 12 STRING ARE MY FAVOURITE BANKS IN THERE. PERFECT FOR THAT OLDY WORLDY SMALL ENSEMBLE VIBE THAT WAS ON THOSE 60S AND 70S RECORDINGS."
You may also be interested in: