You're currently on:
FM TiNES is a sample and synth library containing over 20GB of the prettiest and most inspirational electric pianos ever heard. Our goal was to cover the complete genre of electric piano patches and not just FM. From D50 type bells, beautiful pads, lush strings, and multi-layered FM EPs taken directly from the hardware, FM TiNES will be the number one electric piano library to go to for that 80s/90s sound.
And because we are vintage synth addicts, we included sound emulations of the classic o1W Dyno, the JD Crystal EP, a Dyno-My-Piano, and who could forget the EP sounds of the MKS-20 piano module. Imagine having a room with an o1W, a JD-990, a DX7, a DX7IID, an SY99, an MKS-20, and a Roland Dimension D chorus effects module and cram into one sound library. Then you add a new industry standard, buttery sounding reverb with SparkVerb™, and you now have an inspirational electrical piano that will take you back to the days where you had your first dance. Think of this library as your complete vintage tour guide of the classic 80s FM electric piano library. From the sounds of Babyface, Whitney Houston, and Robbie Buchanan, you will be inspired by the quality and depth of sound you can achieve with this library.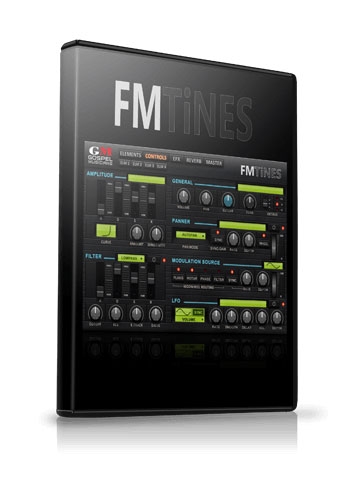 Our Weapon of Choice: Yamaha SY99
Initially when we were seeking those coveted electric pianos, we tried using various FM VST emulators and we found out that the sound was very clean - TOO CLEAN! Anyone who is a sound fanatic knows that the most important aspect of the sound lies in its filters. When you run a sound through a D/A converter, then the sound immediately takes on the personality of the filters. So what we are saying is that a real FM tine has a gritty and dirty sound. In fact, if you listen to the output of a DX7 or an SY99, you will hear this dirty hiss and a darker tone--full of richness and dirtiness at the same time. To our ears, this is what really makes an FM tine sound the way it sounds; as a result, we chose to use an FM hardware synth instead of software in order to emulate it better. Trust us, we've spent months online looking for patches to import into the FM emulators and were very disappointed when the sound lacked richness, phatness, texture, and more importantly, it lacked expressiveness.
Our choice to use the SY99 came from the fact that the SY99 can read all of the DX7 models and FM synths as well as having the ability to load in custom FM operators. In addition the SY99 contains samples and the ability to load in samples as well. This is why the SY99 was Yamaha's flagship keyboards and one of the greatest FM synths ever made. I think of the SY99 like a DX7 on steroids. It could read all of the DX SYX patches and load in new samples and new FM operators. So we went for the "big dog" 'when we set out to sample our EPs. This way we could load patches from a slew of different FM synths and capture all of the character, grit, and expressiveness of all of the DX synths together.
***Note: The sounds of the JD-800, M1, and D50 are only emulations. We did not sample from the original hardware; rather, we emulated the patches using FM synthesis.
You may also be interested in: