You're currently on:

Introducing Master Sessions: Ensemble Metals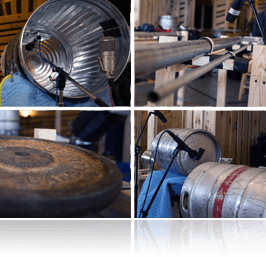 Overview
Master Sessions is Heavyocity's boutique line of scoring tools for the pro composer. Recorded in New York City, the Master Sessions series focuses on specific instruments and ensembles housed in Heavyocity's award-winning engine (powered by Kontakt). Master Sessions delivers an epic sound without the epic price!
From intricate, piercing highs to thunderous booming lows (and nearly everything in between), Master Sessions: Ensemble Metals sets a dynamic new standard for cinematic percussive metals. Complete with 12 unique multi-sampled metal ensembles and over 300 tempo-synced loops, Ensemble Metals is the diverse new chapter your library of percussion elements has been waiting for. Captured in simultaneous six-player ensembles, and then processed with Heavyocity's signature sound design skill, Master Sessions: Ensemble Metals is THE must-have metals instrument for the serious cinematic composer.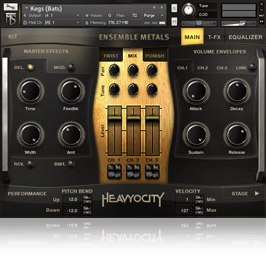 Ensemble Metals - Kits
The 12 ensembles run the gamut of epic and punchy (kegs & trash cans), to sharp and penetrating (railroad spikes & pipes). These ensembles ooze with playable metallic character, and are presented in both menu and single kit presets, providing complete mastery of your sound.
Mix and shape your sound using Heavyocity's proprietary interface containing global effects (reverb, delay, distortion, and chorus mod), per-metal EQ, per-channel ADSR, TriggerFX, and the signature Punish and Twist knobs.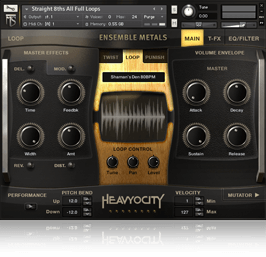 Ensemble Metals - Loops
Ensemble Metals - Loops contains over 300 tempo-synced phrases arranged in menu and single loop presets. As an exciting new feature, the content is now divided into straight and triplet loops. Rearrange and adjust the loops by slice with Heavyocity's signature "Loop Mutator". Dial in the Trigger FX, master effects, filter modulation and ADSR for radical sonic results.
Layer massive kits with hybrid loops to create huge walls of percussion. Mix and match loop "stems" to build your own unique combinations of tempo-synced rhythms.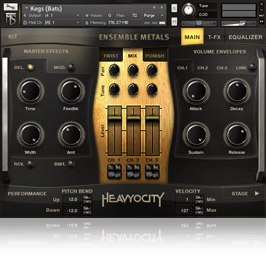 Master Your Sound
Master Sessions: Ensemble Metals' user interface was designed FOR composers and sound designers BY composers and sound designers, providing simple, intuitive ways to alter the sounds without leaving the interface. Three levels of effects are intrinsically bound to the Kit and Loop components — apply effects globally, engage the Trigger-FX, or tweak individual sounds.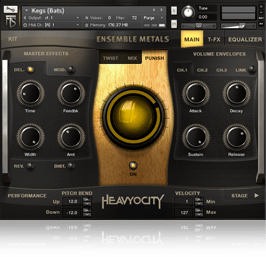 Twist, Punish, Effect
Globally affect the preset with one of the 4 Master FX (Delay, Mod, Drive, and Convolution). You have control over four effect-specific parameters (like effect amount, rate, size, or depth). Dial in the aggression with the signature "Punish" Knob, a combination of saturation, distortion, and compression. Or, modulate the shape of the sound with the "Twist" knob.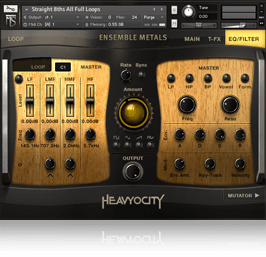 EQ, Filter, Modulate
Sculpt your sound with per-channel and per-loop EQs or add sizzle and punch with the 4-band Master EQ. Control the modulation of filters with an envelope or LFO in Ensemble Metals - Loops, altering the amount and rate of an LFO, or trigger the Filter with an ADSR envelope.
Ensemble Metals - Kits
The Mixer Page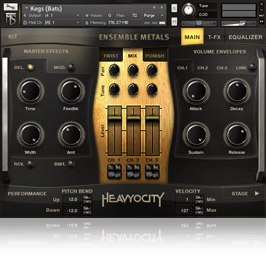 The Mixer provides tune, pan, and level control for each of it's 3 channels. Adjust the faders for the right blend of close, room and hall channels. Tap into per channel (or linkable) ADSR envelopes and per channel solo/mute buttons to isolate and adjust individual sounds if desired, or "Purge" individual channels to turn them off, reducing the instrument's memory footprint.
Staging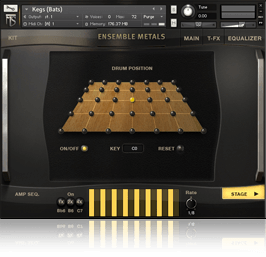 The Stage is a 3-dimensional representation of the stereo field, useful for visually placing the drums in your kit. You can place individual drums at any one of the 35 positions across the stereo field. Real-time visual feedback of playing sounds allows you to adjust drum placements quickly and easily. Shift-click to assign all drums to one stage position or trigger each drum and click to assign it's position in the hall.
Tech Specs
**Requires the Full version of Kontakt 5 (version 5.5.1.451 or later)
2.65 GB uncompressed (1.5 GB on Disk with NI lossless compression)
Available as direct download only
22 Ensemble Kits: 52 Kit Presets, 464 Loop Presets
420+ Loops
The Stage for easy stereo placement
Playable Trigger FX™ for real-time control
Loop Mutator™ for real-time re-composing of loops
Stand-alone, VST, AU, DXi, AAX, RTAS
Requirements
Powered by the Kontakt Engine
Kontakt 5 Full Version 5.5.1.451 or higher required.
Minimum System Requirements
Mac: OS X 10.9 or higher, Intel Core Duo, 2 GB RAM
PC: Windows 7 or higher (latest Service Pack, 32/64 Bit, Intel Core Duo or AMD Athlon 64 X2, 2GB RAM
You may also be interested in: