You're currently on: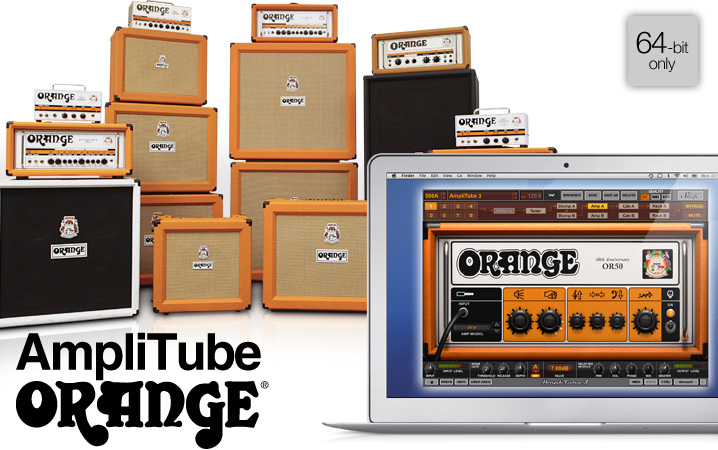 That Famous Orange Sound, All in One Place
Welcome to the tone orchard of your dreams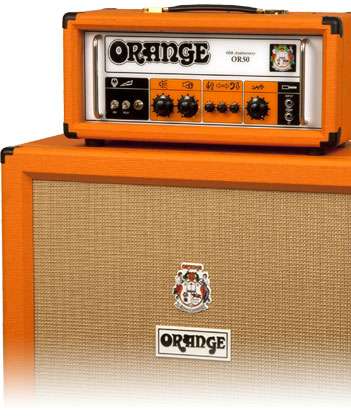 Crank back the clock some 45 years to the swinging London music scene of the late 1960s, and you'll find a young Cliff Cooper contemplating the creation of amplification of a different sort — amplification that wouldn't just stand out tonally, but visually, too. Back then, musical instrument amplification was, well, boring, to say the least. Everything looked the same… black. Cliff saw opportunity and decided enough was enough — thus Orange Amplifiers were born.
Flash forward to 2013. AmpliTube Orange® gives you the best of the best of Orange amplifiers and cabinets for your Mac or PC, in a new collection for AmpliTube Custom Shop from the leader in amp and effects modeling, IK Multimedia.
Orange groove
Orange amplifiers are used by professional musicians around the globe, from legendary players like Jimmy Page and Geddy Lee, to relative newcomers like Mastadon, Deception Theory and My Chemical Romance. Whatever style you play, you'll find your tone inside AmpliTube Orange.
Orange crush
If you love the sound of Orange amps, you'll love AmpliTube Orange. You get faithful "true to the original" models of some of Orange's vintage and current dream machines. AmpliTube Orange includes 8 amp models: the AD 200, Dual Terror, OR 50, the Thunderverb 200, the Tiny Terror, the AD30TC, Rockerverb 50 the OR-120 and 9 matching configurable speaker cabinets. It is the definitive collection of Orange gear that every guitarist, engineer and producer should have.
| | | | |
| --- | --- | --- | --- |
| | | | |
| AD-30TC | AD 200 | OR 50 | OR-120 |
| | | | |
| RockerVerb 50 | Thunderverb 200 | Dual Terror | Tiny Terror |
| | | | |
| 1x12" Tiny Terror | 1x15" OBC 115 | 2x12" AD-30 | 2x12" PPC OB |
| | | | |
| PPC 212 | 4x10" OBC 410 | PPC 412 | 8x10" OBC 810 |
The juice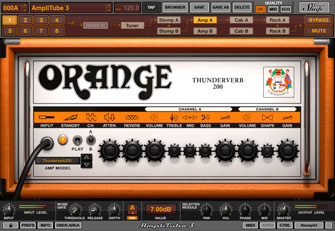 AmpliTube Orange gives you all the juice you need to fuel your recordings with sweet vintage styled Orange tone. From a light squeeze of overdrive to a full-on screwdriver of distortion, and everything in between, AmpliTube Orange delivers.
Orange "a-peel"
Orange amplifiers have been around the music world for over 45 years, providing straight-ahead rock 'n roll tone. And they've always looked "different," which makes them the visual stage-amp of choice for musicians around the globe. Now your DAW or computer will sport the famous Orange look every time you want to rock out.
Because AmpliTube Orange runs from within AmpliTube, you get the full-rig signal path:
Tuner->PedalBoard->Amp Head->Cabinet/Mic/Room->Rack Effects->Out
You get a massive amount of signal routing options: two separate paths, each with a complete setup, can be played simultaneously, or you can configure the signal path to double the available stomps, amps, cabinets and racks effects to create one monstrous rig. And, of course, you can mix and match the Orange gear with other AmpliTube models to create your own one-of-a-kind tones.
AmpliTube is fully MIDI compatible, so all the knobs, controls and presets of the AmpliTube Orange gear — and all the other gear, for that matter — can be assigned and controlled with a standard MIDI controller or IK's StealthPedal CS (Mac/PC) or iRig BlueBoard (Mac).
"Hieroglyphical" accuracy
AmpliTube Orange is a collection of the best of the best of Orange amplifiers and cabinets. Every detail of each amp model has been faithfully reproduced, all the way down to the signature hieroglyphic control labels. Orange is the king of "plug and play," and that's exactly what you get with AmpliTube Orange.
16 years of deconstruction and perfection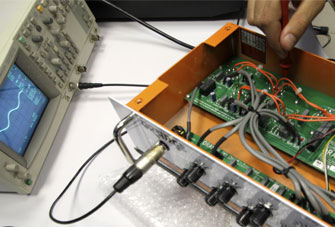 It might sound a little "big-headed" but we've been recreating models of high-end vintage esoteric gear for over 16 years now, so we're pretty good at it. In fact, many industry insiders view IK Multimedia as the "best" at it. What does that mean for you? Our extensive experience tearing apart vintage gear, analyzing it and reconstructing it, plus the development of our modeling technologies like DSM™ (Dynamic Saturation Modeling) and VRM™ (Volumetric Response Modeling), give you realism so transparent that you'll think you're playing through the amp in your living room. It's that real sounding. And only AmpliTube gives you the ability to "try before you buy." You can download full working copies of any of the AmpliTube Orange amps from the AmpliTube Custom Shop and try them out.
---
AmpliTube Orange Includes Officially Certified Models of:
Amplifiers:

AD200B MK 3™ Head
Dual Terror™ Head
OR50H™ Head
Thunderverb™ 200 Head
Tiny Terror™ Head
AD30TC™ Combo Amplifier
OR120™ Head
RockerVerb 50 MKII™ Head

Cabinets:

OBC115 1x15"
OBC410 4x10"
OBC810 8x10"
PPC112 1x12"
PPC212 2x12"
PPC212 Open-Back 2x12"
PPC412 4x12"
Tiny Terror™ 1x12" Combo
AD30TC™ 2x12" Combo
---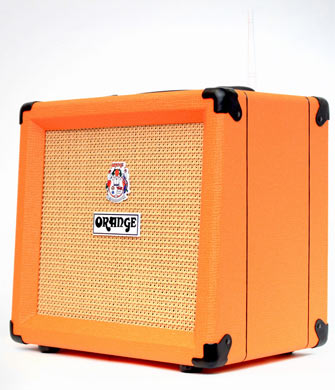 The Ultimate Digital AmpliTube Orange Experience – The OPC
If you're a huge fan of Orange like us, then you'll also be pleased to know that the Orange OPC, their revolutionary guitar amplifier/personal computer combo features AmpliTube 3 complete with the entire AmpliTube Orange collection.
The Orange OPC is a complete "all in one" portable digital workstation for guitarists, combining the processing power of a tower computer with the portability and sound of a combo amplifier. All of the AmpliTube Orange models are built right in so you have instant access to the best of Orange… from the best of Orange.
Specs
AmpliTube Orange®
Industry-standard sound with DSM™ (Dynamic Saturation Modeling) and VRM™ (Volumetric Response Modeling) technologies offer the most realistic emulation of real world gear and the best sounding models
Perfect as a plug-in for studio recording and mixing in any Mac/Win DAW, native compatibility with 64-bit applications and operating systems
Also perfect for live performance thanks to the standalone version with instant preset switching
Highest supported Sampling Rate: 96 kHz
DAW automation and BPM synchronization
5 separate modules
Rig of up to 12 stomps, 2 Amp heads + 2 Cabs + 2 x double mics and 8 rack effects can be configured in up to 8 serial/parallel configurations
Two movable microphones allow you to mic the cabinet exactly like in real world studio and live environment
Stereo signal path makes it suitable for any type of instrument including drums, keyboards, vocals and more
Massive database of presets with multiple guitar and bass oriented tags and keywords, advanced search function, rig visualization and more plus free online sharing service for user presets called "Preset XChange"
Perfect integration with IK's range of audio interfaces and controllers such as iRig HD, iRig Pro DUO, iRig Pro and iRig 2 allows for instant recording and performing in the studio or on stage with full programming at the software level
2-track built-in multitrack recorder with DAW-like features enables you to quickly capture ideas or even record a small band in the standalone application without the need to open a DAW and with the convenience of AmpliTube superior quality audio processing
Imports any Wav, Aiff, sd2, Apple Caf, Flac, MP3 audio file (Standalone version)
SpeedTrainer for speeding up/slowing down imported tracks without affecting the pitch – the perfect tool for practicing and improving your instrument skills or learning your favorite riffs and solos (standalone version)
---
System Requirements
AmpliTube is a 64-bit Plug-in and requires a 64 bit CPU and Operating System.
Mac® (64-bits)
Minimal: Intel® Core™ 2 Duo, 2 GB of RAM, Mac OS X 10.7 or later.
Supported Plug-in formats (64-bit): Audio Units, VST 2, VST 3, AAX.
Windows® (64-bits)
Minimal: Intel® Core™ 2 Duo or AMD Athlon™ 64 X2, 2GB of RAM, Windows® 7,
Windows® 8 or Windows® 10. Requires an ASIO compatible sound card.
Supported Plug-in formats (64-bit): VST 2, VST 3, AAX.

You must be connected to the Internet as all of the Custom Shop operations are web based.
You may also be interested in: