You're currently on: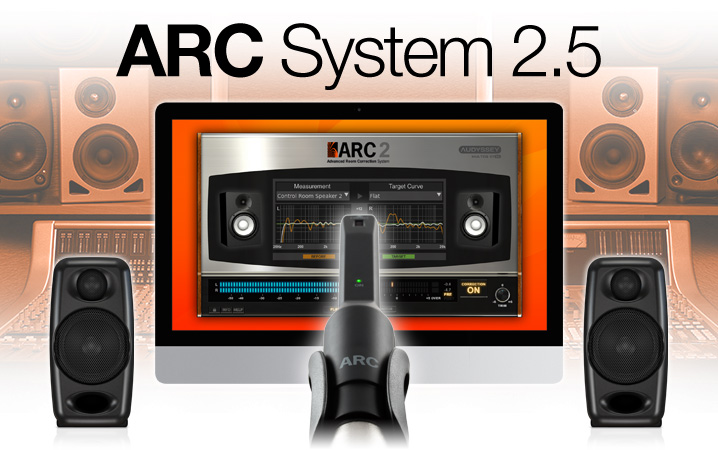 Your room is ready
Tune your studio to perfection with the world's most effective room correction system – now with a new, highly accurate MEMS measurement mic.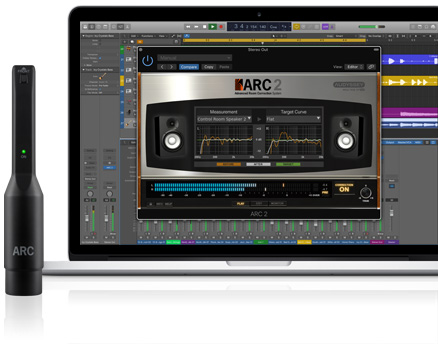 ARC System 2.5 with MEMS microphone is the first acoustic correction system that combines a super accurate MEMS measurement microphone, measurement software AND a correction plug-in to greatly improve the audio monitoring accuracy of speakers in any studio or room listening environment in an elegant, portable, affordable, easy to use and extremely professional solution.
With literally thousands of ARC-based studios worldwide, you can be confident you are making a sound choice!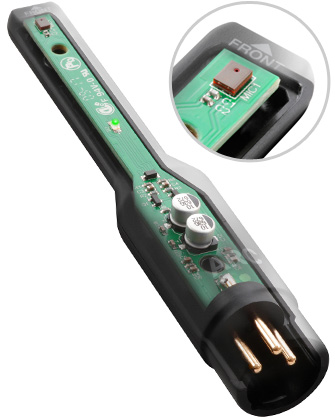 A new professional MEMS microphone
ARC System 2.5 now includes a brand new, ultra-precise MEMS measurement microphone that perfectly works in synergy with ARC's correction software (previous ARC mic models will be supported.) The microphone is built around an omnidirectional, high precision MEMS capsule that ensures maximum response accuracy and stability over time.
In contrast to standard condenser measurement microphones, which are potentially subject to subtle frequency response variations over time, MEMS technology is far more stable.
Thanks to the manufacturing process behind them, MEMS microphones boast extreme resistance to humidity and temperature variations as well as increased durability. This means that they are much more forgiving to "professional abuse" and you can carry them around without worrying about damaging them. Also, all microphones units that are manufactured following this procedure, share the same degree of accuracy with near-zero variation in terms of final performance from unit to unit.
As a result, all measurement processes will always be spot on, repeatable and reliable even after longer periods of time.
Did you know? The ARC System 2.5 MEMS microphone makes for a great additional OMNI pattern recording tool you can add to your mic arsenal! Use it to capture the natural ambience of a studio/room while recording vocals, guitars and other acoustic instruments.
Trust your ears
ARC simply takes your room "out of the mix." Now you can explore your creativity and mix with confidence.
ARC employs Audyssey MultEQ® XT32 patented technology to improve your monitoring system ensuring that what you hear is not being affected by problems caused by room acoustics.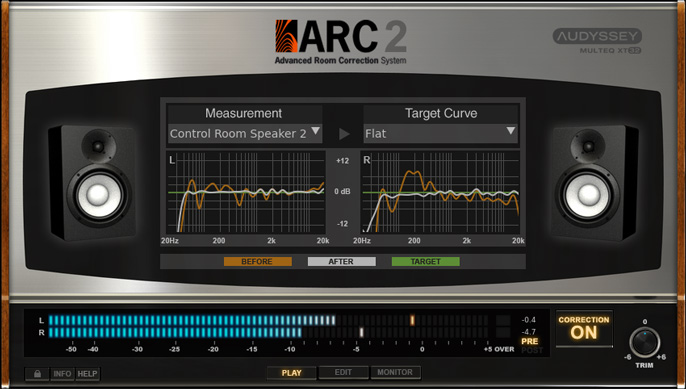 Near field monitor systems generally used in studio applications are designed to deliver sound without distortion or coloration; however, when they are placed in a room, the surrounding walls, ceiling, furniture, and other objects reflect and absorb sounds, creating complex artifacts specific to that room that ultimately cause the monitors to lose the accuracy they have been designed for in the first place. As a result, you end up hearing more of the room's sound, than the music being reproduced.
A break-through affordable solution for acoustic room correction
Traditionally studio acoustics can be improved with acoustic treatments – but these are generally very expensive and require professional installation – which is often not practical in many of today's home and project studios. Other types of electronic correction systems use some form of equalization that works only on the frequency response of the room but worsen the phase response of the audio material. ARC System neatly solves all these problems with a unique and innovative DAW (Digital Audio Workstation,) based solution that works both in the frequency and time domain and is not affected by any of the drawbacks of other types of correction systems.
ARC is designed to provide everything you need to turn any room into a place where serious music production happens. Now you can listen and mix with utmost confidence, knowing that what you hear is what is actually there. All you have to do to is plug the microphone in and follow a few simple steps. No rocket science involved.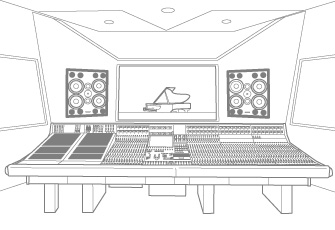 Do you really need ARC if your room is already treated?
With ARC you can improve the acoustics of ANY room. An untreated room will experience a dramatic improvement – but also treated rooms will sound MUCH better depending on the quality of the existing treatment. From amateur bedroom studios to the most professional high-end treated rooms, ARC will make an improvement in your monitoring environment.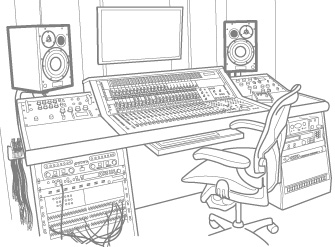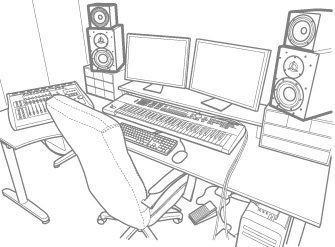 ---
Features
The first DAW-based acoustic room correction plug-in
Includes a measurement microphone, software and correction plug-in
Based on Audyssey MultEQ® XT32 patented technology that corrects frequency and phase distortions in multiple room points
Improves clarity, stereo imaging and frequency response for faster, more reliable mixing
Improves the sound of any room - from bedroom studio to high-end control rooms
Step by step measurement set-up can be made by anyone
Perfect for the traveling engineer and on-the-spot corrections
64-bit native plug-in compatibility
New in Version 2.5
New MEMS microphone included:
Ultra-light and durable
Stable over time: MEMS is not subject to the typical frequency response changes over time of ordinary condenser mics
Much more resistant to humidity and temperature variations
Precision crafted in Italy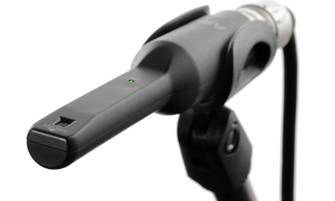 Correct your room in a few easy steps
ARC gives you everything you need get the job done in a few minutes. Simply follow a few easy instructions on your screen and you are ready to mix. ARC gets the job done in just 7 measurements. However, if you want the highest standard of precision, it allows up to 16 different measurements to reach the ultimate level of room correction.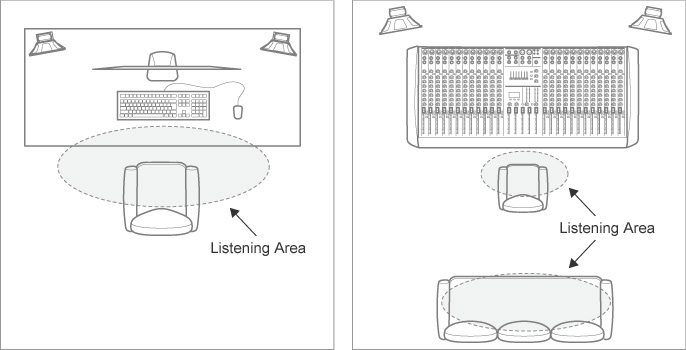 ARC automatically gathers all the information it requires to accurately correct the entire room and not just the engineer's "sweet spot." Then, once all the measurements have been taken, ARC calculates a correction algorithm that you can apply to your music by firing up the ARC correction plug-in on your DAW master bus. Easy as that. Now you can reach peace of mind and sonic bliss in your ARC corrected room and never miss the important details of your recordings ever again.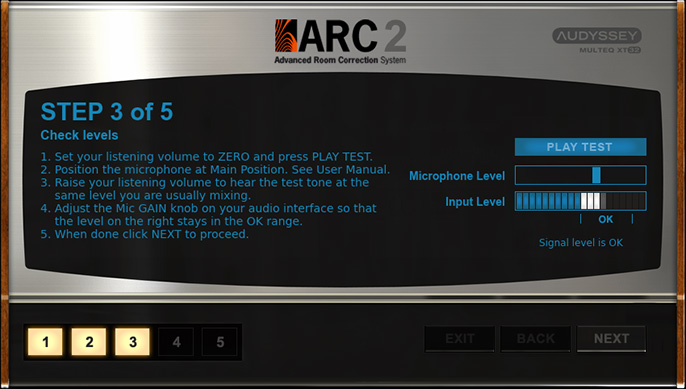 Measurement Software
Thanks to ARC System you can edit, mix and master with complete confidence, knowing what you hear is not being affected by the acoustics of your room. Once you are ready to export your mix, just disable the plug-in and voilà, your music will now translate accurately and consistently to the outside world on a variety of playback systems.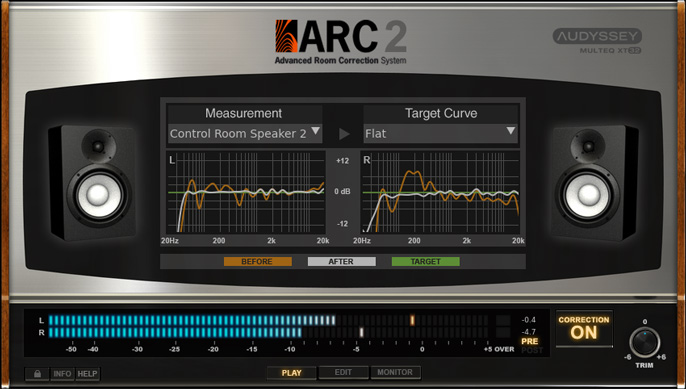 Correction Plug-in
A truly new listening experience
ARC will shed new light on the perspective of what you are producing, mixing or mastering. Low-end alterations, typically added by small rooms, will be removed giving you better control on low frequencies, usually the shortcoming in the vast majority of home and project studios.
You will also have a more consistent frequency response across the entire spectrum and the tonal balance will be restored, allowing you to get more accurate mixes. Room defects will no longer capture your attention so you will work on your music faster, with less ear fatigue and greater consistency on your final music productions.
Better Correction - 4X greater resolution at low frequencies
The new improved low-frequency resolution is now 4x better, (from 40 Hz down to 10 Hz) and effectively flattens the low-end response in the most uneven room.
Natural mid and high frequencies
ARC System 2.5 improves the correction in the mid and high frequency range, making the correction process totally transparent, with clearer and more precise response. You can now completely rely on what a speaker-set corrected with ARC is delivering, even in the most demanding studio environment, where extremely high quality speakers and state-of-the-art rooms are the rule.
Combined Left and Right correction
ARC improves the correction in high-end control rooms where the left and right monitors are positioned with absolute symmetry, improving the stereo image focus when working with elements panned dead-center in the mix - like vocals, bass, snare, etc.
Perceptive adjustments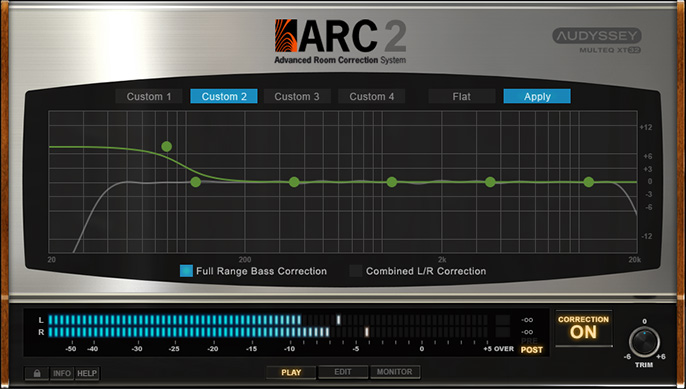 Adjust and/or trim the frequency response with gentle wideband changes to accommodate the way your hearing's perception is already subtly adapted to the irregularities of your own room.
Mix for multiple devices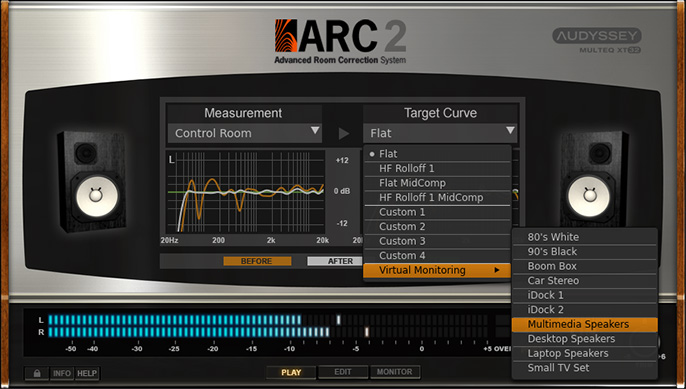 With the "Virtual Monitoring" section you can intentionally shape the sound of the monitoring setup to match devices like LCD TVs, car audio systems, small radios, etc. This way you can quickly listen to your mix on other "virtual" band-limited systems to ensure a perfect sound translation.
Monitor Control panel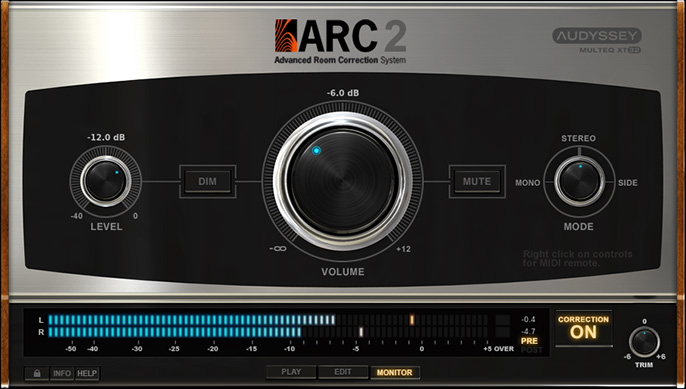 The Monitor Control panel provides the most frequently used control features: a big main volume knob to set your listening level, a DIM switch with an adjustable level, a MUTE switch and a listening "MODE" selector which can be toggled between standard Stereo, Mono or Side for quick reference checks. This added collection of tools creates a familiar, flexible "Control Room" workflow style for a superior listening experience and improved accuracy in mixing/mastering applications.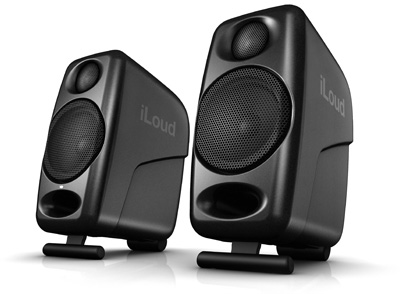 A sound success!
Pair ARC System 2.5 with iLoud Micro Monitor, the most compact active reference studio monitor available - loved by the industry's top Grammy engineers - and you will have the world's most portable AND accurate mobile audio production setup. Thanks to iLoud Micro Monitor's internal 56-bit DSP, you will get an extremely linear response right out of the box to work in a variety of environments and with ARC you can satisfy your need for perfection once and for all. From your own studio to a temporary makeshift music room at a friend's house, you can now turn any room into a pro listening environment.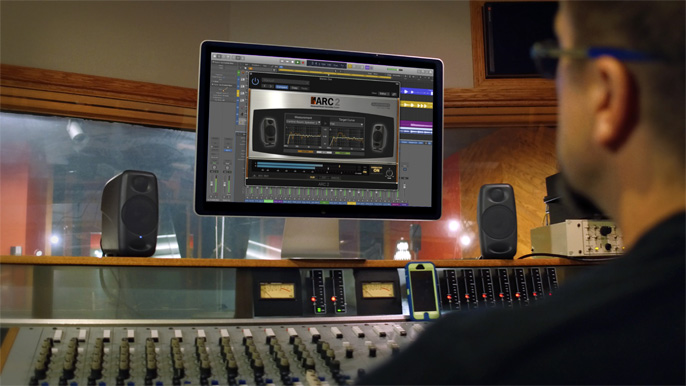 ARC System is powered by
Specs
Your studio sound will be improved forever
ARC System 2.5 is the first acoustic correction system that combines a highly accurate MEMS measurement microphone, measurement software and a correction plug-in to improve the audio monitoring quality of your studio in an elegant, affordable and portable solution.
Measurement software features
Automatic multi-point room measurement system based on Audyssey MultEQ® XT32 technology
Measurement precision when used with ARC System microphone: +/- 0.5 dB
Saves measurement sets to be opened with the ARC System Correction plug-in
Correction plug-in features
Multi-platform high quality frequency and time domain correction processor based on Audyssey MultEQ® XT32 technology
Correction precision when used with ARC System microphone: +/- 0.5 dB
Correction processor resolution: 32-bit floating point
Correction processor supported sampling rates: 32 kHz to 192 kHz
Four factory target curves plus four custom target curves to match engineers' personal tastes
Virtual Monitoring feature mimics the sound of various listening devices
Professional measurement microphone features
Type: precision measurement MEMS microphone
Polar pattern: omnidirectional, free field
Capsule frequency response: 20-20,000 Hz
Calibrated frequency response when used with ARC: 20-20,000 Hz, +/- 0.5 dB
Output: transformerless, electronically balanced, 100 ohms output impedance
SNR: 65dB (A)
Max SPL: 124 dB
Phantom power: from 12 to 48V
Size: 129.5mm/5.1" x 23mm/0.91"
Weight: 25g/0.88oz
Package includes
Professional measurement microphone
Mic clamp
Software license
Audyssey MultEQ® XT32 details
MultEQ® XT32 captures acoustical information at multiple locations throughout a listening area in both the time and frequency domains. It uses a sophisticated clustering algorithm to combine this information so that acoustical problems are accurately analyzed. Based on these measurements, MultEQ® XT32 calculates an equalization solution that corrects for both time and frequency response problems in the listening area and also performs a fully automated system setup. The result is clear, well-balanced sound for your studio. Click here for more information about Audyssey.
---
System Requirements
Mac® (32 and 64 bit)
Minimal
: Intel® Core 2 Duo Processor, 4 GB of RAM, Mac OS® X 10.7 or newer.
Supported Plug-in formats
: Audio Units, VST 2, RTAS, AAX.
Requires a Core Audio compatible Audio Interface that supports 48 kHz sampling rate (for room measurement).
Note: PPC CPU is no longer supported.
Windows® (32 and 64 bit)
Minimal
: Intel® Core 2 Duo or AMD Athlon 64 X2 Processor, 4 GB of RAM, Windows 7 (32 bit or 64 bit) or newer.
Supported Plug-in formats
: VST 2, RTAS, AAX.
Requires an ASIO compatible Audio Interface that supports 48 kHz sampling rate (for room measurement).
ARC System is powered by
You may also be interested in: