You're currently on: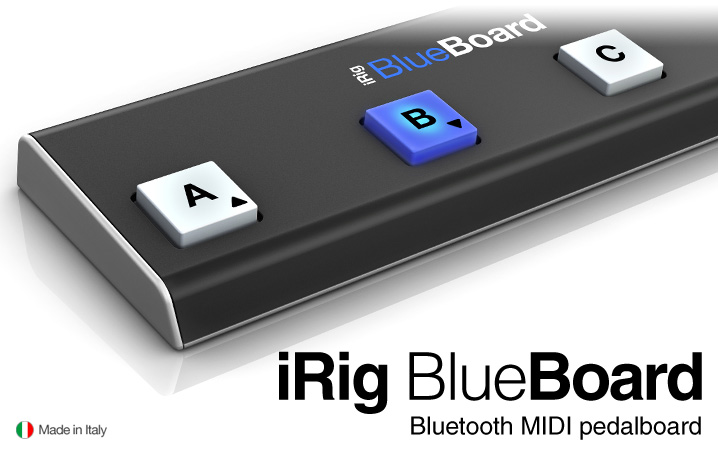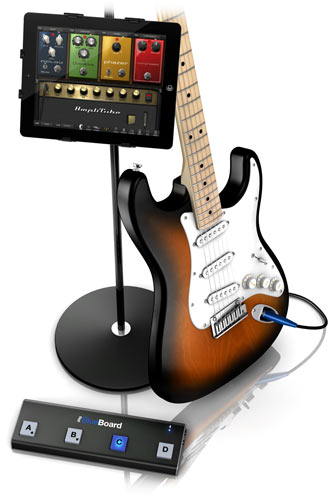 The first wireless MIDI pedalboard controller for iPhone, iPad and Mac
iRig BlueBoard is the first wireless MIDI pedalboard for iOS and Mac that allows you to control your music apps and more from the floor.
Now control parameters of your MIDI-compatible apps like AmpliTube wirelessly from the floor. Switch between presets, change patches, turn effects on and off and control effects like volume wah pedals all from the stage floor without worrying about tripping over wires. Setup is as simple as turning the iRig BlueBoard on and telling it what you want to control.
iRig BlueBoard features four backlit soft-touch pads housed in a sturdy, stage-worthy chassis, two TRS expansion jacks for connecting additional MIDI controllers like expression pedals, and is powered by four standard AAA batteries.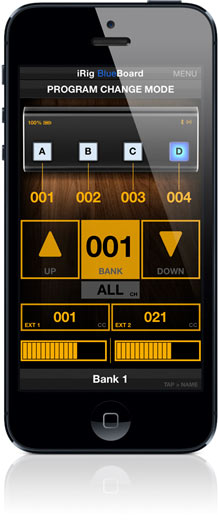 Take control
So how does iRig BlueBoard work? It connects to your iPhone/iPod touch/iPad or Mac via Bluetooth, and when you press its foot switches, it sends out control signals that are converted to MIDI by the iRig BlueBoard app.
At this point the MIDI messages are available to virtually any MIDI compatible app you're running on your iOS device or on your Mac.
The control messages sent from iRig BlueBoard to AmpliTube or other Core MIDI music apps can include bank up/down, MIDI continuous controllers, as well as parameter changes on apps such as IK'sAmpliTube, VocaLive, SampleTank, and iGrand Piano iOS apps plus many others, such as Apple GarageBand.
Control from 10 meters away
iRig BlueBoard communicates via Bluetooth technology so you can place it up to 10 meters (32.8 feet) away from your device and still maintain full control of your apps. The low-profile iRig BlueBoard is only 9.1" (23cm) wide, and it runs on 4 - AAA batteries.
Because it communicates with the mobile device via Bluetooth, it leaves the 30-pin, Lightning and mini-jack connector on the mobile device free for connection with other IK accessories like iRig HD, iRig STOMP, iRig,iRig Mic, iRig MIC Cast, iRig MIDI, iRig KEYS or any other favorite accessory.
iRig BlueBoard - AmpliTube - Electric Guitar
iRig BlueBoard - iGrand Piano - iRig Keys

iRig BlueBoard - VocaLive - Microphone
iRig BlueBoard - SampleTank - MIDI Keyboard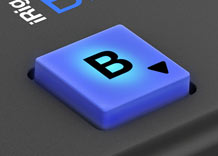 Light up the night
iRig Blueboard has 4 backlit control pads housed in a sturdy stage-worthy chassis. Each pad has an additional LED that lights when the pad is active, letting you know exactly which control is on. And since it's backlit, you can easily see it on a dark stage or performance venue for quick and accurate access.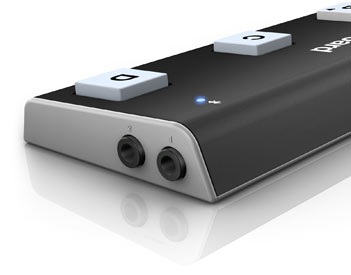 No limits
iRig BlueBoard also features two expansion TRS jacks so you can add more expression to your performance. Plug your continuous MIDI controller like wah or volume style pedals into these expansion jacks to add even more control and performance versatility.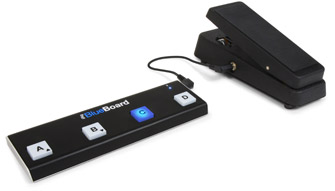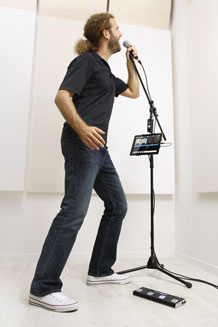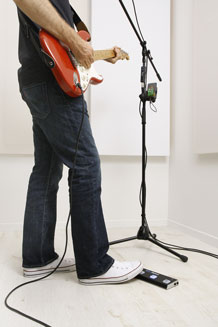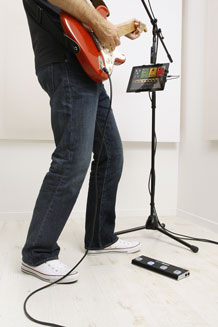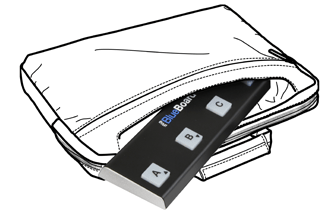 Designed by and for musicians
Guitar and bass players, singers and keyboard players will now be able to play and control their preferred iOS app on stage or in studio, with the same degree of performance control offered by traditional music hardware, and the freedom of not being tethered by cables. Plus iRig BlueBoard is small enough to fit in a laptop bag. iRig BlueBoard companion apps for other computer and mobile platforms will also be available the near future.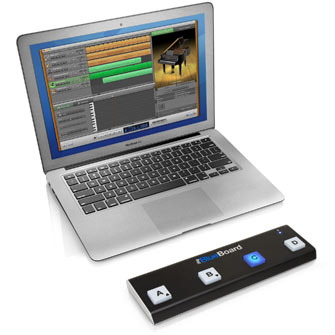 Compatible with Mac and iOS devices
iRig BlueBoard works with any iPhone, iPod touch or iPad supporting Bluetooth 4.0.
It also works with any Mac that supports Bluetooth 4.0 / Bluetooth Low Energy.
Check the specs for a complete list of supported devices.
---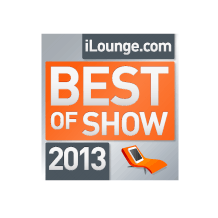 Features:
Bluetooth MIDI pedalboard (10m/32.8' range)
4 backlit assignable foot switches
2 1/4" inputs for assignable expression pedals or switches
Can send Bank Change, MIDI Program Changes and MIDI Control Changes
BlueBoard iOS app runs in background on mobile device or Mac, and translates Bluetooth messages to MIDI
Runs on standard AAA batteries
Small enough to fit in a laptop bag
Behringer FCV100
The FOOT CONTROLLER FCV100 is a flexible dual-mode foot pedal for volume and modulation control. It features volume control of one stereo or two individual musical instruments, and its dedicated modulation function provides a direct connection to a keyboard's modulation control input. The FCV100 is VCA controlled for utmost reliability and smooth audio performance.
Main Features:
Volume control of one stereo or two individual musical instruments
Dedicated modulation function for direct connection to keyboard's modulation control input
VCA control for utmost reliability and smooth audio performance
Adjustable minimal volume
Standard 9 V battery or 12 V DC adapter operation (not included)
Battery low indicator
Ultra-compact, road-suitable housing
High-quality components and exceptionally rugged construction ensure long life and durability
Conceived and designed by BEHRINGER Germany
You may also be interested in: