You're currently on: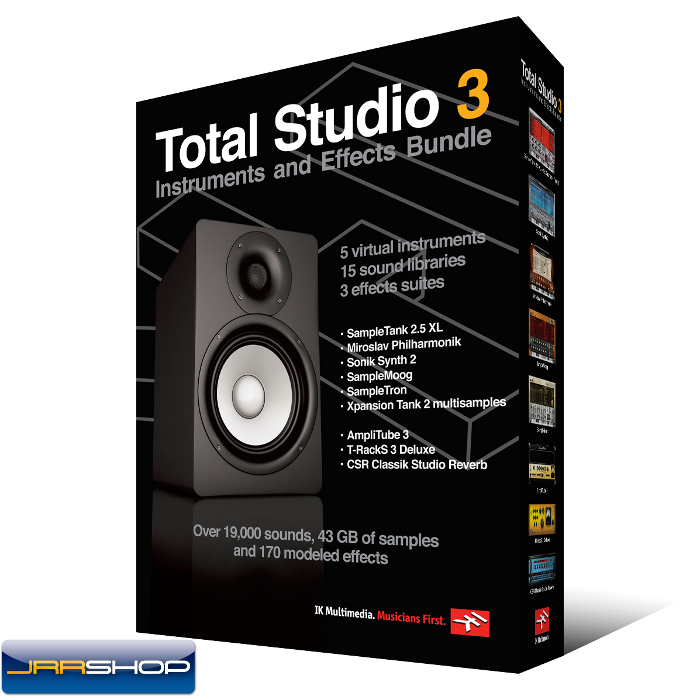 One Package, Everything You Need
Equip your entire studio for one amazingly low price
IK Multimedia's Total Studio 3 Bundle offers everything you need for your studio at one time for one low price. It has the best virtual instruments in the industry, the best guitar and bass tone-shaping tools from the world's top manufacturers of gear and effects, plus the warmth of smooth vintage analog mastering gear to hold everything together. Now you can cover all your composing, tracking, mixing and mastering needs in a single package, all at a price that can't be beat.
The Total Studio 3 bundle is the most complete solution for any DAW available on the market today, with a collection of 8 award-winning plug-ins, including 5 virtual instruments and 15 multi-sampled instrument Xpansion Tank 2 titles, plus 3 essential effects plug-in suites — with over 170 accurately modeled effects — covering every guitar, bass, mix and mastering need. The bundle is available at an amazing price that's 80% lower than the cost of buying the components individually.
The Total Studio 3 bundle includes:
Virtual Instruments and Sounds:
SampleTank 2.5 XL
Sonik Synth 2
Miroslav Philharmonik
SampleMoog
SampleTron
15 Xpansion Tank 2 Multi-Sampled Instrument Collections
Guitar & Bass Gear:
AmpliTube 3
including:
AmpliTube Jimi Hendrix™
AmpliTube Metal
AmpliTube Custom Shop
Mixing & Mastering:
T-RackS 3 Deluxe
Mastering Suite
CSR - Classik Studio Reverb
How it works
Everything you need in the Studio, and then some
Create
With the Total Studio Bundle, you'll get 5 outstanding sampler, synth, vintage and orchestral workstation plug-ins (SampleTank 2.5 XL, Sonik Synth 2, Miroslav Philharmonik, SampleMoog™, SampleTron) providing everything needed to create. Whether you are scoring for TV and film, dropping the next hip-hop platinum selling album, or crafting a new power-ballad, these sounds will provide the inspiration, flexibility, and the ease-of-use you desire. Plus, all of these "Powered by SampleTank" sounds can be read and used by one engine, creating one of the most powerful and flexible virtual instruments on the planet.
Record
Record and produce great guitar and bass tones with the over 160 gear models of AmpliTube 3, which spans all generations of rock sounds, from the vintage and classic tones of Jimi Hendrix™ to the metal bite of the 80s and 90s and beyond, and can be further expanded with a-la-carte gear with the included AmpliTube Custom Shop to craft your tuly unique tone. This is your ultimate effects processor for playing and recording guitar and bass, or unleash your creativity and run vocals, drums and keyboards through these vintage and modern effect suites to explore sonic worlds never before heard.
Mix & Master
4 lush, high-end reverbs from CSR Classik Studio Reverb and a collection of 10 Dynamics/EQ processors from T-RackS 3 Deluxe including highly sought-after vintage and modern EQs, compressors, limiters, clippers and a complete metering suite, gives you a complete mixing and mastering suite that has everything you need to make your productions sound great from start to finish. This classic gear has become a staple in many engineers' setups, a cult classic for a multitude of studio users who have relied on it countless sessions.