You're currently on: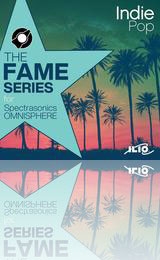 The Fame: Indie Pop for Omnisphere 2
ILIO and Reverb Machine wrap up The Fame Series with their third and final patch collaboration for Spectrasonics' flagship synthesizer Omnisphere 2. The Fame Series pays homage to famous synth sounds used in classic and modern songs, with professionally produced patches that will add vibe and color to your tracks.
The third collection in The Fame Series is Indie Pop. This special package focuses on cutting-edge synth tones inspired by recent indie releases. Borrowing from Tame Impala, Tycho, Kavinsky, Radiohead, MGMT, The 1975, Com Truise, LCD Soundsystem, and many more, this collection celebrates the diverse and inventive indie song universe of this millennium. Whether you need to create a modern, indie pop tune, are a cover band, or you're looking for a spark to light your creative fire, The Fame Series: Indie Pop is a hit-maker's go-to source for inspiration.
Included in The Fame: Indie Pop
BASS - Kavinsky Nightcall Bass
BASS - LCD Dance Yrself
BASS - MGMT Little Dark Bass
BASS - Phoenix 1901 Buzz
BASS - Radiohead Climbing Swell
BASS - Radiohead Lotus Moog
BPM BASS - A Real Hero
BPM BASS - Grimes Oblivion
BPM BASS - Miami Ocean Drive
BPM SYNTH - alt-J Hunger Pine
BPM SYNTH - Beach Black Car
BPM SYNTH - Beach Lazuli
BPM SYNTH - Chrome Send The Pain
BPM SYNTH - Gorillaz Plastic Beach
BPM SYNTH - Kavinsky Nightcall Arps
BPM SYNTH - Merriweather Arps
BPM SYNTH - Tame Endors Toi Arp
BPM SYNTH - Tame Nangs Wahwah
LEAD - 1975 Heart Out
LEAD - Chromatic Shadow String
LEAD - Future Seasons Flute
LEAD - Gorillaz Andromeda Bright
LEAD - Gotye Used To Know
LEAD - Gus Talk Funny Prune
LEAD - MGMT Electric Feel
LEAD - MGMT Kids Vibrato
LEAD - MGMT Pretending Time
LEAD - Neon Polish Girl SH
LEAD - Pond Firewater
LEAD - Pond Painted Silver
LEAD - Tame Endors Lead
LEAD - Tame Let It Happen
LEAD - Tame Lost Yesterday
LEAD - Tame Nangs Lead
LEAD - Toro y Mirage
LEAD - Tycho Jetty Sine
LEAD - Tycho L Moog
PAD - Chromatic Shadow
PAD - Ferreira Embarrassing
PAD - Future Seasons Pad
PAD - MGMT Workout Strings
PAD - Radiohead Staircase Swells
PAD - Trent Like Home
PAD - Tycho Hours Washed
PAD - Wild Letting Go
SYNTH - 1975 Dreams
SYNTH - 1975 Settle Down
SYNTH - BadBad Speak Gently
SYNTH - Blake Whatever Way
About Reverb Machine
Reverb Machine is the work of Dan Carr, a London based electronic music producer, sound-designer and musician. After working predominantly as a live musician, he started exploring the world of synthesizers, sharing presets and sound design tips on reverbmachine.com. Topics include the synth sounds of popular artists, the generative music techniques of Brian Eno, and music theory. He also produces content for Reverb.com and is tentatively working on a debut album.
System Requirements
Omnisphere 2 from Spectrasonics is required for use and will need to be updated to at least version 2.6 prior to installation of this patch library. Registered users can update for free by logging into their Spectrasonics User Account.
You may also be interested in:
| | |
| --- | --- |
| Variant | 1 |
| Specials | May 23, 2019 |