You're currently on: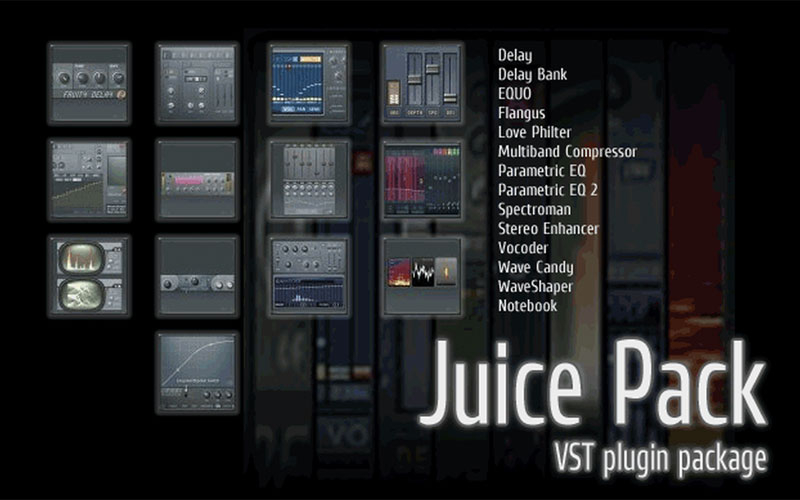 JUICE PACK
For your mixing and mastering pleasure we bring you Juice Pack, a collection of the most popular effects from FL Studio as VSTi plugins.
These programs FL Studio plugin versions are included free in the FL Studio registration.
Inside this pack you will find a collection of VSTi plugins designed to give your tracks that professional polish you are looking for.
DELAY is a delay line plugin, with inverted stereo / ping pong modes & a lowpass filter, optimized for automation (input and feedback values are ramped).
DELAY BANK is an enhanced version of the Delay VST plugin, with refined controls and some additional features, such as stereo offset and panning control for the input signal.
EQUO is an advanced morphing graphic equalizer plugin. EQUO is particularly suited to live or automated tweaking during a performance.
FLANGUS allows you to enrich the stereo panorama of your mix, add complex flange effects and simulate unison mode synthesis via a set of controllable 'stacked' flangers
LOVE PHILTER consists of eight identical filter units, each able to be feed to the next one in the chain. It can create complex delay, gating and filtering effects.
MB COMPRESSOR is a three band stereo compressor using ButterWorth IIR or LinearPhase FIR filters to separate the incoming signal into three bands for processing. Limiter functionality is also included.
PARAMETRIC EQ is a CPU friendly 7 band parametric equalizer plugin.
PARAMETRIC EQ2 is an advanced 7-band parametric equalizer plugin with spectral analysis.
SPECTROMAN is a spectrum analyser plugin. It behaves like a row of peak meters, from low to high frequencies.
STEREO ENHANCER contains various filters and processors to alter and enrich the stereo image of the input sound.
VOCODER is an advanced real-time vocoder effect with a wide range of adjustable parameters and zero latency
WAVE CANDY is a flexible audio analysis and visualization tool including an Oscilloscope, Spectrum Analyser and Peak Meter. The display type, colors, frequency range and dynamic range are fully customizable.
WAVESHAPER is a wave distortion effect which maps input (horizontal axis) to output (vertical axis) values using flexible spline-based graph.
You may also be interested in: