You're currently on: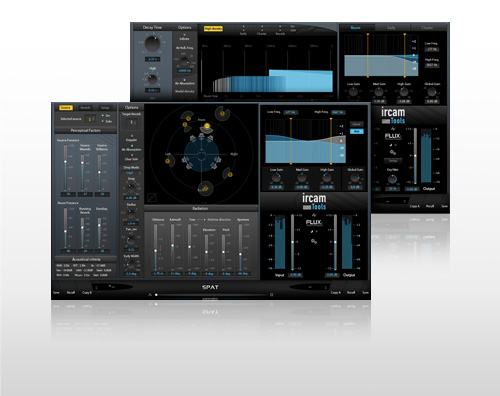 Ircam Spat v3 - The complete Room Acoustics Simulation and Localisation Solution
[ AU 32 & 64 bit | VST 32 & 64 bit | AAX Native 32 & 64 bit* ]
With more than a decade of research performed by the Acoustic and Cognitive Spaces Team at Ircam, being at the forefront of scientific and technological innovations, Spat v3 is the most advanced and sophisticated tool for room acoustics simulation and localisation ever designed, managing both spatialisation (source localisation) and room acoustic simulation in a truly consistent and visually logical way.
Designed for surround and multi-channel use, Spat v3 presents the option to setup the output arrangements providing a variety of stereo and surround configurations, including subwoofer configuration. With eight input and output channels available in SPAT, configurations up to 7.1 and 8.0 are feasible.
Each of the up to eight incoming audio channels is internally mapped to a range of Virtual Sources localized in a 3D space, and connected to a room (a reverb). Up to 3 rooms in parallel are provided, presenting the option to simulate complex spaces (coupled room acoustics).
Spat v3 introduce state of the art techniques for room acoustics simulation utilizing advanced perceptive models, concealing the complexity behind the actual algorithms, allowing for intuitive and accommodating user interaction capabilities.
The Ircam Spat v3 includes a licence for Ircam Verb v3 as well.
*Ircam Spat v3 AAX Native supports 32 bit in Pro Tools 10.3.5 and 64 bit in Pro Tools 11.
Features
Signal Processing Features
Input/Output gain controls for adjusting the levels before and after processing.
Preset and Parameter Handling
Preset/Parameter slots
To enhance the workflow the two Preset/Parameter slots, A and B, can be loaded with two full set of parameters at the same time. Apart from saving each preset, a "Global Preset" containing both the A and B settings, and the position of the "Morphing Slider", can be saved.
Parameter Morphing Slider with Automation
The Morphing Slider provides morphing between the parameter settings of slot A/B allowing for really creative and useful real-time tweaking. Enabling the Automation control button exposes the Morphing Slider to the host automation.

Specifications
Availability
Ircam Spat v3 is available in the following configurations:
Native - AU / VST / AAX Native
Processing Specifications
Ircam Spat v3, as all Flux:: plug-ins, provide
Up to 8 channels Input/Output.
64-bits internal floating point processing.
Sampling rate up to 384 kHz for Native (AU/VST/AAX).
Compatibility
All major native formats are supported
Windows- XP, Vista, 7, 8 and 8,1 all in both 32 and 64 bits*.VST (2.4)
AAX Native*
Mac OS X(Intel) - 10.7, 10.8 and 10.9 in both 32 and 64 bits*.VST (2.4)
AU
AAX Native*
* Ircam Spat v3 AAX Native supports 32 bit in Pro Tools 10.3.5 and 64 bit in Pro Tools 11.
Due to AVID ProTools changing to AAX, from Version 3 (v3) RTAS for AVID ProTools is no longer supported.
Awards
We are happy and proud to announce that IRCAM Tools SPAT is the winner in the plug-in category of the Resolution Awards 2011. The Resolution Awards recognise quality and innovation in professional audio and the winning products in the awards have been judged to be outstanding in these respects by the best informed readership in the industry.
You may also be interested in: