You're currently on: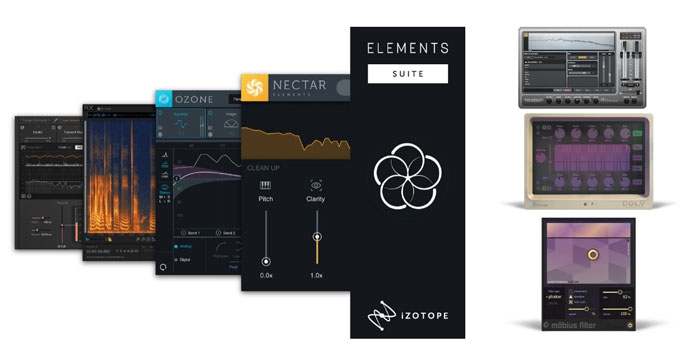 Black Friday Bundle
What's in the Black Friday Bundle
??Neutron Elements ($129 MSRP)
??Nectar Elements ($129 MSRP)
??Ozone Elements ($129 MSR)
??RX Elements ($129 MSRP)
??Trash 2 Expanded ($99 MSRP)
??Mobius Filter ($49 MSRP)
??DDLY ($49 MSRP)
BUNDLE VALUE: $713
Only $49 USD
Celebrate Make Music Day with iZotope
Join us as we celebrate Black Friday with a hand-picked bundle of some of our most essential plug-ins—for a limited-time price of $49. We want to arm those who make music with great iZotope tools at an affordable price.

RX Elements
Essential audio repair for home studios
RX Elements is the perfect introduction into the world of audio repair, featuring the new Repair Assistant which automatically finds and removes noise, clipping, clicks, and other problems that can plague your production audio.
Your view to a perfect take
RX 7 Elements is both a powerful set of plug-ins and a rich standalone audio editor. Marked by a beautiful, informative visualization of audio, RX can see more than your average audio editor. And now with Repair Assistant, the app will analyze your audio with machine learning to detect noise, clicks, pops, and more. It can even offer you different processing suggestions and lets you audition results in real time at different intensity levels.
Industry leading tools for the home studio
Get four of our most essential tools for fixing problems that would otherwise ruin your take. Reduce background room noise, amp hiss, and other ambient issues with Voice De-noise, fix distortion caused by clipping at your mic preamp with De-clip, take out ground hum and other tonal noise with De-hum, and handle clicks, pops, and other artifacts with De-click.
Top Features
Repair Assistant
Repair Assistant can automatically remove noise, clipping, clicks, and hum.
De-Click
Clean up vinyl clicks, mouth noise, and soften up harsh instrument transients with De-click.
Voice De-Noise
Reduce or remove noise from conditioning, refrigerator hum, or amp hiss.
De-Clip
Repair digital and analog clipping artifacts to restore distorted audio.
De-Hum

Remove ground loop hum and line noise with a variety of modes to treat all types of hum.
SYSTEM REQUIREMENTS
Windows: 7-10
Mac: OS X 10.8.5 - 10.13
Plug-in Formats: AAX (64-bit), Audiosuite DPM, Audio Unit (32-bit and 64-bit), RTAS (32-bit), VST 2 (32-bit and 64-bit), and VST 3 (32-bit and 64-bit).
Supported Plug-in Hosts: Ableton Live 9-10, Adobe Audition CC 2018 and Premiere Pro CC 2018, Apple Logic Pro X, Apple Final Cut Pro X, Avid Media Composer 2018, Pro Tools 10-2018, Cockos Reaper 5, Presonus Studio One 4, Steinberg Cubase 9.5 and Nuendo 7

Nectar Elements
Vocals, in the mix
Give your vocals professional clarity and polish with Nectar Elements. Using the new Vocal Assistant, Nectar Elements analyzes and adapts to your vocal sound, taking the guesswork out of placing your vocal in the mix and letting you make your vocals stand out in just a few clicks.
Nectar Elements is available in the Elements Suite!
A chain for every vocal
Get everything you need for pro vocals in seconds with six under-the-hood audio processors and intuitive controls. Nectar Elements intelligently combines our latest audio processing for compression, de-essing, tonal and subtractive EQ, pitch correction, and reverb into one easy-to-understand interface.
FEATURES
Don't let the simplicity fool you—there's a lot going on under the hood in Nectar Elements!
Vocal Assistant
Using our latest advances in machine learning, Vocal Assistant listens to your vocal and creates a custom preset unique to your sound. Vocal Assistant automatically detects resonant frequencies, chooses the right amount of compression and reverb, reduces problematic sibilance, and then adjusts the tone to your chosen target.
Three Vibe Modes
Select between three distinct Vibe modes to tell Nectar Elements what kind of sound you're going for. Get an aggressive lead vocal that cuts through a rock mix, warm background vocals for a jazz arrangement, or beautiful dialogue for podcast.
Scaling Controls
Customize your unique preset with six adjustable sliders that scale in intensity based on your target. Practical controls like Dynamics, Tone, and Space allow you to adjust your sound while keeping your vocals under control.
System requirements
MAC: OS X 10.9 (Mavericks) - macOS 10.13 (High Sierra)
WINDOWS: 7, 8, & 10
Plug-in Formats: VST2, VST3, AudioUnit (Mac Only), AAX (64-bit), AAX-AS (64-bit AudioSuite), RTAS (32-bit), DPM (32-bit AudioSuite)
Supported Plug-in Host Applications: Logic Pro X, Ableton Live 9-10, Pro Tools 10-2018, Cubase 9.5, FL Studio 12, Studio One 3, Reason 10, Reaper 5, Bitwig Studio 2

Neutron Elements
Neutron Elements includes 4 powerful tools to craft great mixes for less than the cost of a single plug-in. It's the easiest, most intelligent way to bring get your feet wet in the world of Neutron.
Features
New interactive visuals
Resizeable, beautiful, and significantly faster. Dive into analysis tools that enhance your mixing experience and get results with plug-in controls made for humans, not machines.

Five essential mixing tools
Neutron Elements includes an EQ, Compressor, Transient Shaper, and Exciter built with an obsession for great sound. Pick from hundreds of professionally designed presets or go totally manual with confidence that you're on your way to a great mix.

Communicate across your session
Use the included Visual Mixer plug-in to adjust the gain, pan, and width of any Neutron or Relay in your session. In Neutron 3 Advanced, you can use the Mix Assistant button and get to a great starting point even faster.


EQ with Masking Meter
With a convenient one-window display and smoother metering, Masking Meter is now even better at helping you find and fix competing elements of your mix to create space for your instruments.
Improved performance
Neutron on more tracks
Sessions with Neutron 3 load up to 3X faster than Neutron 2, so you can
transform your mix with premium processing anywhere and everywhere.
MUCH faster processing
Sessions with Neutron 3 use up to half the memory of Neutron 2. Forget about messing with settings and bouncing in large sessions.
Lower buffer size
Neutron 3 sessions use up to a third of the CPU of Neutron 2 at the lowest buffer sizes. Create on the fly at lower buffer sizes without slowdowns or dropouts.
Neutron 3 System Requirements
Operating systems:
Mac — OS X 10.11.6 El Capitan—macOS 10.14 Mojave
PC — Win 7 (64-bit)—Win 10 (64-bit)
Plug-in formats:
AAX (64-bit), AU, VST2, VST3
*All formats are 64-bit only.
Supported hosts:
Ableton Live 9—10, Cubase 9.5, Digital Performer 9, FL Studio 12, Logic Pro X, Nuendo 8, Pro Tools 10—12, Reaper 5, Reason 10, Studio One 3—4

Ozone Elements
Mastering Made Easy
Effortlessly get your mixes radio- and streaming-ready with Ozone Elements. With best-in-class processing from Ozone 9, this new mastering plug-in enables you to achieve a full, rich, and loud final master with new assistive technologies like Master Assistant and the legendary Ozone Maximizer.
Assistance with control
Master Assistant uses the sonic profile of your audio to help you get to a logical starting point. Because your time is better spent adding your sonic signature, Master Assistant will suggest targets and signal chain and processor settings, so you can get back to what's most important—adding that personal touch.
Key features
Create a custom preset with Master Assistant and get to an optimal starting point
Create a loud, full master with three essential mastering processors: Imager, Maximizer, and EQ
Professionally designed presets with easy select menu for genre, delivery formats, and more
Redesigned user interface for an even better mastering experience
Top Features
Assistance with control
Master Assistant uses the sonic profile of your audio to help you get to a logical starting point. Because your time is better spent adding your sonic signature, Master Assistant will suggest targets, signal chain, and processor settings, so you can get back to what's most important—adding that personal touch.
Three must-have mastering processors
Get the Ozone Maximizer with IRC I and IRC II limiting algorithms and Threshold Learn, the Ozone Imager with Vectorscope, and Equalizer with Analog, Digital, and Surgical modes.
Maximizer
Ozone's Maximizer contains two versions of iZotope's highly regarded transparent limiting algorithm, IRC™: IRC I and IRC II. The new Threshold Learn feature adjusts the threshold of the Maximizer to quickly get you closer to a full and loud final master.
Imager
Precisely adjust stereo width for your master using the Imager module. An integrated Vectorscope and Correlation Meter give you valuable visual feedback for the mastering process, including Polar vectorscope modes and a Stereo Balance meter.
EQ
Ozone includes an EQ with eight bands of adjustable filters and a variety of filter shapes. Choose from many digital and analog filter shapes including Baxandall bass and treble, API-inspired Proportional Q, Band Shelf, and resonant High and Low Shelf.
Presets and Intuitive Controls
Get professionally designed presets for genres, instruments, aesthetic preferences and more. Paired with easy-to-tweak controls, Ozone Elements presets will get you where you need to be, and fast.
System Requirements
Operating Systems:
Mac: OS X 10.8.5 (Pro Tools 10 only), OS X 10.9 - macOS Sierra (10.12)
Windows: 7, 8 & 10
Plug-in Formats:
VST2, VST3, AudioUnit (Mac Only), AAX (Real-time & AudioSuite; 64-bit only), RTAS (Real-time & Audiosuite (DPM); 32-bit only)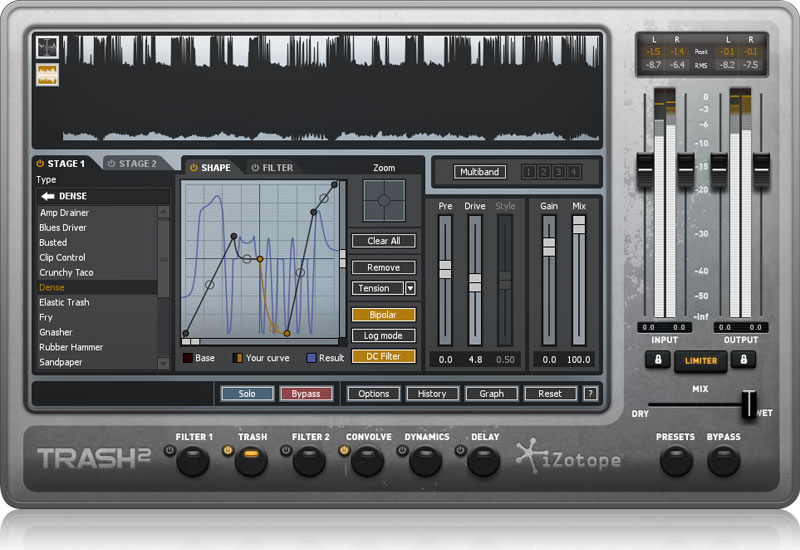 Trash 2: Distort. Mangle. Transform.
Meet the most comprehensive distortion engine ever designed. Combining the power of multi-band, dual-stage distortions with advanced post-filtering, Trash 2 offers immediate sonic transformation! Give your low end some thump, get a warm crunch on the midrange, and let your high end soar. Trash any track: not just guitars and basses, but drums, synths, pads, vocals, brass, woodwinds, and more.
A distortion engine like no other
Trash and Burn
Give new life to your audio with the Trash module's 60+ distortion algorithms. Design your own unique distortions with the graphics-based Waveshaper. Split the signal into multiple bands and apply distortion independently to individual frequencies, each with their own custom waveshape. Chain two distortion algorithms for each frequency band for up to 8 different flavors of destruction.
Go Beyond Distortion
Don't just add distortion! Add texture, body, and depth to your audio with Trash 2's extensive suite of modules. Choose from over 100 impulse responses with the Convolve module. Explore new sonic dimensions with the Delay and Dynamics modules. Breathe life and movement into your audio using the dual Filters, each with 20+ evocative filter types to shape your tone.
Top Features
Trash
Choose from over 60 different distortion algorithms or design your own using the graphic waveshaper. Apply different distortion types to up to 4 frequency bands
Filter
Trash's two-stage Filter gives you even more customization. With over 20 selectable filter types, along with switchable oscillators on each band, you'll have all you need to shape your tone
Convolve
Trash features realistic amp, device, cabinet, effect and speaker convolution modeling, freeing you to place your audio into another space (or object) entirely.
Multiband Dynamics
Squash the peaks, add grit and character, silence the noise, or draw out sustain with the Dynamics module, also featuring multiband and sidechain processing
Delay
Experiment with 6 different delay types: Tape, Tape/Tube, Analog, Lo-fi Digital, Broken Bit, and Digital. Get even more possibilities with additional distortion and filter options.
"We found the way Trash is laid out, it's some of the best programming in the realm of plug-in distortions."

Atticus Ross

Nine Inch Nails
Trash 2 Technical Specs
Latest version: Trash 2.05a | Released January 18, 2017.
Operating Systems:
Mac — OS X 10.8 Mountain Lion - macOS 10.13 High Sierra
PC — Win XP (32-bit Service Pack 3) - Win 10
Plug-in Formats:
AAX (64-bit), AU, RTAS (32-bit), VST, VST3
Supported Hosts:
Ableton Live 9 - 10, Cubase 9.5, Digital Performer 9, FL Studio 12, Logic Pro X, Nuendo 8, Pro Tools 10 - 12, Reaper 5, Reason 10, Studio One 3 - 4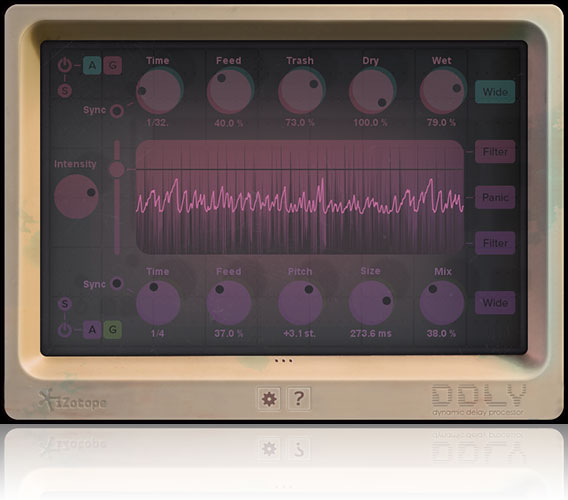 DDLY
Don't delay, delay today

DDLY Dynamic Delay responds to your track's musical dynamics to create versatile and intriguing delays. It's a one-of-a-kind effects plug-in that delays the signal differently depending on the character of the sound, without turning your track to aural mud. Adjust the threshold to split your signal based on transients, then send it down two separate analog or granular delay paths.
Two delays in one
DDLY is actually two separate delays! DDLY analyzes your audio based on an adjustable threshold to determine what to send to the top delay and what to send to the bottom delay. Adjust the Intensity to affect how strongly the signal is split between the two—great for a punchy delay on the harder, transient crack of your drums and a shuffling delay on the main beat elements.
Customize your delay
Manipulate the settings in each delay independently or in sync with the other. Choose analog mode to produce warm lo-fi delays with smearing and nostalgic degradation, or choose Grain for melodic, symphonic, and futuristic sounds. Crank the Feed and Trash knobs to throw in some extra destruction, or use the parallel dry/wet knobs to add just the right amount of sweetness.
Unique Flexibility
Dynamic Intensity
DDLY intelligently analyzes the dynamics of your incoming audio to determine what to delay. This means that DDLY will react differently depending on how hard you push Threshold and Intensity, just like a compressor!
Two Delay Algorithms
Each of DDLY's two delays can be toggled between one of two algorithms. Analog emulates the smearing quality of a classic lo-fi analog delay. Grain splits the audio into multiple grains of adjustable size and pitch for truly unique effects.
Unlimited possibilites
Each delay line includes fully independent controls for distortion, filtering, and widening. Dial in a simple ??note workhorse delay with a single line, or go crazy and combine both on full intensity to really let the juices flow.
DDLY Dynamic Delay Technical Specs
Operating Systems:
Mac — OS X 10.8.5 Mountain Lion - OS X 10.13 High Sierra
PC — Win 7 - Win 10
Plug-in Formats:
AAX (64-bit), AU, RTAS (32-bit), VST, VST3
Supported Hosts:
Ableton Live 9 - 10, Cubase 9.5, Digital Performer 9, FL Studio 12, Logic Pro X, Nuendo 8, Pro Tools 10 - 12, Reaper 5, Reason 10, Studio One 3 - 4

Mobius Filter
Perpetual Motion Machine
Add movement and emotion to your music with Mobius Filter's infinitely ascending or descending filter sweeps. Find the sweet spot for your track quickly and fluidly, to push to extreme heights or add subtle hints of motion. Create fresh filter effects for any genre—massive filter swells, psychedelic alternatives to flange effects, or fresh inspiration for adventurous soundscapes.
Infinite filter potential
Mobius Filter creates the sensation of constant movement in your audio by applying the concept of the Shepard Tone to filters instead of pitches. Depending on your preferences, your audio can rise or fall at varying speeds for complex—but easy to achieve—spatial movement. Combined with automation in your audio editing software, the possibilities with Mobius Filter are endless.
Top Features
XY Pad

Drag it around
Draw your own expressive sweeps with the X/Y pad, making fluid adjustments to both Center Frequency and Resonance using a single control.
Host Tempo Sync

Get in sync
Get a rapid, pulsing effect or slower motion by adjusting the Host Tempo Sync to anything from eighth notes to eight bars.
Stereo Slider

Immerse yourself
Create an immersive environment with the Stereo slider, which widens the stereo field in an amount of your choosing.
Motion Control

Put it on hold
Create a static filter effect by pausing the filter motion with the Pause function. Or, pause when it feels right and then automate to create custom sweeps.
Filter Type

Phake it out
Change between two filter variations that alter the frequency characteristics of the filter
Mobius Filter Technical Specs
Latest version: Mobius Filter 1.00 released March 29, 2016.
Mobius Filter runs as a plug-in within your audio editing software. Mobius Filter is not a standalone application.
Operating Systems:
Mac — OS X 10.8 Mountain Lion - macOS 10.13 High Sierra
PC — Win XP (32-bit Service Pack 3) - Win 10
Plug-in Formats:
AAX (64-bit), AU, RTAS (32-bit), VST, VST3
Supported Hosts:
Ableton Live 9 - 10, Cubase 9.5, Digital Performer 9, FL Studio 12, Logic Pro X, Nuendo 8, Pro Tools 10 - 12, Reaper 5, Reason 10, Studio One 3 - 4