You're currently on: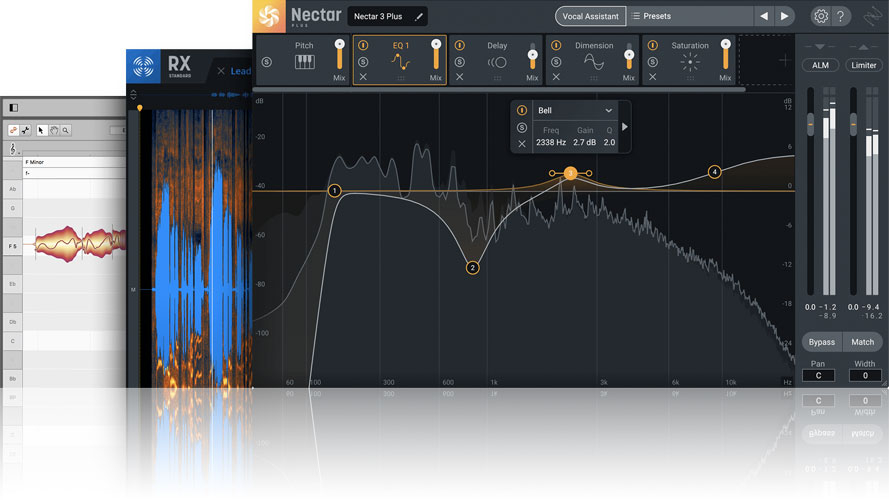 iZotope Home Studio Vocal Bundle
Tools for creating studio quality vocals at home
RX
The industry standard for audio repair
GIVE YOUR POST PRODUCTION GAME A BOOST
As the industry leader in audio repair, RX introduces Repair Assistant and Music Rebalance, plus tools for any audio post production job.
The gold standard for post production engineers everywhere
RX leverages cutting-edge machine learning technology for unparalleled audio quality.
Instant audio repair
Repair Assistant analyzes your material to find and correct most common audio problems.
Rebalance mix elements
Music Rebalance can adjust the levels of individual musical elements within your mix.
Why RX?
Easy vocal reshaping
Quickly reshape your performer's intonation with Dialogue Contour, allowing you to save or improve a performance in post.
Crystal clear dialogue
Tools like Dialogue Isolate and Dialogue De-reverb ensure that your audience catches every word with perfect clarity.
Professional surround support
With support through Atmos 7.1.2, RX is ready to take on post production jobs in almost any professional multichannel format.
What people are saying
"RX allows me to deliver the cleanest overall finished product, saving interviews and location sound that would have otherwise been unusable."
Eric R. Fischer
Mix engineer
"RX is essential for all my work, and invaluable on this album. There's nothing like it!"
Bill Evans
Engineer and producer
System Requirements
Operating Systems:
Mac: OS X 10.8.5 Mountain Lion–macOS 10.14 Mojave
PC: Win 7–Win 10
Plugin Formats:
AAX (64–bit), AU, RTAS (32–bit), VST, VST3
Supported Hosts:
Audition CC 2018, Ableton Live 9–10, Cubase 9.5, Digital Performer 9, Final Cut Pro X*, FL Studio 12, Logic Pro X, Nuendo 8, Premiere Pro CC 2018, Pro Tools 10–12, Reaper 5, Reason 10, Studio One 3–4
The next level of vocal mixing
From corrective to creative processing, all the way to the final polish, Nectar ushers in a new era of mixing vocals with machine learning tools, modern workflows, and communication across your session.

Great vocals in isolation...
Vocal Assistant listens to your audio and gets you started with a custom preset, tailored to your unique vocal. Time consuming tasks like corrective EQ cuts, dynamics, and de-essing are performed with precision in seconds. Vocal Assistant will even intelligently set an optimal input level with Auto Level Mode to ensure a smooth performance.

...and in the mix
Vocals are a big part of the mix, but they're not the only part. By communicating with the included Relay plug-in, Nectar will help place your vocal at the forefront of the mix, moving other competing mix elements out of the way automatically. Vocal Assistant: Unmask will communicate with any instance of Nectar, Neutron 2 Advanced (available separately), or iZotope Relay (included with Nectar) to create the perfect nest for your vocal.
Heads up displays
Experience EQ in a brand new way and stay in your creative zone, with powerful controls available directly from your selected EQ node.
Follow EQ
Follow EQ Mode will ride selected frequencies and their harmonics for unparalleled control of pitch information so you don't have to make hours of corrective manual edits by hand.
Dynamic EQ
Dynamic EQ mode responds to the dynamic level of your audio, allowing you to make transparent cuts or boosts.
A match made in heaven: Melodyne 4 essential
iZotope has partnered with Celemony to include Melodyne 4 essential, giving you surgical, intuitive, and truly transparent pitch adjustment capabilities that are an industry standard in professional studios around the world. Nectar is also bundled with iZotope RX Breath Control, which can intelligently detect breaths in dialogue or vocal recordings and automatically suppress them.
Nectar comes bundled with the magic of RX, the standard for audio cleanup and restoration. RX Breath Control is designed to detect breaths in audio recordings and make them disappear, reducing time spent in the comping and editing stage.
The Vocal Chain Bundle and Music Production Suite 2 include even more time-saving restorative features from the RX family.
The pinnacle of audio plug-in design
Every module in Nectar has been redesigned with your time and experience in mind. With new ways to interact with key module settings, a resizable interface, exciting metering animations, and new contextual selection settings, it's a visual experience so smooth, you won't want to go back to knobs and faders.
EQ

PITCH

DIMENSION

HARMONY

COMPRESSOR

REVERB

DE-ESSER
Nectar comes with two 24-band EQ modules offering nearly unlimited flexibility for both character and corrective processing. With Dynamic and Follow modes accessible from each node, it's the most advanced, intuitive EQ available.
Nectar System Requirements
Nectar, Relay, and RX Breath Control
Operating Systems: OS X 10.8-10.14, Windows: 7, 8, & 10
Plug-in Formats: VST2, VST3, AudioUnit (Mac Only), AAX (Real-time & AudioSuite; 64-bit only), RTAS (Real-time & AudioSuite (DPM); 32-bit only)
Melodyne 4 essential
Mac OS: Intel Dual Core processor (Quad Core or better recommended), 4 GB RAM (8 GB or more recommended), macOS 10.6.8 and 10.11.x to 10.13
Windows OS: Intel or AMD Dual Core processor (Quad Core or better recommended), 4 GB RAM (8 GB or more recommended), Windows 7, 8.1 or 10 (64-bit recommended), ASIO-compatible audio hardware
Activation: Computer-based or iLok USB dongle (2nd or 3rd generation), Melodyne 4 essential only computer-based. Internet access is required for activation
You may also be interested in: