You're currently on:

Iris 2
The World is Your Instrument
Create and discover musical sounds that have never been heard before. An inspiring sample-based synthesizer, Iris 2 is immediately playable—combining the power of a sampler, the flexibility of a modular synth, and the fun of spectral filtering.
Get started fast by selecting from hundreds of expertly crafted Bass, Keys, Leads, Pads, and Rhythmic patches. Then customize or build your own patches with an 11 GB factory library of intriguing audio samples, a modern modulation system, classic filters, evocative effects, and more. Explore a new world of musical possibilities with Iris 2.
Key Features
Explore a world of sound: Load one of hundreds of fresh and inspiring patches, and easily experiment with the most relevant parameters via Macro controls.
Build your own synth: Invent sounds that are completely your own by layering up to four different samples from a built-in collection of analog oscillator waveforms, an 11 GB sample library, or your own personal audio files.
Design your own filters: Get the best-sounding and most unique filters by drawing, selecting, and isolating sonic components from each sample layer using iZotope's award-winning spectral filtering technology.
Shape your own sound: Develop expressive, dynamic, and evolving musical sounds with the powerful and flexible new modulation system. Access every control from one window, or reveal only what you need with a dynamic new user interface.
An Epic Library of Patches and Sounds
Expand your sound palette with hundreds of exclusive musical patches from world-class sound designers and 11 GB of audio samples. Get inspired by the sounds, then explore new sonic territory. It's easy to create or discover something totally new, just by tweaking a few controls.

Iris 2's deep collection of patches will inspire you to create never-before-heard compositions and intricate, evolving soundscapes. Patch categories include Bass, Keys, Leads, Pads, and Rhythmic. Audio sample categories include Abstract, Environments, Instruments, Objects, Synthesizers, Toys, and Voice.
Iris 2 Features
What is Iris 2?

Iris is an innovative, sample-based synthesizer that empowers you to create musical sounds like never before. Start by layering up to four distinctive audio samples, then use the spectrogram display and selection tools to spotlight the most interesting spectral characteristics.
Still hungry for more? Add attitude, dimension, and depth to your creation by applying iZotope's world-class effects: chorus, reverb, delay, distortions, filters, and more. Or modulate more than one hundred parameters through a simple, single-click-and-drop assignment system.
Sounds
Produce exciting tracks instantly with an epic library of new patches and audio samples—all included with your purchase of Iris 2.
Inspiring new patches: Get started quickly with hundreds of compelling new patches by world-class sound designers, in categories like Leads, Keys, Bass, Rhythmic, and more.
11 GB sample library: Explore 11 GB of audio samples, all provided as 24-bit .WAV files for use in any sampler.
OSC WAVs: Generate sounds from dozens of classic analog oscillator samples or oscillator waveforms (OSC WAVs), now available in all four sample pools.
Your own sound library: Import your own audio files to craft truly one-of-a-kind sounds.
Unique Spectral Filtering Tools
Tweak your sounds deeply with Iris 2's diverse and intuitive spectral selection tools. Iris 2 makes it fun to experiment and manipulate your selections even further, with additional controls for zooming, inverting, and more.
Spectrogram display: Visualize the frequency content of your audio and discover sonic details a traditional waveform doesn't show you.
Spectral Filter: Draw your own unique filter shapes and isolate specific frequencies to discover new sonic possibilities in your sample library.
Selection tools: Use a lasso for free-hand drawing of any size or shape, an adjustable brush for more fluid selections, and a magic wand for intelligent selection of harmonic regions.
Flexible, New Modulation System
Bring movement and expression to your sound with dynamic tremolo effects, expressive vibratos, and radical filter sweeps, all easily synced to your host tempo. Apply up to five adjustable-curve ADSR envelopes as well as five LFOs with dozens of morphing wavetable options.
Over 100 modulatable parameters: Sculpt your signature sound using up to five LFOs, five Envelopes, MIDI Expression Controllers, and Macro Controls.
Envelopes: Advanced ADSR envelopes let you creatively experiment with your amplitude through adjustable curves, draggable nodes, invert mode, and modulation of all four parameters.
LFO: Morph and visualize shape changes with real-time animation. Our LFOs contain 20 different wavetable types, each with multiple shapes and a modulatable control to move between them.
MIDI controllers and Macro controls: Attach MIDI expression controls like key tracking, velocity, aftertouch, and the mod wheel, and save assignments with your patches.
Create Macro controls to control multiple parameters with a single knob in perfect proportions.
Enhanced Effects and Filters
Iris 2 features some of the best of iZotope's award-winning signal processing technology, available in Send or Master signal chains that save with every patch.
Distortion: Add grit and saturation to your sound with six distortion filters like Tube, Clipping, and Aliasing, taken straight from iZotope's award-winning Trash 2.
Chorus: Supply a subtle widening or radical flanging with a spacious chorus effect, inspired by a classic '80s synth chorus with modern flexibility and controls.
Stereo Delay: Enjoy lush, crystal-clean decays with a tempo-syncable stereo delay. A bonus analog-modeled overdrive algorithm crunches and darkens your delayed signal like a classic tape echo or bucket-brigade pedal.
Reverb: Expand your sense of space with a meticulously modeled Plate Reverb tailored specifically for synths, great for everything from subtle ambience to cavernous pads.
Filters: Add a smooth, sweeping sound with 17 different filter flavors, including classic analog Low-Pass and High-Pass filters as well as exotic Vocal Formant, Band Pass, and Peak filters from Trash 2.
Intuitive Workflow
We've optimized Iris 2 to be an instrument that helps inspire creativity and introduce new possibilities into your musical process. Each knob, button, panel, feature, and workflow has been reviewed with input from dozens of artists and users.
Redesigned interface: Find the right tool at the right time with a completely redesigned interface. Choose from a comprehensive all-in-one view, or hide/undock modules for a more streamlined view.

Macro Controls: Quickly access and assign macro controls for easy customization of your sound. You can control them via the Patch Browser as well as an undockable window that can always be open.

Visualizations: See the effects of modulation and filters in real time for every modulated parameter. Visualize your spectral content with a spectrum analyzer from our award-winning Insight metering suite, included right in the master section.
Intelligent Zero Crossing: Loop sample selections seamlessly using our new Intelligent Zero Crossing technology.
Iris Sounds
Expand your sound palette with hundreds of exclusive musical patches from world-class sound designers and 11 GB of audio samples. Get inspired by the sounds, then explore new sonic territory. It's easy to create or discover something totally new, just by tweaking a few controls.
A broad variety of soundscapes, pads, synth, bass, and lead patches can be creatively altered for adventurous sonic exploration—from soaring leads, ethereal choirs, and percussive effects to pulsing tones, lush chords, and ominous growls.
After you've installed and authorized Iris 2, you can access this epic library of sound by logging into your iZotope account and downloading the installer(s).
Patch Categories
Bass: Explore Bass patches containing Thick Subs, Crunchy Grit, Vintage, or Modern Bass sounds—and whatever else in between.
Keys: The Keys category gives you plucky tones and sweeping timbres, providing expressive jumping-off points for your track.
Leads: Lead patches range from clean and bell-like to destructed mayhem, analog delayed, and gliding spectral colors.
Pads: Iris's spectral selections and layering provide pads ranging from somber underscores to full and intricate melodic construction.
Rhythmic: The Rhythmic patches make use of Iris's extensive new modulation system to amazing effect: pulsing beats and detailed modulation at times dirty and clean, spacious and close.
Abstract: Add an element of intrigue to your project with the Abstract sound library. Sample categories range from Pulses, Rhythmic, and Sweeps to FX and Production Elements. Add a "Haunting Drone" or "Granular Torching" to your track and transport your listeners to a brave new world of truly unexplored terrain.
Environments: From bustling casinos to sci-fi soundscapes, Environments provides a diverse collection of ambiences ready for musical adventures. Load one of the samples and start tweaking instantly, transforming the familiar to the unique and the mundane to the mysterious. Environments is ideal for finding inspiration for your next track or production product.
Instruments: Standard musical instruments are not always what they seem. Rediscover new beauty and intrigue within familiar sound sources through the Instruments library. Instruments takes what you know and makes it fresh again by uncovering unconventional timbres and tones—bringing something special to the run-of-the-mill piano, guitar, and bass sounds you're used to.
Objects: Explore the inherent sonic possibilities of objects—some everyday, and some not-so-everyday—in a musical and meaningful context. The resulting sounds are inviting, uplifting, and unusual. Objects is an eclectic collection of ambiences; the library includes exploits with bottles, mirrors, marbles, glasses, shards, and more.
Synthesizers: The Synthesizers collection is designed to harness the varied sonic palettes and possibilities of classic synths. From the vintage modulars to modern masters, the Synthesizers library spans a wide range of both musical and chaotic sources. Try creating monster stacks from an ARP 2600, a Moog Modular, an Oberheim Eight-Voice and an EDP Wasp. Start experimenting and you'll find everything from traditional oscillators to lush effects; glitchy rhythmic syncopations to fat bass sounds.
Toys: Childhood sounds can be full of hope and sunshine—or they can be the eerie stuff of horror-filled nightmares. The Toys library embraces both perceptions, resulting in a playful collection of child-like sentiments that can sometimes leave you screaming in the dark. Featuring a broad variety from children's instruments to a circuit bent Speak & Spell, the Toys sound library possesses many possibilities for both soundtracks and sound design.
Voice: The Voice library melds the world of incredible spectral manipulation with the most powerful instrument there is—the human voice. From simple solo voices and choirs, to beatboxing, hooks, and vocoded rises, Voice is dark, ominous, cheery, and wonderfully musical all at the same time. Breathe a human—or animal—element into your synthetic stylings with Voice.

A Library of Inspiration
Iris 2 Technical Specs
Iris 2 runs as a plug-in or as a standalone application.
Operating system requirements:
Windows: 7, 8, 10
Mac: OS X 10.7–10.11 (Intel only)
Plug-in formats:
32/64 bit Audio Units, VST, VST3, AAX, and RTAS
Plug-in host compatibility:
Ableton Live 8 and 9, Logic Pro X, Pro Tools, Cubase, Nuendo, FL Studio, Bitwig, and many more.
Installing the full Iris 2 Sound Library:
The Trial version includes only 45 patches and a small sampling of the epic library of great-sounding content. The remaining patches and 11 GB of samples are available to you after you purchase Iris 2. To access the full Iris 2 Sound Library after purchase:
First, use your unique serial number to authorize your installation of Iris 2.
Then log in to your iZotope account, where you'll now have access to the Iris 2 Sound Library downloads.
Download the installers from your account and install them on your computer.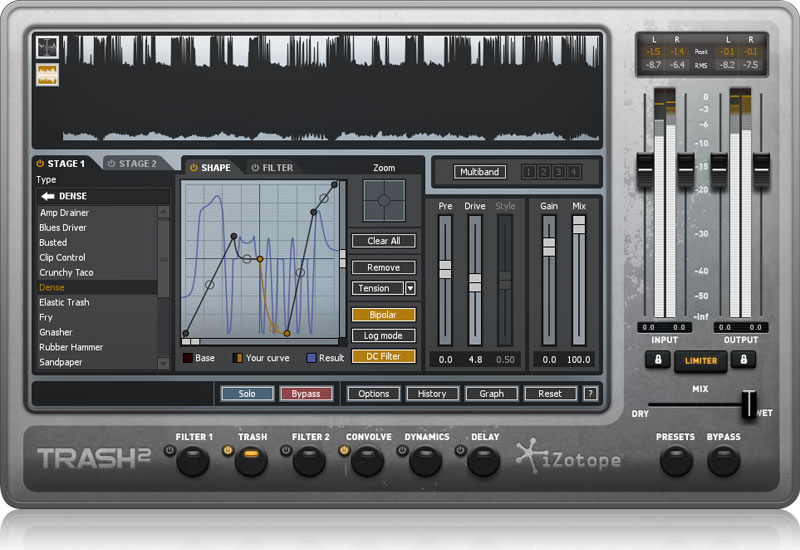 Distort. Mangle. Transform.
Take mangling your audio to the next level. Combine the power of multi-band, dual-stage distortions and advanced post-filtering for immediate sonic transformation. Give your low end some thump, get a warm crunch on the midrange, and let your high end soar. Trash any track: not just guitars and basses, but drums, synths, pads, vocals, brass, woodwinds, and more.
Trash 2 is now an even greater value! Every purchase of Trash automatically includes our two expansion packs, Classic Textures and Edge, totally free!
Key Features
Distort in ways you never dreamed with the Trash module's 60+ distortion algorithms, perfect for transforming your sound into something never before heard.
Design your own unique distortions, from massive to mild and everything in between, with a new, customizable, multiband Waveshaper.
Let your tracks inhabit any space or object with the new Convolve module. Choose from over 100 impulse responses or load your own to put your bass in a washing machine or your keys in a cave.
Find a new voice: make your audio speak and growl with two redesigned Filter modules, each one featuring new vowel formant filters, screaming peaks, node modulations, and more.
Start trashing your audio immediately with an extensive new preset library and an ear-friendly Limiter that ensures you can play without fear.
Trash and burn
Not all distortions are created equal. Trash 2 combines the power of multi-band, dual-stage distortions and advanced post-filtering for immediate sonic transformation. Give your low end some thump, get a warm crunch on the midrange, and let your high end soar—all without the over-hyped side effects (unless, of course, that's what you want). Trash any track: not just guitars and basses, but drums, synths, pads, vocals, brass, woodwinds, and more. A distortion engine like no other, this is Trash 2.
Shape shifter
Invent a distortion that the world has never heard. Design your own distortion algorithms with Trash 2's new customizable Waveshaper. If the physics of waveshaping have your brain in a knot—not to worry. With Trash 2 it's easy: simply draw in, tweak, and create infinite distortions. Don't know where to start? Load one of Trash 2's 60+ distortion algorithms and adjust at will. Trash has shaped everything from major music releases to film and game sound effects over the past decade. Your audio is next.
Follow your impulses
The power to morph sound from one object to another is yours with the new Convolve module. Melt your synth bass into a metal bowl, push your electric piano into a vintage cabinet, or play your guitar tone through a human voice box. Convolve includes over 100 impulse responses—a collection of amps, objects, animal sounds and mouth shapes that are ready and waiting to transform your sound. Or, concoct a unique convolution and load any .wav or .aiff file into Trash 2. Impress the sonic characteristics of your wildest imagination onto any track or instrument. A single mouse click is all you need.
Beyond distortion
Explore new sonic dimensions with the Filter, Delay and Dynamics modules. Breathe life and movement into your audio using the dual Filters, each with 20+ evocative filter types to shape your tone. Modulate, invigorate and apply exotic filter sounds, then control and manipulate each node with LFOs, envelopes and side-chaining. A filter bank unlike any other, you're free to custom-design your ultimate filter styles and reach the bleeding edge of sound design. Polish it all off with Trash 2's rich, organic Delay options and a new analog-modeled compressor worth turning up to 11. Throughout the wild ride, the ear-friendly Limiter keeps you and your speakers safe.
Trash 2 Features
Multiband Trash Module | Filter Modules | Convolve Module | Multiband Dynamics Module | Delay Module | Other Highlights
Multiband Trash Module
The heart of Trash is its dual-stage multiband waveshaping distortion—allowing you to chain pairs of distortions together for sonic manipulation. Split the signal into multiple bands and apply distortion independently to individual frequencies, each with their own custom waveshape. Use the new Waveform Trace to see exactly how you're mangling your waveforms in real time, and DC offset filtering to keep them centered and on track. Be extreme or be benevolent: the power of audio annihilation is completely within your control.
Apply different distortion types to up to 4 frequency bands.
Chain two distortion algorithms for each frequency band for up to 8 different flavors of destruction.
Choose from over 60 different distortion algorithms.
Design and edit your own distortions using the new graphic-based Waveshaper.
Filter each stage with the included Post Filter.
Further refine your distortions with the DC Offset Filter and Logarithmic Distortion modes.
Filter Modules
With distortion, tone is everything. Trash 2 gives you two new redesigned Filter modules to drive the frequencies you want into distortion or tame the ones you don't want. Shape the tone and make it your own with re-engineered Filter shapes and new Vowel Filters.
Experiment with 20+ sweepable filters for tons of tonal options that range from clean and warm to fat and juicy to harsh and clipping.
Get twice the filter action with brand new Filter 1 and Filter 2 modules.
Add LFO and envelope modulation per node to get wahs, wubs, tremolos, and other sweeping effects.
Let your Filter settings react dynamically to other incoming audio with new sidechaining support.
Put both Filter modules in parallel to achieve different combinations of filter settings simultaneously.
Convolve Module
Trash features extremely realistic amp, device, cabinet, effect and speaker convolution modeling, freeing you to place your audio into another space (or object) entirely. Choose from classics, combos, boutique models, and stacks, or play with creative synthetic impulses from a number of different sources. There's a tone and character for any situation—let Trash bring you outside the box with telephones, clock radios, sheet metal, plexiglass tubes, piano cabinets, tin cans, and more. Still want more? You're in luck! With the Convolve module, you can teleport your sound wherever you please by loading in your own audio files.
Explore over 100 redesigned Impulse Responses, each one capturing the audio characteristics of another space or object.
Load your own custom Impulse Response using any .wav or .aiff file.
Adjust stereo width and placement using stereo imaging controls.
Multiband Dynamics Module
Controlling distortion goes far beyond simple filtering and limiting. To get the most out of your tracks, Trash 2 includes a multiband Compressor and Noise Gate to squash the peaks, add grit and character, silence the noise, or draw out sustain. With the addition of sidechaining support, multiband processing, and an updated compression algorithm, the Dynamics module is sure to be among the most powerful tools in Trash 2.
Get analog-modeled and grit-filled compression and gating from the redesigned Dynamics module.
Apply Dynamics to different frequency ranges independently with 4-band Multiband support.
Trigger the Compressor or Gate via external sources with sidechaining support–even to individual frequency bands in Multiband mode.
Keep an eye on extensive Dynamics metering for immediate visual feedback.
Determine exactly which frequencies trigger Dynamics processing using the new Detection Filter, or exploit the Filter's resonance for more creative applications of compression.
Dig deeper into additional Dynamics options like Hard or Soft Knee compression, RMS or Peak level detection, and Auto-Gain compensation.
Experiment with 6 different delay types: Tape, Tape/Tube, Analog,
Lo-fi Digital, Broken Bit, and Digital.
Adjust the special Trash slider for distorted delay effects.
Adjust the post filter with resonance to tweak the wet signal.
Trash your audio quickly with over 300 new presets for both wild and subtle audio mangling.
Trash your audio easily with a fully redesigned UI that makes more controls accessible.
Trash your audio safely with an Output Limiter that keeps a lid on your levels, no matter how crazy you go.
Bundle Ozone & Save
Mix, master, edit vocals & more with iZotope's Music Production Bundle. Includes Ozone 7 Advanced.
What's New in Trash 2
GENERAL HIGHLIGHTS
New Sonic Architecture
Completely redesigned audio engine for better audio quality, optimized performance, support for the latest operating systems and and host applications, and many other enhancements.
Redesigned Interface
New, larger interface makes even more controls accessible on the front of the plug-in, helping you click less to achieve your desired results.
300+ New Presets
Over 300 new presets for mangling synths, twisting up guitars, delaying out samples, distorting beyond recognition, and everything in between. From Subtle to Heavy to Experimental, all-new factory presets give you a great starting point for finding new creative directions.
Improved Visualizations
New interactive meters and visual feedback in every module help you intuitively set and monitor the effects of any module's settings. From Gain Reduction Trace meters to Threshold meters, Trash 2 makes it easier to see what's happening with your audio.
AAX Support
Support for Pro Tools' new Avid Audio eXtension plug-in format.
64-Bit Support
Compatible with both 32-bit and 64-bit hosts in Windows and OS X.
New Output Limiter
Safely adjust your plug-in settings without worrying that your speakers could explode. The new Output Limiter frees you to play while ensuring greater audio fidelity, and includes options for transparent or gritty character when limiting your output peaksp
TRASH MODULE
New Custom Waveshaper
Create complex and harmonically rich distortion algorithms from scratch with the all-new Waveshaper. Each band and stage can have its own custom waveshaper, allowing for unprecedented control over your distorted content.
60+ Distortion Algorithms
Choose from any of the 60+ updated and new distortion algorithms as your tone of choice, or as a starting point for customizing with the Waveshaper.
Post Filter
Each distortion algorithm and waveshape now includes its own unique Filter for controlling the harmonic content of the audio in each band or stage, after its been processed.
Powerful Visualization
Trash no longer simply lists the names of your algorithm choices: use the Waveshaper to truly see the underlying distortion that is being applied to your audio, giving you greater power to tweak to taste.
FILTER MODULE
Two New Filter Modules
With fully-redesigned Filter technology and controls, plus an additional Filter module, Trash 2 is twice as nice. Trash 2's Filter modules now feature more nodes, clearer visualization, better interaction, and better sound quality.
New Vowel Filter
Adjust the new Vowel filters to modulate or transform your tracks into an entire range of human vowel formants.
Sidechain Modulation
Let your Filter settings react dynamically to your incoming audio channel with added sidechain support for filter modulation.
Refined Filters
Classic Trash 1 filters have been refined and fully optimized for our new sonic architecture, resulting in better sound quality and accuracy.
CONVOLVE MODULE
Load Impulse Responses
Create your own complex patches and sounds with the redesigned Convolve module, which allows you to load your own .wav or .aiff impulse responses.
100+ New & Redesigned Impulse Responses
Explore more sonic options and extend your creative potential within 100+ new and redesigned impulse responses, including cabinets, speakers, vowels, timbres, and other everyday objects.
DYNAMICS MODULE
New User Interaction
Featuring improved visual feedback, the overhauled Dyamics module makes it easier to interact with and control Dynamics settings.
New Compression Algorithm
Extra gritty and analog-styled, the redesigned compression algorithm is perfect for adding more character and flavor to your audio.
Sidechain Support
With sidechaining, trigger the Compressor or Gate via external sources–even to individual frequency bands in Multiband mode.
Dynamics Detection Filter
The new Dynamics Detection Filter helps determine exactly which frequencies trigger the Dynamics process, and can be used on either an input or sidechain signal. Or, exploit the Filter's resonances for more creative applications of compression.
DELAY MODULE
Delay Impulse Graph
Visualize your current delay settings and individual tap delay levels with the dynamic Delay Impulse Graph.
Trash 2 System Requirements
Supported operating systems:
Windows: XP (32-bit Service Pack 3), Vista (64-bit), 7, 8
Mac: OS X 10.6.8 or later (Intel only)
Plug-in formats:
Pro Tools 7.4–11 (RTAS, AudioSuite, 64-bit AAX), VST, VST3, Audio Unit, DirectX
Plug-in host compatibility:
Compatible with both 32-bit and 64-bit hosts like Pro Tools 7.4+, Cubase, Nuendo, GarageBand, Logic, SONAR, ACID, Vegas, Ableton Live, and many more
You may also be interested in: