You're currently on: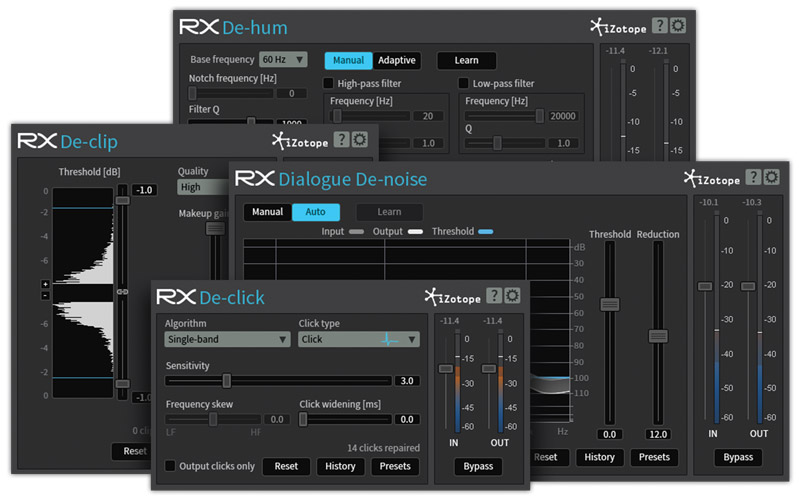 Essential audio repair at an affordable price
RX Elements is a budget-friendly version of RX designed for small home studios that need the basics. It includes the standalone audio editor and spectral editing so you can visualize your audio and make edits with precision and accuracy.

In addition, RX Elements includes four essential, real-time noise reduction plug-ins that can also be used inside your favorite digital audio workstation, including the critically acclaimed De-noise technology.
Simply powerful technology
Trusted by the top audio pros around the world, RX is built on years of extensive research in advanced digital signal processing and machine learning. RX 6 features cutting-edge technologies for post production like lav mic de-rustle, dialogue isolation, and intermittent low-end wind rumble removal. It also introduces creative approaches to age-old music recording problems like microphone bleed, sibilance, mouth clicks, and breaths. With version 6, RX advances to the next level of audio repair that once seemed impossible.
Features
RX Audio Editor standalone application
Visually identify audio problems with the spectrogram view, then use familiar image editing tools to fix the issue.
Voice De-noise
Finely tuned for vocals and dialogue, Voice De-noise reduces unwanted steady-state or evolving background noise like air conditioning, refrigerator hum, and amp hiss.
De-clip
Repair digital and analog clipping artifacts to restore distorted audio.
De-click
Clean up vinyl clicks, mouth noise, and soften up clicky bass guitars with the new low-latency De-click algorithm.
De-hum
Remove ground loop hum and line noise.
RX 6 can be used as a standalone audio editor, as a standalone audio editor connected to your host via RX Connect, or as a suite of plug-ins.
Supported operating systems
Windows: 7, 8, and 10
Mac: OS X 10.8.5 - 10.12
Supported plug-in hosts
Audition CC 2017, Cubase 9*, Final Cut Pro 10*, Live 9, Logic Pro X*, Media Composer 8.8, Nuendo 7, Premiere Pro CC 2017, Pro Tools 10-12, Studio One 3
*Supported in OS X 10.11 or higher
Supported plug-in formats
AAX (64-bit), Audiosuite DPM, Audio Unit (32-bit and 64-bit), RTAS (32-bit), VST 2 (32-bit and 64-bit), and VST 3 (32-bit and 64-bit).
iZotope RX Feature Comparison
Whether you're a veteran audio professional or you're just getting started with audio repair, there's a version of RX for everyone. Use the chart below to compare features between RX Elements, RX 6 Standard, and RX 6 Advanced:
| FEATURES | RX ELEMENTS | RX 6 STANDARD | RX 6 ADVANCED | AVAILABLE AS A PLUG-IN |
| --- | --- | --- | --- | --- |
| De-rustle NEW! | | | x | |
| De-wind NEW! | | | x | |
| Dialogue Isolate NEW! | | | x | |
| Composite View NEW! | | x | x | |
| De-bleed NEW! | | x | x | |
| De-ess NEW! | | x | x | x |
| Mouth De-click NEW! | | x | x | x |
| Breath Control NEW! | | x | x | |
| MP3 Export NEW! | | x | x | |
| Batch Processing | x | x | x | |
| Clip Gain | x | x | x | |
| De-click IMPROVED! | x | x | x | x |
| De-clip | x | x | x | x |
| De-hum | x | x | x | x |
| Fade | x | x | x | |
| Find Similar IMPROVED! | x | x | x | |
| Gain | x | x | x | |
| Markers & Regions | x | x | x | |
| Mixing Module | x | x | x | |
| Module Chain | x | x | x | |
| Module List Filters NEW! | x | x | x | |
| Normalize | x | x | x | |
| Phase | x | x | x | |
| Third Party Plug-in Hosting | x | x | x | |
| Recording & Monitoring | x | x | x | |
| Signal Generator | x | x | x | |
| Spectrum Analyzer | x | x | x | |
| Voice De-noise IMPROVED! | x | x | x | x |
| Waveform Statistics | x | x | x | |
| De-crackle | | x | x | x |
| De-plosive IMPROVED! | | x | x | x |
| De-reverb | | x | x | x |
| Dither | | x | x | |
| EQ | | x | x | |
| Instant Process | | x | x | |
| Interpolate | | x | x | |
| Pitch Contour | | x | x | |
| Resample | | x | x | |
| RX Connect | | x | x | x |
| RX Monitor | | x | x | x |
| Spectral De-noise | | x | x | x |
| Spectral Repair | | x | x | |
| Spectrogram | x | x | x | |
| Time & Pitch | | x | x | |
| Ambience Match IMPROVED! | | | x | x |
| Azimuth | | | x | |
| Center Extract IMPROVED! | | | x | |
| Deconstruct IMPROVED! | | | x | |
| EQ Match | | | x | |
| Leveler | | | x | |
| Loudness | | | x | |

Rescue Your Audio with RX
You may also be interested in: