You're currently on: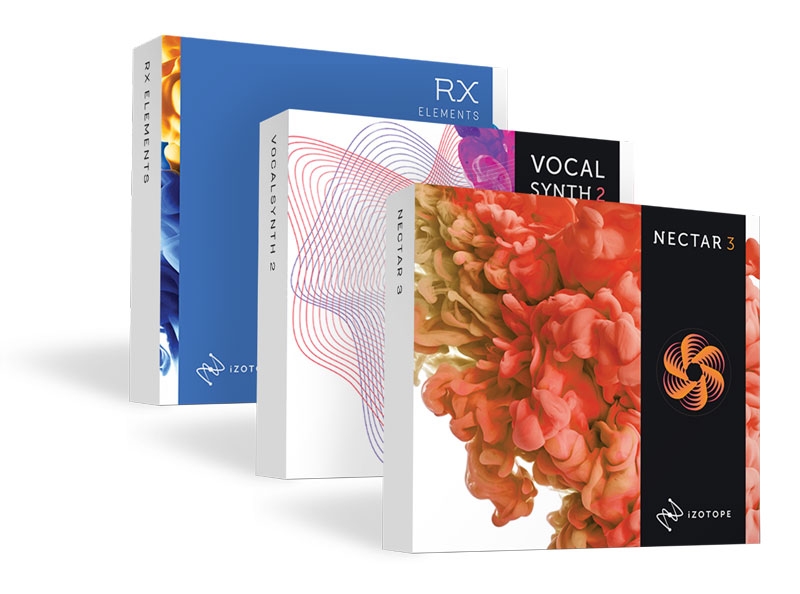 iZotope Vocal Chain Bundle Upgrade from VocalSynth 2

Vocal Chain Bundle
Vocal Chain Bundle is a toolkit curated for vocal repair, mixing, and creative processing. Includes Nectar 3, VocalSynth 2, and RX Elements.
Your complete vocal chain
We've designed the Vocal Chain bundle to give you everything you need to make your vocal sound its best, whether you're in need of surgical correction or extreme creative effects.
Nectar 3
Vocals, in the mix
Get your vocals to sit in the mix with the most sophisticated set of tools designed for vocal production. From corrective to creative vocal production all the way to the final polish, Nectar 3 brings forth your intended performance in isolation and in the context of the mix.
ALSO INCLUDED WITH NECTAR 3:
RX 7 Breath Control can quickly and easily remove errant breath sounds. Melodyne 4 Essential adds surgical, intuitive, and truly transparent pitch adjustment capabilities that are an industry standard in professional studios around the world.
VocalSynth 2
Vocals, Evolved

The perfect compliment to Nectar 3, VocalSynth 2 helps you find your sound in an immersive vocal experience that evolves with your production. A one-stop for past, present, and future vocal sounds, VocalSynth 2 features a Vocoder, Compuvox, Polyvox, Talkbox, and Biovox: a brand new effect based on the dynamic sonic qualities of the human vocal tract.
Essential noise reduction and repair tools
When mixing vocals, even the smallest audio issues can turn into big ones later on -- RX Elements gives you the essential tools you need to solve these problems early. With the new Repair Assistant, you can automatically detect and remove common audio issues in seconds. RX Elements also includes a standalone audio editor along with four essential, real-time noise reduction plug-ins to fix clipping, hums, clicks, and other unwanted background noise.
System Requirements
Nectar 3, Relay, and RX 7 Breath Control
Operating Systems: OS X 10.8-10.14 - macOS 10.12 (Sierra) Windows: 7, 8, & 10
Plug-in Formats: VST2, VST3, AudioUnit (Mac Only), AAX (Real-time & AudioSuite; 64-bit only)
Supported Plug-in Host Applications: Logic Pro X, Ableton Live 9-10, Pro Tools 11-2018, Cubase 9.5, Nuendo 8, FL Studio 12, Studio One 3-4, Reason 10, Reaper 5, Audition CC 2018, Premiere Pro CC 2018, Digital Performer 9

RX 7 Elements
Operating systems: Windows: 7, 8, and 10 - Mac: OS X 10.8.5 - 10.13
Plug-in Formats: AAX (64-bit), Audiosuite DPM, Audio Unit (32-bit and 64-bit), RTAS (32-bit), VST 2 (32-bit and 64-bit), and VST 3 (32-bit and 64-bit).
Supported Plug-in Hosts: Audition CC 2017, Cubase 9*, Final Cut Pro 10, Live 9, Logic Pro X, Media Composer 8.8, Nuendo 7, Premiere Pro CC 2017, Pro Tools 10-12, Studio One 3
*Supported in OS X 10.13

VocalSynth 2
Supported Operating Systems: Windows: 7, 8, and 10 - Mac: OS X 10.8.5 - 10.13
Graphics Card Requirements: A graphics card with Open GL 2.0 support is required to display the visualizations in VocalSynth 2.

Supported plug-in types: AudioUnit, AAX (64-bit), AAX-AS (64-bit AudioSuite), RTAS (32-bit), DPM (32-bit AudioSuite), VST 2, VST 3
Supported Plug-in Host Applications: Logic Pro X, Ableton Live 9-10, Pro Tools 10-2018, Cubase 9.5, FL Studio 12, Studio One 3, Reason 10, Reaper 5, Bitwig Studio 2