You're currently on: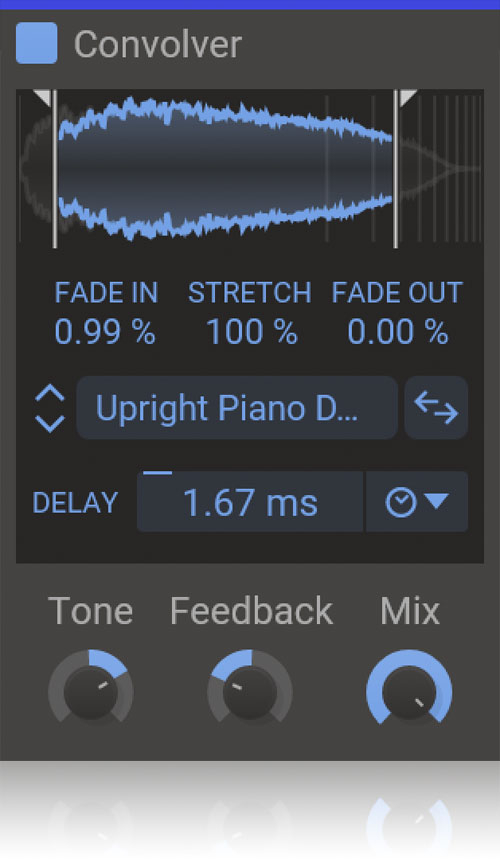 CONVOLVER
More than just reverb...
To convolve is to multiply one sound with another... sort of.
The most common, and very cool, use for convolution is for reverb. If you go to a place with a nice ambience, like your local church or your grandmother's bathroom, and you record the echo from a short loud click, you can convolve any other sound with the resulting impulse response (IR) and it will sound as if your were magically playing it in that location.
But that's not all you can do with Convolver. Because IRs are simply audio files, you can load any sample into Convolver to emulate anything from a simple guitar amp cabinet, to freaky filters, distinctive delays, and much more. Then process them with a much wider array of controls than you'll find in other convolution plugins. To give you ideas, it includes over 300 factory IRs for a range of unique effects. And some reverbs, of course.
Controls
Start
Cuts the start off the impulse response. *
End
Cuts the end off the impulse response. *
Fade In
Fades in the start of the impulse response. *
Fade Out
Fades out the end of the impulse response. *
Stretch
Stretches the impulse response, adjusting both it's length and pitch. *
Reverse
Reverse the impulse response before processing.
* Requires precomputation before the effect can be heard. Cannot be modulated.
Select Sample
Convolver comes with a large library of Impulse Responses that should cover many of your basic needs. But you can import any samples you want.
Delay
Set the pre-delay time in milliseconds or as a fraction of song tempo.
Tone
Adjusts the brightness of processed output.
Feedback
Feeds the processed output back into the convolution engine.
Mix
The dry/wet mix of this effect. A lower value will let some of the unmodified signal through.
The Kilohearts Ecosystem
Convolver is one of a growing collection of effects units that we call Snapins.
Snapins are regular effects plugins (VST/AAX/AU) that also work as effects units in our modular Snapin Hosts; Phase Plant, Multipass, and Snap Heap, allowing you to create your own unique effects combinations. They are lightweight and powerful plugins that present you with the important settings in a no-nonsense way, so you will be using them like a master in no time.
Snapins can be purchased individually or you can take advantage of bulk discounts by buying or upgrading to one of the Kilohearts Toolboxes.
System Requirements
Operating system
-Windows 7 or greater
- Mac OSX 10.10 or greater
Available plugin formats
- VST 2.4
- VST 3
- Audio Unit
- AAX
All plugin formats in 64-bit only.
You may also be interested in: