You're currently on: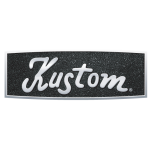 Out of stock
Is there anything more fun than a low-wattage all-tube amp head that provides authentic, cranked up tube tone at modest volume levels? We think not. And did we say "simple?" ...
Learn More
Out of stock
The Defender 1x12 is a solidly constructed guitar speaker cabinet with a single Kustom® 12-inch speaker. It is an open-back cabinet design that utilizes a plywood baffle board fo...
Learn More