You're currently on: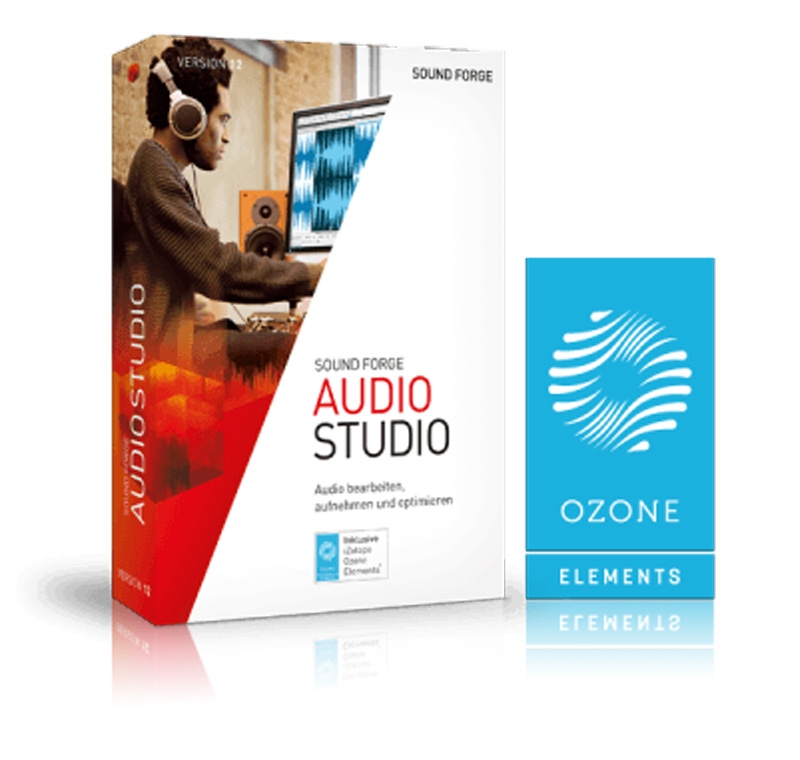 SOUND FORGE AUDIO STUDIO
Loaded with new features, SOUND FORGE Audio Studio provides the perfect working environment to get your work done faster and more efficiently. Specifically designed to make editing, restoration, and mastering easier than ever and provide the professional results you demand.



64-BIT ARCHITECTURE
Now running with 64-bit architecture to bring you more editing power, more processing power, and a more powerful workflow. Version 12 is now in perfect alignment with your 64-bit OS.



NEW EDITING POSSIBILITIES
The non-destructive editing enables a faster and more flexible editing experience.
Slice Editing
Enables you to continue to tweak your edit even after you've made your cut.



Soft Cut
Creates automatic, user-adjustable crossfades with each edit to guarantee smooth transitions between cuts with no pops or clicks.
Spectral Cleaning
Visually identify frequencies of an offending noise, such as a chair squeak or cough, in your recording, then use the spectral cleaning tools to select and remove the frequencies that make up the offending sounds. Spectral Cleaning intelligently recognizes missing program-material after the edit and automatically integrates material from the surrounding area to create a smooth and flawless edit.
New tools to repair and restore your audio
The new repair and restoration tools target specific audio problems and offer easy ways to make things right.



ACCURATE VISUALIZATION OF LEVELS, PHASE AND MORE
Redesigned meters give you accurate, real-time feedback on audio levels. The new Visualization window presents several views to analyze and track audio output including Peak Meter, Oscilloscope, Phase Oscilloscope, Correlation Meter, Direction Meter, Spectroscope, Spectrogram, Bit Meter and Tuner. Customize and save the layout of the Visualization Window to suit your personal workflow.



RECORD. RESTORE. EDIT. ENHANCE. DELIVER. SOUND FORGE AUDIO Studio
The perfect addition to your home studio. SOUND FORGE Audio Studio delivers the goods whether you are recording your band or podcast, digitizing your vinyl collection, creating sound effects for your new video, creating loops for your new tracks, or mastering your latest CD. Built on a 64-bit architecture to bring you more editing power, more processing power and a more powerful workflow.



CUTTING-EDGE. NOT ONLY IN AUDIO EDITING.
Work on the cutting-edge of audio production. Expand your editing possibilities.
AUDIO CLEANING: REBUILT FROM SCRATCH. SO YOU CAN REPAIR A SCRATCH.
Vinyl restauration The new Vinyl Recording and Restoration interface makes it easier than ever to digitize your vinyl LPs or tapes and convert them to audio CDs or popular formats such as WAVE, MP3, FLAC, and Ogg Vorbis.


Vocal Tuning Use the Elastic Audio Editor to tune your vocals to a pitch-perfect performance. Achieve amazing results with complete control. Change the pitch without affecting the length of the recording.


Spectral Cleaning Perform frequency-based noise removal. Visually identify frequencies of an offending noise such as a chair squeak or cough in your recording, then use the spectral cleaning tool to select and remove the frequencies that make up those sounds.



PRO AUDIO EFFECTS. EASY TO USE.
Enhance your audio with more than 20 built-in professional-quality audio effects and filters. Includes Ozone Elements from iZotope.


DeClicker/DeCrackler
Automatically detect and remove clicks and crackle from vinyl recordings or other noisy environments.
DeClipper
When the record level is set too high the audio may clip, and cause distortion. Use the DeClipper to restore and recover analog or digital material with clipping artifacts.
DeEsser R
educe the excessive prominence of sibliant consonants, such as "s", "z" and "sh", in voice recordings.



DeHisser
Easily remove unwanted hiss when digitizing archival tape-based recordings or hiss from a guitar or bass amp. Easily clean up background hiss with pre-sets for hiss behind vocals, cassette tape hiss, analog tape hiss and more.
DeNoiser
DeNoiser reduces unwanted steady-state noise, like that created by air-conditioning, equipment hum, and amplifier hiss. Let the DeNoiser automatically find the relevant noise samples and clean your audio material with ease.
Effects
SOUND FORGE Audio Studio includes a set of professional effects to inspire your creativity, including Chorus, Flanger, Delay, Distortion, Amplitude Modulation, Dynamics, EQ, Gate, Limiter, Resonant Filter, Reverb, and Stutter.



Ozone Elements from iZotope
The perfect tool to get your mixes ready for radio and streaming. Ozone Elements enables you to achieve full, rich, and loud final masters. Professionally designed presets make it simple to achieve results that deliver punch and clarity.



EYES FOR YOUR EARS: VIDEO SOUND OPTIMIZATION
Open nearly all video formats to enhance and repair the audio using the included filters, effects, and noise reduction tools. A quality-degrading re-rendering process during export is no longer required, due to Remuxing technology - your picture quality always stays the same.



Digitize old recordings
Convert your favorite LP records and tapes to CD or popular file formats such as MP3, FLAC, and Ogg Vorbis with the built-in Vinyl Recording and Restoration tools.



Record Podcasts and DJ Sets
Easily create a podcast or DJ set. Whether your source is a microphone or the line out of your turntable rig, the editing tools, filters and effects in SOUND FORGE Audio Studio make it easy to record and produce the perfect performance. Then render it to any of the popular streaming formats to upload and share with the world.



Capture your performance
Plug a microphone into your computer's audio card and capture your performance in high-fidelity with resolution up to 32-bit/384kHz.



MINIMUM SYSTEM REQUIREMENTS
Processor: 1.4 GHz
RAM: 512 MB
Graphics card: Onboard, min. resolution 1024 x 768
Sound card: Onboard
Hard drive space: 500 MB for program installation An Internet connection is required for program registration, validation and individual program features as well as one-time registration.



OPERATING SYSTEMS You require a 64-bit version of one the following operating systems:

Windows 10, Windows 8, Windows 7
You may also be interested in: