You're currently on:
The MOTU 8D provides flexible routing, stand-alone mixing, AVB/TSN networking and connectivity to a host computer through class compliant, high-speed USB 2.0 (compatible with USB 3.0 and iOS). It features proven, ultra low-latency USB drivers, flexible internal routing, 48-channel mixing, DSP effects and Wi-Fi control. The unit includes a front panel headphone jack with volume control for convenient monitoring and word clock I/O for resolving to other digital audio gear or house sync.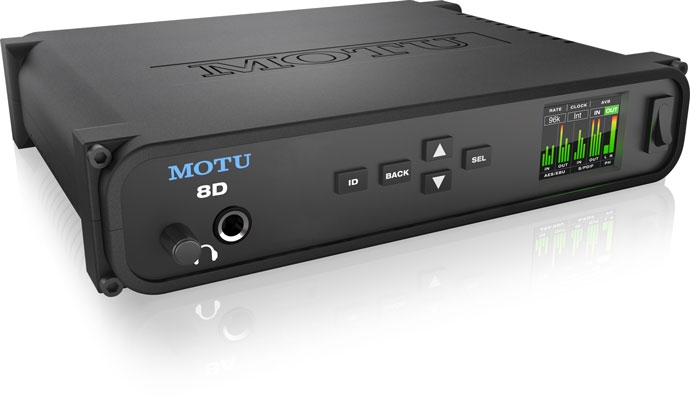 Housed in a sturdy aluminum alloy half-rack enclosure, the 8D is ideal for routing digital audio streams in live performance systems, AVB/TSN network installations or recording studios of any size. An included mounting bracket kit allows two units to be joined side-by-side with each other, or mixed and matched with other MOTU half-rack units, to create a single rack-space configuration consisting of customized analog, digital and/or MIDI I/O tailored to the user's needs.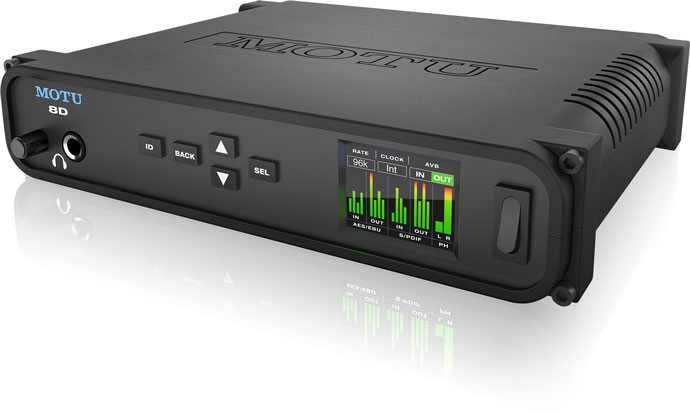 The 8D provides two stereo pairs (four channels) of AES3 digital I/O and two stereo pairs of RCA S/PDIF digital I/O, for a total of 8 digital I/O channels. The AES3 inputs are equipped with sample rate conversion for easy, trouble-free digital transfers.

Powerful DSP delivers large console style mixing with 48 channels, 12 stereo busses, and 32-bit floating point effects processing, including modeled analog EQ, vintage compression and classic reverb. Flexible routing patches ins to outs, or splits input channels to multiple destinations. It be used as a stand-alone mixer with wireless control from a tablet, smartphone and laptop — even multiple smart devices simultaneously — over shared Wi-Fi.
Using the unit's Ethernet port, users can connect another network-equipped MOTU interface for more I/O — or connect to an expanded AVB/TSN network with multiple interfaces and computers.
You may also be interested in: