You're currently on: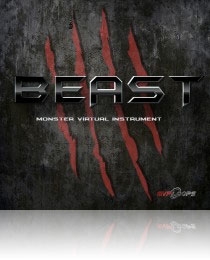 MVP Loops is very proud to present BEAST! BEAST is a new pad based virtual instrument that is made for the modern producer and beat maker! It contains over 12 Gigs of content, 174 Patches, over 7,446 samples, and includes onboard fx, note repeat, waveform editing, the ability to customize your kits, keymode which instantly turns a sound into a playable instrument, waveform editing of all samples, send fx per pad, 8 banks of sounds, powerful sound engine with modern sounds, and is easy to use and install!
Anthem Empire - When you first open BEAST you will find Anthem Empire, which includes 29 huge new kits covering multiple genres! From Trap to R&B, to Pop, to Soul, to dance based material you will find what you need to make your next hit! Anthem Empire alone would sell for $99.99 as a new product so getting it inside of BEAST is an amazing value for the money!
CONTENT
Nothing But The Best - In addition to Anthem Empire leading the way we have packed BEAST with our latest and hottest selling products including:
- Bang Bang Vol. 1
- Bang Bang Vol. 2
- BIG Progressive House & EDM
- Control Ya
- Dark Swangg
- Modern Melodix Vol. 1
- Modern Melodix Vol. 2
- Modern Melodix Vol. 3
- Sound Mob Vol. 1
- Sound Mob Vol. 2
- Sound Mob Vol. 3
- Trapped Up EDM
All of these products have been specially formatted to take advantage of all the features that are included in BEAST. Even if you already have one or all of these products having them in BEAST makes them MUCH MORE POWERFUL! In BEAST a great sound can become an instrument with the click of a button, combining and customizing kits is easy, switching out sounds quickly is simple, and changing a sound with fx and modern production features such as stutter and note repeat ensures that you can do a ton with a single sound or kit.
ALL ABOUT THE SOUND
BEAST is built on the struQture Sound Engine developed by Qubiq Audio! This engine is sonically superior presenting the true sound without sound compression! You get uncompromised sound with BEAST ready to create hit records now!
FEATURES
When you have to create quickly you have no time to fumble around on screen after screen trying to figure out an instrument, this is why BEAST has a straight forward GUI that allows you to get to everything you need within a couple of clicks! We've eliminated the learning curve so you can do what you are supposed to be doing, making great music.
- 8 Banks With 16 Pads Each - All pads are independent meaning you can send fx, or adjust just the pads you want and not the whole kit. But if you need to adjust the entire kit simply click "All Pads". All pads include solo, mute, volume, tuning, and pan.
- Key Mode - Find an incredible 808, snare, synth note or guitar, and you want to turn it into a playable instrument? No problem simply click key mode and now you have your wish! This is truly a powerful feature and when combined with the fx and other features of BEAST becomes something very special.
- Note Repeat - This feature is used in all modern productions and allows you to quickly create rapid fire rolls or unique melodic phrases! Our note repeat goes all the way up to 128th/Triplets!
- Stutter - This feature lets you take a sound and create an arp like stutter effect turning a normal or complex sound into something completely new and unique.
- Sound Exchange - Like a kit but want to change a sound? No problem, click on the pad you want to exchange and then click on the sound you prefer in the browser to quickly exchange and customize your kit.
- Custom Kits - You can create your own customized kits inside of BEAST and save them as a user pre-set so all of your favorite sounds are always at your fingertips.
- Powerful FX - FX include: Reverb, Delay, Chorus, EQ, Flanger, and Compression - All fx can be tweaked and customized, but also include presets
- Pad Learn - Pay a chord with a created instrument and assign it to a pad! An amazing feature!
- ARP - A powerful arpeggiator has been added to BEAST with tweakable settings giving you tons of flexibility.
- Synthesis - BEAST is so much more than just a ton of great sounds on pads! BEAST comes jam packed with tons of powerful synthesis giving you complete control over sounds and the ability to create new sounds quickly.
- Envelope - 2 Powerful Envelopes are included: Amp & Filter,
- Filters - 2 Powerful Filters are included with multiple filter types to choose from. Control the type, frequency and resonance on each individual filter!
- LFO - On board is amazing and powerful LFO that includes Amp, Filter, and Pan and individual controls for each.
- Global - Tuning, Pan, and Volume can be affected globally
- Waveform Display - A live waveform display is included that allows you to change start and end points to truncate and edit files.
You may also be interested in: