You're currently on:
MADE TO JAM
MASCHINE JAM is the modern digital instrument – your shortest avenue from inspiration to reality. Capture ideas and create tracks in an intuitive production ecosystem. Sequence and arrange on the fly with an 8x8 multicolor click-pad matrix. Shape and perform sounds in inspiring ways using eight dual-touch Smart Strips. And bring it all together with the power of the included MASCHINE software.
The unified hardware and software workflow heightens creative possibilities.
MASCHINE JAM is the go-to instrument for building tracks with immediate, intuitive sequencing.
An 8x8 click-pad matrix and dual-touch Smart Strips make track sketching a seamless creative experience.
Program and play with patters, melodies, chords, and more using different click-pad matrix modes.
Find samples, instruments, and effects and instantly call up their key parameters with the touch-sensitive encoder.
The included stand can be mounted to the hardware for improved ergonomics.
KEYBOARD MODE
Explore melodies and harmonies with the click-pads using MASCHINE's Keyboard mode. Just select your scale and chord values to start playing. The Arpeggiator can turn simple melodies into intricate melodic patterns.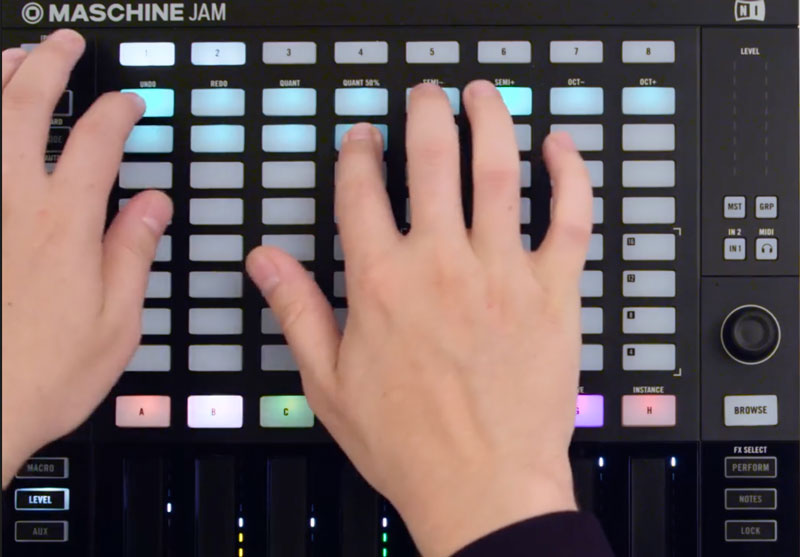 NOTE SEQUENCING
Step sequencing not only works for rhythms, but also for melodies. Use MASCHINE JAM's powerful Piano Roll mode to program notes directly with the 8x8 click-pad matrix.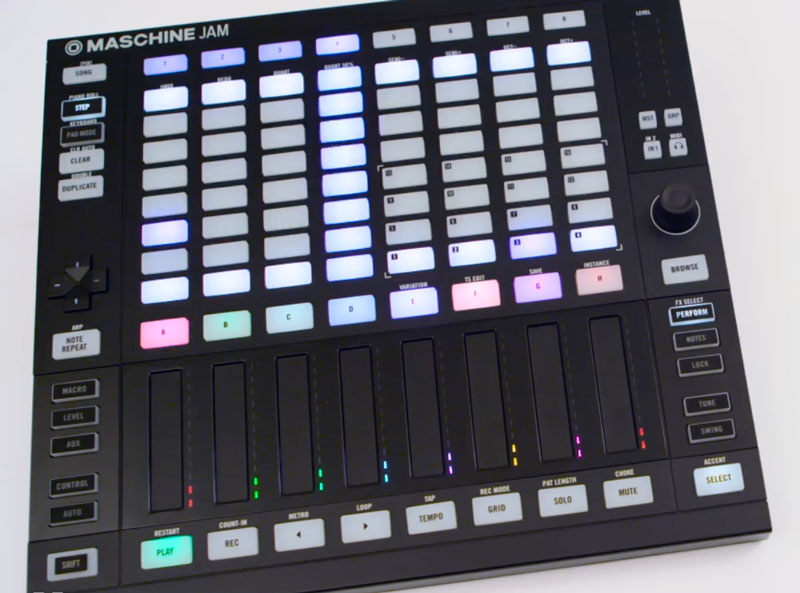 STEP SEQUENCING
Create your own patterns and rhythms with MASCHINE JAM's powerful step sequencer. There's no limit to the sounds you can sequence using the 8x8 click-pad matrix.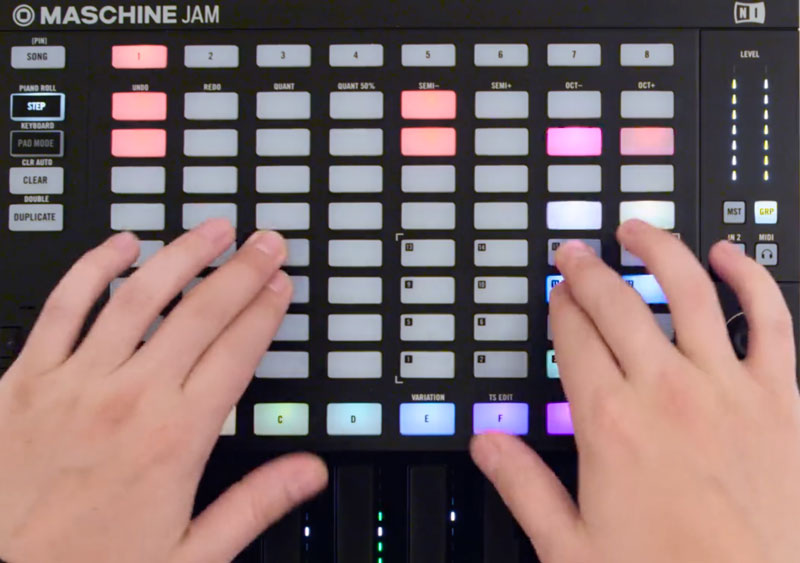 THE CONTEMPORARY DIGITAL INSTRUMENT
The MASCHINE JAM hardware works in perfect unison with the acclaimed MASCHINE software. Swiftly bring your ideas to life with a versatile workflow fueled by software that's always evolving. Start by creating something new with the immediacy of tactile control. Then easily store, recall, and develop your tracks with the flexibility of software in a digitally unified production environment.

And whatever your setup, MASCHINE JAM works through the software as a plug-in inside your DAW, or as an advanced MIDI controller for popular platforms.
SKETCH-A-TRACK
MASCHINE JAM is the go-to instrument for building tracks with immediate, intuitive sequencing. Flesh out your ideas by constructing and re-constructing with patterns on the fly, and group them as scenes you can arrange from the ground up. When you're done, you can quickly import audio from MASCHINE into your DAW for further refining.
PERFORMING WITH SMART STRIPS
MASCHINE JAM's dual-touch Smart Strips are truly one of a kind. Experience a new performance paradigm, and get physical with precision sound tweaking. In addition, Perform Mode lets you bring complex sound textures to life with MASCHINE's unique Perform FX.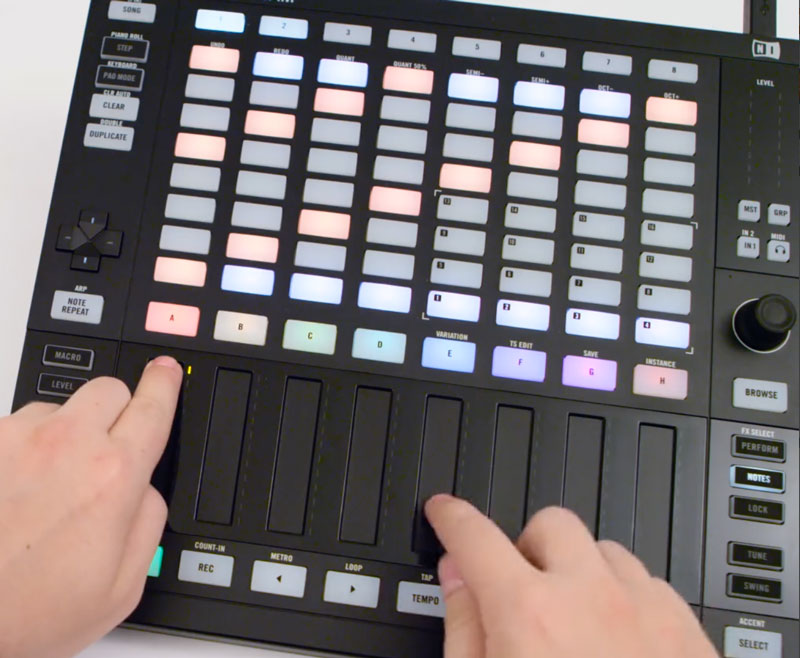 SUPERIOR SOUNDS INCLUDED
Get over 29 GB of professional sound right out of the box, and control it all from MASCHINE JAM. Mold your drums with sonically-outstanding Drum Synths, and use the Smart Strips to animate sounds with advanced motion-sensitive Perform FX. Plus, you get KOMPLETE 11 SELECT – a premium selection of 11 KOMPLETE Instruments and Effects.
PATTERN JAMMING
Brainstorm ideas instantly. One-touch access to patterns supports spontaneous jamming and arrangement sketching. Just mix and match different clips and scenes to flesh out your latest creation.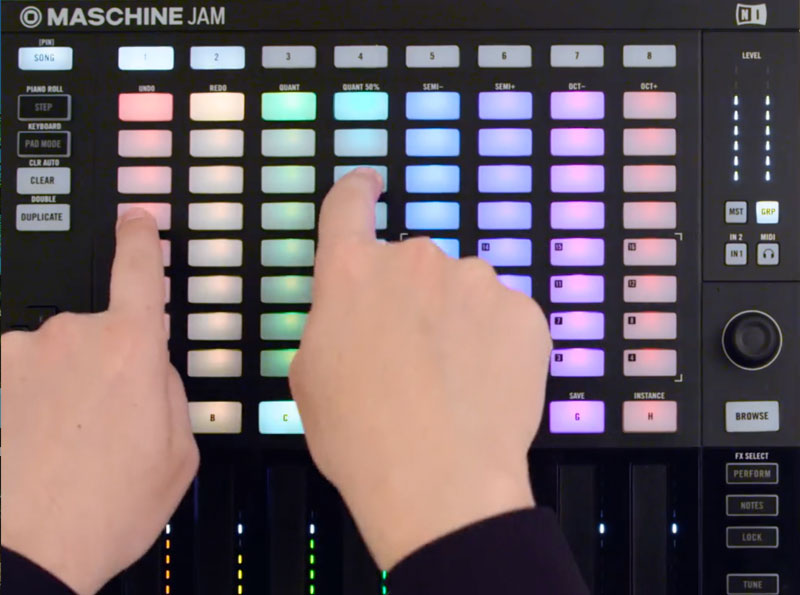 NOTES MODE FOR SMART STRIPS
MASCHINE JAM's Notes Mode lets you play synths using the Smart Strips, for an inspiring new playing experience. Finger-strum chords in key with different scales to uncover new melodic ideas.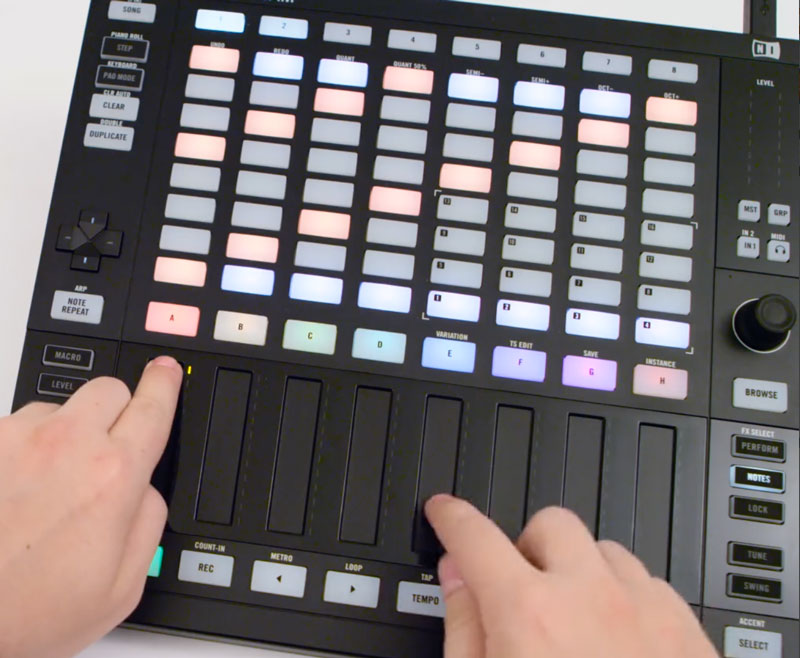 LOCKING
Quickly mutate sounds to create extraordinary build-ups using the Lock feature. Take a snapshot of the current parameters with the Lock button, mess with your sounds, and press Lock again to return to the snapshot. Save your 'locks' and recall them anytime.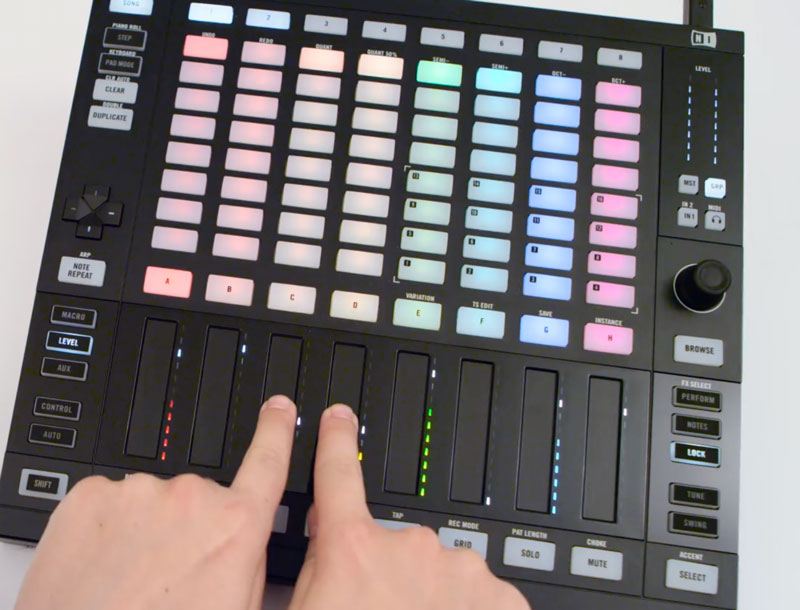 CREATIVE PERFORMANCE FEATURES
The latest MASCHINE software delivers cutting-edge features that make MASCHINE JAM a creative powerhouse. Define values like scale and note length, and edit inspirational sequences created by the Variation Engine. Combine multiple instrument or effect parameters to control with the Smart Strips using built-in macros.
And add depth and complexity to sounds using advanced motion-sensitive Perform FX with the Smart Strips to uncover all new sonic dimensions.
INTUITIVE HARDWARE
MASCHINE JAM boasts a set of hardware features that were carefully designed to make track sketching a seamless creative experience.
SMART STRIPS
Eight dual-touch sensitive Smart Strips let you tweak up to eight parameters simultaneously. Play melodies and chords via note input, and shape sounds with Perform FX – all using two fingers per strip for unique results.
D-PAD AND TOUCH-SENSITIVE ENCODER
Find samples, instruments, and effects fast using the D-pad and touch-sensitive encoder to navigate advanced tag-based libraries in Browse mode. MASCHINE software reacts to the encoder when touched to instantly display key parameter overlays.
CLICK-PAD MATRIX
Trigger patterns and scenes with one-touch simplicity using the 8x8 click-pad matrix for instant jamming and arrangement sketching. You can also use the pads for step-sequencing or playing your sequences in Keyboard or Pad mode.
DEDICATED LED METERS
MASCHINE JAM's Smart Strips are each fitted with multi-color LED level meters to show effect, volume, pan, aux, and layered Group macros parameters that you can map to the strips.
WORKS WITH YOUR DAW
MASCHINE JAM uses MASCHINE software to seamlessly integrate into any DAW and fit right in with your studio setup – standalone or as a plug-in. And in MIDI mode, you can easily map MASCHINE JAM to your favorite software.

MASCHINE JAM also includes an advanced template for Ableton Live that lets you sequence and launch clips from the pad matrix, or play notes and control send levels with the powerful Smart Strips.
DUAL IMPACT
Two MASCHINEs are better than one. Team up MASCHINE JAM with any other MASCHINE hardware and combine the best of both production styles, always in perfect sync. Tap in drums on MASCHINE's pads, and launch patterns and scenes with one-touch simplicity on MASCHINE JAM for a unified production/performance ecosystem.

If you already own MASCHINE, you qualify for a special offer: Get two free MASCHINE Expansions* when you purchase MASCHINE JAM.
KOMPLETELEY INTEGRATED
MASCHINE JAM and KOMPLETE form a fully tactile and inspiring production duo. Perform melodies, chords, and arpeggios with a KOMPLETE KONTROL S-Series keyboard, record them into different patterns, and use MASCHINE JAM's click-pad matrix to experiment with sequences – all seamlessly in sync.
JAM WITH A UNIVERSE OF SOUND
Thanks to the Native Kontrol Standard® extended plug-in format, MASCHINE JAM and the entire MASCHINE range interact seamlessly with the world of KOMPLETE and NKS-ready third party software. Browse and load presets instantly. And tweak key parameters pre-assigned to the Smart Strips for performance-ready sound shaping.
IMPORT FROM iMASCHINE
Sketch out your tracks fast anywhere, anytime with iMASCHINE – the app for on-the-go music making. Sample, record, and arrange your ideas wherever you are, then seamlessly export to MASCHINE software and refine the sketch with MASCHINE JAM for the finishing touches.
THE WORLD OF MASCHINE
Explore the entire the MASCHINE family – integrated software/hardware systems for modern music production and performance. Cutting-edge MASCHINE 2 software features a powerful audio engine, MASCHINE 2 Drum Synths, scale, arp, and chord functions, and much more. And all flavors of MASCHINE hardware work seamlessly with any DAW – the perfect tools for any 21st century stage or studio.
SYSTEM REQUIREMENTS
Mac OS X 10.10 or 10.11 (latest update), Intel Core i5, 2 GB RAM
Windows 7, 8, or 10 (latest Service Pack, 32/64 bit), Intel Core 2 Duo or AMD Athlon 64 X2, 2 GB RAM
Additional Requirements
USB 2.0 Port, 29 GB free disk space for complete installation
ADDITIONAL INFO
Supported Interfaces: Stand-alone, VST, Audio Units, AAX 32 and AAX 64, ASIO, CoreAudio, WASAPI
Please note: Native 64-bit support for stand-alone and plug-in versions.
MASCHINE requires activation: Activate using the serial number on the flyer inside the box.
MASCHINE software, MASCHINE Factory Library, and KOMPLETE 11 SELECT are provided as downloads after registration – an internet connection is required. Once installed, all products can be used offline.
Product includes: MASCHINE JAM controller hardware, USB cable, mounting stand, $25.00 e-voucher good for the purchase of additional KOMPLETE Instruments and Effects or MASCHINE Expansions from the NI Online Shop. Read e-voucher terms and conditions
DIMENSIONS AND WEIGHT
Width: 320 mm / 12.6", Length: 295 mm / 11.6", Height: 30 mm / 1.2", Weight: 2.7 kg / 5,9 lbs
SETUP EXAMPLES
MASCHINE JAM connected to laptop as an all-in-one production system. Audio interface connects to external monitors.
MASCHINE JAM, MASCHINE, and KOMPLETE KONTROL sync pefectly together as a unified production ecosystem. Sound routed through KOMPLETE AUDIO 6 to monitors.
MASCHINE JAM connected to one laptop and synced to another running TRAKTOR PRO 2.
MASCHINE JAM fully integrated into a DAW. MASCHINE software delivers advanced MIDI CC control. Create detailed automation lines in your host - MASCHINE stays locked to every tweak, pan, and fader ride.
HARDWARE SPECIFICATIONS
64 multi-color, high-quality, illuminated step matrix buttons
8 Touch Strips with realtime multi color indication, multi touch (Smart Strip functionality)
8 multicolor group buttons and 8 multicolor scene buttons
31 backlit click buttons
1 touch sensitive push encoder
1 Backlit Directional PAD
USB 2.0, 3.0
Kensington lock
You may also be interested in: