You're currently on:
Download License! Email Delivery!
Halo Upmix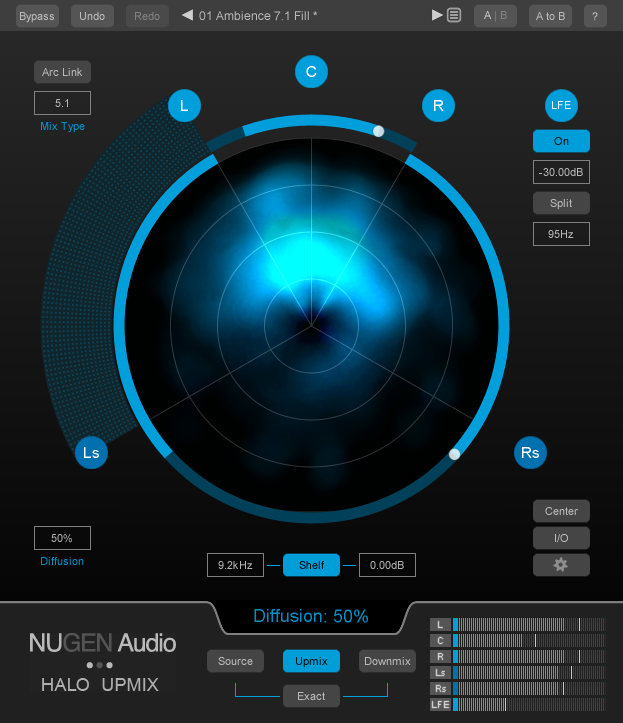 From naturally extracted and expanded soundscapes to full cinematic big-stage enhancement, Halo upmix delivers with intuitive ease, all the control you need to fine-tune your surround mix to perfection. With unique centre channel management, including switchable dialog extraction, Halo is perfect for all types of production from archive restoration and TV through to the full 7.1 Feature Film experience.
"NUGEN Audio has released a very professional product with Halo right from the onset... It was quite astonishing how extreme the surround image could be; yet the downmix was almost identical to the original."

Audio Media International | Simon Allen
Natural Extension
Powerful real-time analysis of the original stereo material identifies and extracts locational cues, to naturally extend the panorama - without the introduction of any artificial reverberation, chorusing or delay into the downmix - leaving the inherent character of the original source intact.
Downmix Compatibility
Because Halo generates a coherent spatial sound, you can be assured of a high-quality downmix. The 'exact' mode function ensures ultimate downmix performance where, as in TV re-purposing for instance, maintaining the relationship between the original, upmixed and downmixed versions is imperative.
Big sound
For those situations that require an immersive cinematic dynamic, full control is available of all the relative surround balances, allowing any surround upmix to be crafted for a perfect blend into the complete 7.1 panorama.
Detailed Centre Channel Control
Centre channel extraction and control is provided for in a separate 'advanced' panel for use when dealing with intricate mixes, where no access to the original stems is available, offering unparalleled control - including neural network based dialogue extraction.
Powerful Spatial Analysis
Halo also includes a powerful spatial analysis view, intuitively showing the energy distribution of the upmixed panorama. Colour can additionally be used to indicate the speaker source for audio in any position, clearly indicating cases including phantom vs hard centre predominance etc.
| | | |
| --- | --- | --- |
| | | |
| Phantom Centre | LF Centre Divergence | Hard Centre |
9.1 Optional Extension (7.1.2 Dolby Atmos® bed track-compatible upmix)
The 9.1 extension introduces additional vertical controls via an expanded user interface including control over Ltm and Rtm placement. An additional real-time analysis view is also included for the vertical dimension, showing energy distribution of the output audio.
The enhanced upmix algorithm allows for simultaneous use of all the original features including dialog isolation and individual channel output control.
The Halo 9.1 option is suitable for numerous applications including sound design, film score, restoration & archive, music and atmospheric soundscape production.
The Halo Upmix 9.1 Extension currently supports Avid Protools (AAX) & Steinberg Nuendo (VST3) for Windows and OSX.

Applications
Stem and group upmixing
7.1 cinematic sound stage enhancement
TV stereo to surround upmixing with hard centre
Re-purposing of original stereo for cinematic release
TV archive enhancement for 5.1 broadcast
Natural extension of original stereo panoramas and atmospheres
Upmix to Dolby Atmos compatible 7.1.2 bed tack (9.1 extension required)
Cross platform/Multiple format
Halo Upmix is available in VST, AU and AAX formats & requires a surround-compatible plug-in host (5.1/7.1).
Stereo to 5.1 & 7.1 upmix
Including: LCR, 3.1, 4.0, 4.1, 5.0, 5.1, 6.0, 6.1, 7.0 & 7.1
Stereo to 9.1 Extension
7.1.2 (L, C, R, Ls, Rs, Lsr, Rsr, Ltm, Rtm, LFE)
Highly Downmix Compatible
Coherent spatial upmix
'Exact' downmix mode
In-place downmix audition
Natural Panoramic Extension
Preserves character of original audio
No artificial reverb, chorus or delays introduced to downmix
Full access to all surround balances
Detailed Centre Channel Control
Neural network dialog extraction
Low frequency energy dispersal
Clear phantom vs hard centre control
Powerful Spatial Analysis & Intuitive control
Clear visual feedback representing surround panorama
Workflow enhancing direct control over upmix parameters
Full LFE control options
Halo Downmix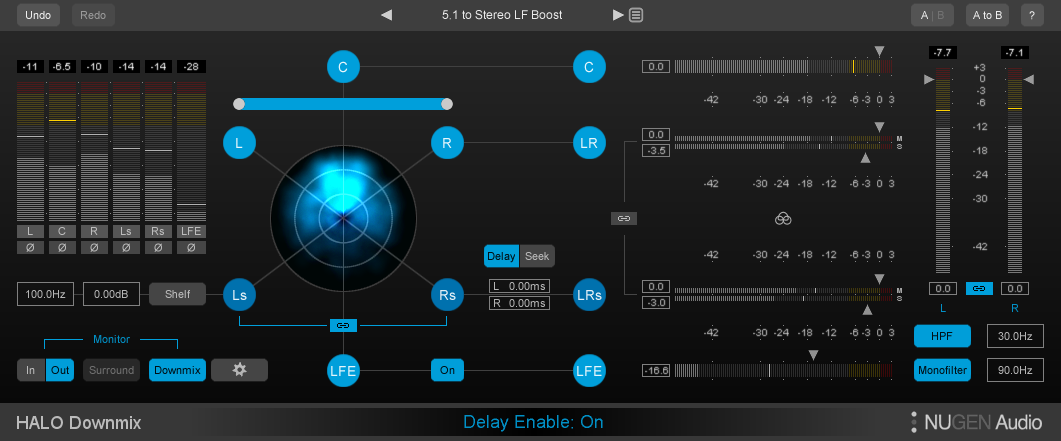 Precision downmix and surround re-balancing. Produce better downmixes and enhance the downmix compatibility of your surround mixes.
5.1, 7.1, advanced and compact interfaces perfectly designed for the task in hand, maximising screen real estate. Multiple monitoring modes, quick mute and solo controls promote rapid assessment and critical listening tests. Halo Downmix is the ideal complement to any surround workflow.
Precise surround control, versatile downmix balancing and mix monitoring for accelerating and enhancing your surround productivity. Halo Downmix is the glue that brings your workflow together, allowing you to deliver in surround and stereo with ease and without compromise.
Applications include:
Standard and custom surround to stereo downmixing
Surround re-balancing
Simultaneous surround/stereo workflow
Immediate and versatile surround/downmix monitoring
Downmix rescue
Surround restoration
Expert Surround-to-Stereo
Halo Downmix provides a highly creative solution for precise downmixing of feature-film or 5.1 mixes to stereo. Intuitive, visual controls for relative levels, timing, and direct vs. ambient sound balance allow uprecedented fine-tuning, delivering accurate downmixes that are no longer limited by typical in-the-box coefficients-based processes.
A standard downmix is usually generated by simply mixing together the surround output according to standard downmix coefficients, however, this can often lead to unsatisfactory results, particularly if legacy upmix practices have been used to generate the original surround mix. Halo Downmix can be quickly employed to mitigate these issues eg. controlling excessive diffuse sound from added artificial reverberation, or removal of delay artefacts introduced in the rear channels.
Halo Downmix can be quickly deployed to produce a more controlled, coherent stereo mix.
Typical applications include:
• Stereo Mix production for Television within a Surround workflow.
• Rapidly producing a controlled, precise stereo downmix of a 7.1 feature film.
• Generating a stereo mix from surround where no stereo recording exists.
• Producing stereo interim listening mixes in a surround workflow.
Fine Tune Existing Surround material
Adjust existing 5.1 or 7.1 mixes in surround-to-surround mode. Levels of individual channels, and balance of direct vs. diffuse sound can be adjusted to fine tune or re-balance existing surround audio where access to the original mix is not possible.
Parallel Surround/Stereo Downmix workflow
Halo Downmix can also be used in conjunction with the included Receive plug-in to enable a parallel surround/stereo workflow.
This workflow allows for rapid A/B listening checks between surround and stereo downmix.
Applications include:
• Optimising a surround mix for better stereo downmix (standard coefficients)
• Harmonising surround and stereo experiences, delivering a separate downmix
• Harmonising surround and stereo to produce a modified surround mix and stereo downmix
Flexible, intuitive interface
7.1 and 5.1 modes
Advance and compact modes
Quick select 'in-place' monitoring of stereo and surround
Quick linked solo and mute at every stage
Powerful control
Ambient vs direct sound balance
Automatic rear channel delay detection
Surround input width control
Rear channel shelf filters
Downmix Low Frequency handling
Highly customisable interface
Reliable metering
Full input and output level metering
Direct numerical entry of all gain offsets
Adjustable meter colour splits
Surround energy distribution visualisation
Available formats
Halo Downmix is available as AAX (64-bit only), VST, VST3, AU and AudioSuite in both 64-bit and 32-bit versions.
Minimum System Specification
Mac OSX 10.7.x, 512 MB RAM
Windows XP or above, 512 MB RAM
Surround capable DAW/NLE.
Site Licensing
Site is NUGEN Audio's server-based seat licensing solution for enterprise clients with 10 seats or more. Featuring cutting-edge, dependable server-based seat licensing technology, Site streamlines and centralizes the license management process for enterprise clients who manage many licenses across a network.
You may also be interested in: