You're currently on:

TH-U EVERGREEN BUNDLE
TH-U Edition + 3 Rig Libraries for a total of 82 Amps, 81 Cabinets and 16 Effects which cover any musical style
TH-U Evergreen is the Guitar Amp and Effects bundle, composed by TH-U and 3 Rig Libraries, which covers the most classic guitar tones. It contains the following products:
TH-U Funk and R&B
American Classics Rig Library (29 rigs)
British Classics Rig Library (29 rigs)
Vintage Collection Rig Library (59 rigs)
for a total of:
82 Guitar Amp models
81 Guitar cabinets
16 Effects
150 Patches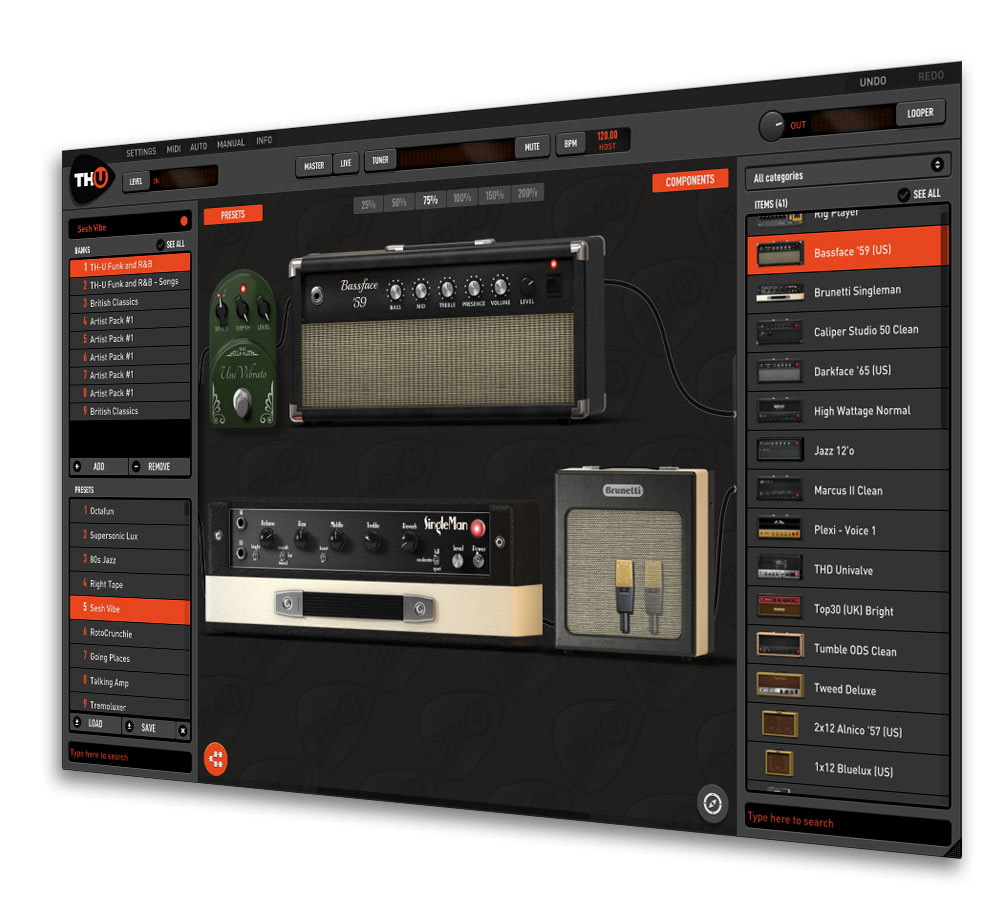 TH-U is able to load rig models created from real setups.
The Overloud proprietary technology allows our engineers to capture the response of an entire rig, including the nonlinear and dynamic response of the amplifier, the cabinet, the microphones, the mic preamplifier and the room sound. Rig To Model technology allows to capture both analog and digital setups. The Rig Player, integrated into TH-U, allows you to reproduce any nuance of the sampled rigs.
TH-U Funk and R&B offers all the features of TH-U Full version with a selected number of models:
Amp Tweak technology, allows to mod the amplifiers by changing the preamp and poweramp tube models, as well as simulating the action of a variac
Rig Player (with 10 factory rigs), allows to reproduce rig models created by capturing real setups
4th generation analog emulation technology, with proprietary nonlinear processing algorithm
18 microphone models, with up to four mics on each cabinet
3D, gap-less positioning of microphones and room simulation
Advanced cabinet emulations with ReSPiRe 2 technology
Easy to build or modify your own signal path
Intelligent MIDI controls
Chromatic Tuner
BREVERB and SpringAge based reverb effects
You may also be interested in:
| | |
| --- | --- |
| Variant | 1 |
| Specials | Dec 12, 2019 |