You're currently on: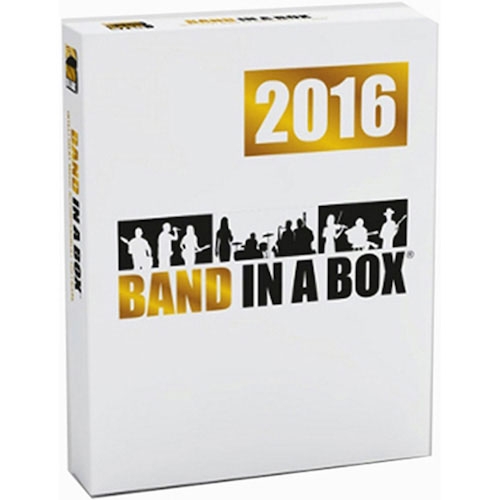 PG Music Band-in-a-Box is a snap to use - just type in the chords for any song using standard chord symbols (like C, Fm7 or C13b9), choose the style you'd like, and this incredible software does the rest. Band-in-a-Box automatically generates a complete professional quality arrangement of piano, bass, drums, guitar and strings in a wide variety of popular styles (jazz, pop, country, classical, and more). It's now easier than ever to get amazing, realistic-sounding arrangements straight from your PC.


RealTracks
Along with RealDrums, there are three additional "Real" instruments, including Real Pedal Steel, Real Acoustic Guitar, and Tenor Sax soloing (RealSax). These tracks replace the MIDI track for that instrument, and can be controlled just like the MIDI instrument (volume changes, muting etc.). Best of all, they follow the chord progression that you have entered, so that you hear an authentic audio accompaniment to your song. These are not "samples," but are full recordings, lasting from 1 to 8 bars at a time, playing along in perfect sync with the other Band-in-a-Box tracks. RealTracks can be built in to the style, and would replace either the bass, guitar, piano, or strings part, or they can be generated to the Soloist (or Melody) track using the Soloist feature.
Get chords from audio files
The amazing "Chords from MP3" feature (Audio Chord Wizard) automatically figures out the chords from any MP3, WAV or WMA audio file, and displays them in Band-in-a-Box. Just load in any MP3 file and you'll instantly see the chords. The Audio Wizard also figures out tempo, bar lines, key and fine-tuning from the MP3, WAV or WMA audio file.

MultiStyles
Inside Band-in-a-Box, there are styles that can have anywhere from 4 to 24 substyles. Previous Band-in-a-Box Styles were limited to 2 substyles ("a" and "b"). Now, for example, a MultiStyle with 4 substyles (First Verse, Verse, Chorus, Break) can be used, and you select the various sections using "a"/"b"/"c"/"d" part markers. Some of our newest Styles Sets are MultiStyles, typically with 4 substyles, but some Techno Styles have 24 substyles. You can easily make your own MultiStyles, either from scratch, or combining parts from existing Styles to make a MultiStyle. For example, if you have 10 favorite Country Styles, you can quickly make a single MultiStyle that has 20 substyles available within the same song.
Features
Audio to Chords, Reharmonist, Soundtrack, and Lyric Block functions and screens
RealDrums drum samples
Chords from MP3 feature
TranzPort wireless controller support
Auto-memo generation
Chord Breaks function
Save as MP3 capability
Notation enhancements
Batch MP3/WAV/WMA generation
Includes Style Sets 03, Soloist Set 1, Melodist Set 1, and RealTracks Set 1
RealCharts notation for most RealTracks
Some Guitar RealTracks also show guitar tablature
RealCharts can be saved to MIDI file or Songs (MGU)
Audio Chord Wizard Enhanced
Artist Names and Bios for RealTracks.
Enhanced Melody Wizard
Better soloing and rhythm playing, that are influenced by the key signature as well as the chords
Option for a "Simpler" arrangement on some RealTracks, which avoid embellishments
Feature for fills, turnarounds, post fills and odd/even bars to be at the right place
Better playing on the "V" chord, since it is usually played as a V7 chord. Options added to allow a RealTrack to treat the V7 chord as a V (useful in rock styles), or to treat all 7th chords as major triads (useful in blues)
Improved handling of CAug, CmAug, and C7+ chords
RealTracks: more fluid playing for complex (jazz) chords like C7b9b13
Notation enhancement - patch names displayed on notation, leadsheet and printout
StylePicker List Enhanced, with separate categories for RealTracks Genres (Jazz, Pop, Country, Bluegrass, Blues), over 1,000 entries
MIDI Driver Dialog Enhanced.
Enhanced "Chords - Search And Replace" Functionality
Hotkeys added in the menus
Requirements
WINDOWS
Windows 2000 / NT / XP / Vista / 7 / 8 (32 or 64-bit)
Minimum 512 MB RAM
Hard Disk space: Minimum 800 MB for the main Band-in-a-Box and RealBand programs. More space is required for RealTracks, depending on which package you buy...
RealTracks & RealDrums: ~100-400 MB per set
Sound card or MIDI module
You may also be interested in: