You're currently on: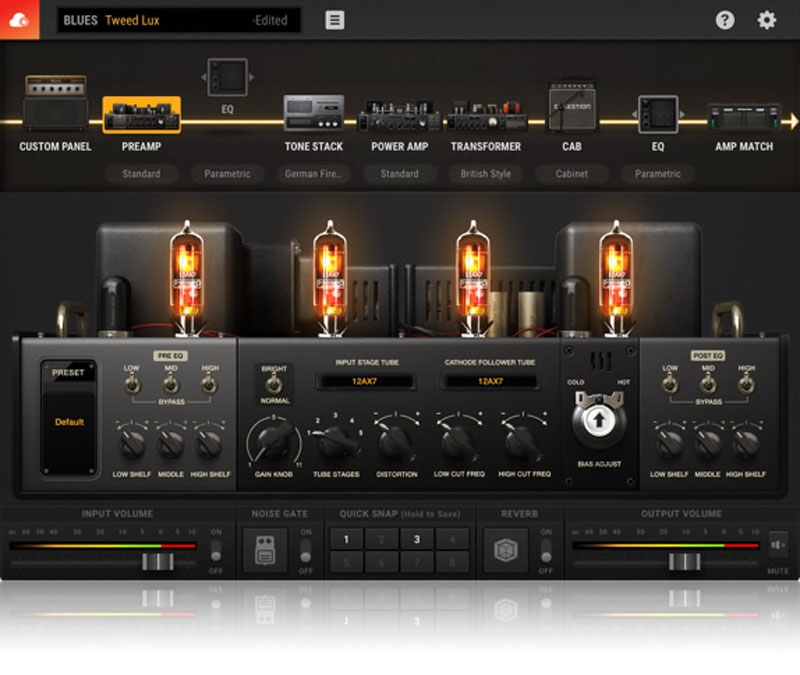 BIAS Elite Combo
Includes BIAS FX 2 Elite and BIAS AMP 2 Elite
BIAS Elite Combo features the two cornerstones of the BIAS ecosystem – BIAS FX 2 and BIAS AMP 2 – giving you the perfect seamless setup to create stunning guitar tones on your Mac/PC.
Compare Versions:
BIAS AMP 2 Standard
Create authentic and mind-blowing tones that can be tweaked and fully customized.
What's New:
New Dynamic Tone Engine
New Preamp Power Amp
New Tone Stacks and Transformers
New Cabinets Module with Dual Miking
New Tubes Cabs and Mic Options
New RTA EQ
New User Interface
BIAS AMP 2 Pro
Enjoy New Amp Match Technology and dive deeper with more tone-shaping abilities.
Everything in Standard plus:
New Amp Match Technology
100 New Amp Match presets
Blues Expansion Pack
Bass Expansion Pack
New IR Loader File Manager
BIAS AMP 2 Elite
The ultimate in guitar amplification technology for the most discerning of ears.
Everything in Professional plus 15 Official Licensed Celestion IRs, including:
Celestion Vintage 30
Celestion Blue
Celestion G12H Anniversary
Celestion G12-65
Celestion G12M Greenback
DYNAMIC TONE ENGINE
For BIAS AMP 2 we worked with artists, engineers and recording studios to improve the already hyper-authentic touch response of our amplifier circuits. The result is a new playing experience, with increased touch responsiveness and dynamics. With new tubes, transformer, dynamic tone control and a completely redesigned speaker cabinet module with multi-mic capability, you now have the tools to take your tone explorations further than ever before!
BIAS MEETS CELESTION
When it comes to speakers, Celestion is the most trusted name in the history of rock and roll. Their drivers have been used on more classic songs and tones than any other manufacturer, and their impulse responses are the favorites of guitarists ranging from Pete Thorn and Scott Henderson to George Lynch. We've partnered with Celestion to make their IR's easier to use than ever before, so you can forget loading individual files! Just select a custom Celestion cab and start moving the mics around – BIAS AMP 2 does the rest.
REDESIGNED AMP PACKS
Along with BIAS AMP's built-in amp packs, BIAS AMP 2 adds two new amp packs that widen the sonic palette even further. Blues is all about gooey clean to mid-gain amps, and Bass brings amps and speaker cabs just for bass guitars. Add in all of the custom component options, and you have literally thousands of custom amps at your fingertips. There's nothing else like it!
LUSH REVERBS
BIAS AMP 2 also includes nine built-in reverbs, ranging from huge halls to intimate rooms with full control over the character of the reverbs. Between the different reverb types and the extensive filtering and saturation options, BIAS AMP 2 has all your reverb needs covered.
NEW AMP MATCH
AMP Match can already match the tone of any mic'd reference amp, but we've made it even better in BIAS AMP 2: now matching a tone is as easy as importing an audio file! Not only that, if you aren't all that familiar with dialing amps yourself you can ask AMP Match to guess the circuit for you. You'll get faster and better results no matter what your skill level is, making it even easier to get to your ideal tone.
MORE NEW IN DETAILS
New Tubes and Amp Packs
BIAS AMP 2 puts the focus on dynamic tube amp behavior and feel, adding new tube types and Amp Packs and enabling thousands of new custom amp designs in the process.The new preamp tubes are all about headroom: The new 12BH7 and 12AY7 tubes put out more gain before distortion than normal 12AX7's, so they're often used in bass and hifi amplifier designs where being both loud AND clean is super important. You'll find that these new tubes give you more control over clean and mid-gain guitar tones, making it even easier to create dynamic sounds that break up at just the right time - or not at all.The new power amp tubes complement the low and mid-gain focus, offering more clean power and more saturation control. A pair of the 6550 tubes puts out the same power as four EL34's, so they have more headroom at lower master volume levels. The new KT88's have a similar midrange to EL34's but the bass and treble frequencies extend lower and higher, making them ideal for slamming bass and hyper-clean guitar sounds.BIAS AMP 2 also features two new amp packs, widening the palette of available tones and options. The Blues Pack was inspired by some of the best clean and mid-gain amps on the planet, offering increased touch-dynamics and a wide range of amp drive, while the Bass Pack was designed just for bass guitars, adding a host of studio quality bass sounds with zero tweaking needed.The new tube types and amp packs offer a host of new dynamic possibilities, giving guitarists and bassists access to a huge new library of available tones and delivering sonic inspiration with every twist of a knob.
New Transformer With "Dynamic Tone Control"
The power supplies and transformers in tube amps do more than simply provide voltage to tubes and amplify signals - they affect the frequency response of the amp in fundamental and dynamic ways. We spent a large amount of time re-examining this behavior for BIAS AMP 2, and we came up with a new circuit we've added to the transformer module we call the Dynamic Tone Control. The DTC is a variable circuit that emulates the dynamic effect that power supplies and transformers have on the upper midrange response, and it can be really effective in adjusting the way the amp feels. The DTC can be magic on certain kinds of brash tones, so if you have a sound you love but it's aggressive or brash in a way you can't seem to control with EQ or circuit tweaking, try raising the DTC control. Higher values enhance the effect.
New Speaker IR's From Celestion, And New Speaker Cabinet Module
For BIAS AMP 2 we partnered with Celestion, the king of speaker manufacturers, to give users access to the favorite impulse responses of top guitarists like Pete Thorn, Scott Henderson and George Lynch. Normal IR packs come with a mountain of files that are auditioned by loading them individually, but you can do all that work in BIAS AMP 2 simply by moving the virtual microphone on the speaker cabinet around. It makes using Celestion IR's easier than on any other platform, and it's not just a major time saver, it also allows you to stay in the creative mindset longer.
Studio engineers started recording guitar amps using multiple microphones as soon as they had the capability, and many Hall Of Fame guitar sounds were recorded using this technique. We've added this functionality to BIAS AMP 2, letting you use multiple microphones on the same cab and mix them together! Layering a dynamic 57 pointed at the dust cap (which picks up a ton of crispy treble and deep bass) with a 414 condenser aimed in between the dust cap and the speaker edge (which has less treble and more mids) results in a tone that is rounder and more full than either of those mics could produce by themselves. Now you can pull a solo out above the vocals or tuck a rhythm part behind the bass guitar just by tweaking the mic mixer.
The cabinet module also features brand new Open and Closed back cabinet emulation, authentically recreating the distinctive bass and low mid frequency response that typifies each enclosure style. As a result you have even more control over your core tone, allowing you to get even closer to iconic sounds with less effort.
New Amp Match
You can match the tone of any mic'd reference amp with Amp Match, but we've made it even better in BIAS AMP 2. Now you can match the tone of an imported audio file! Not only that, if you aren't all that familiar with dialing amps yourself you can ask BIAS AMP 2 to guess the circuit for you. You'll get faster and better results no matter what your skill level is, making it even easier to get to your ideal tone.
New RTA EQ
Even though our ears are the most valuable tools we have when creating tones, sometimes it's really helpful to be able to look at a tone visually. The new RTA EQ module displays a realtime frequency analysis of the signal running through it, making it easy to spot a problem frequency range or see what affect your circuit tweaks are having on the overall guitar sound. You won't have to ask yourself "what is the frequency of that low midrange bump I'm hearing?", because the RTA EQ will show it to you, allowing you to tame it quickly and easily.
100 New Custom Amps On ToneCloud®
BIAS AMP 2 now comes with 100 new custom amps from a wide variety of musical styles and genres!!
Don't forget that you're NEVER limited to a "stock" amp with BIAS AMP 2. Other guitar platforms offer you one version of a classic amp circuit, but BIAS AMP's component emulation engine allows nearly infinite variation. With these 100 new custom amps it doesn't matter what kind of music you play or what kind of tone you're looking for - chances are good that there's a relevant custom amp on the ToneCloud® that will do the trick.
TONECLOUD
Download and Share Custom Tones
The Positive Grid ToneCloud® is more than just a simple storage tank for your own custom amps - it's an online community where musicians from all over the world can share and discuss tones, to the benefit of everyone. There are thousands of custom amps on the ToneCloud®, uploaded by artists, recording studios and guitarists just like you. Download artists' signature amps, or try out the latest and most popular matched amps created by your fellow guitarists.
THE WORLD'S MOST EXTENSIVE LIBRARY OF PRO TONES
The tone-creation possibilities are nearly infinite with BIAS Amp 2, which comes with 100 new custom amps in a variety of genres. Download artists' signature amps, or try out the latest and most popular matched amp models created by your fellow guitarists. It doesn't matter what kind of music you play or what kind of tone you're looking for – chances are good that it's on the ToneCloud®.
BIAS FX INTEGRATION
BIAS Amp was designed to integrate directly with BIAS FX, Positive Grid's flagship amp-and-effects processing environment. All of the custom amplifiers you create with BIAS Amp 2 are automatically available in BIAS FX, providing a foundation for your ideal finished tone. Start with an amp that fits your playing like a glove in BIAS Amp 2, and then open it in BIAS FX and add pedal and racks effects. It's a seamless and revolutionary workflow, making it easier than ever to create your own signature tones!
Your tone is your identity – and sometimes nothing less than a custom setup can deliver the goods.
BIAS AMP 2 is the ultimate virtual amp designer, authentically recreating the tone and feel of real tube amplifiers, while allowing you to mix and match components to create your ideal amp. You can use Amp Match to clone the tone of real hardware or a guitar track, or connect to the ToneCloud® to gain access to thousands of custom amps from artists and recording studios, or upload your own custom tones to the cloud.

BIAS AMP 2 represents a revolution in virtual amplifier design, providing the tools to take your ultimate guitar tone with you anywhere, from the studio to the stage and back again.